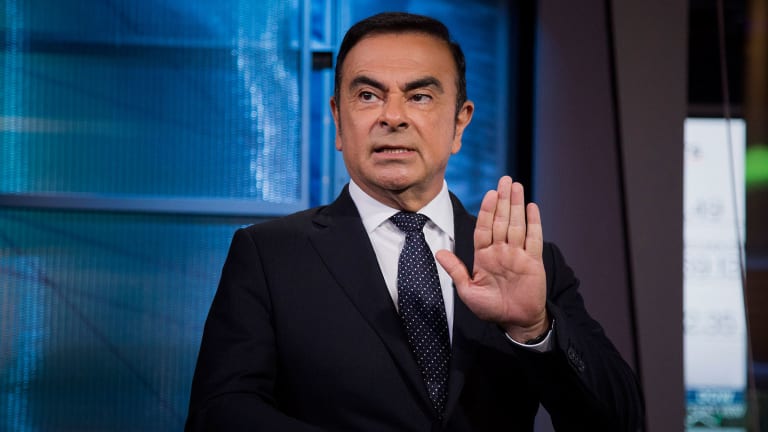 Renault Shares Hit 10-Year High on Nissan Merger Report
Renault surged to a ten-year high Thursday after a Bloomberg report suggest the French automaker is considering scrapping its alliance with Nissan to create a merger global car company that would trade as a single stock.
Renault SA (RNLSY) shares hit a ten-year high Thursday amid reports that the French carmaker is considering scrapping its alliance with Japan's Nissan Motor Co. (NSANY) in order to create a single automotive giant that would trade as a single stock.
Bloomberg news reported that Renault, which owns 43% of Nissan as part of the complicated global alliance run by chairman Carlos Ghosn, is pushing for the combination with Nissan that would keep headquarters in both France and Japan and maintain Ghosn at the helm. However, given the French state's 15% ownership stake, and the prospect of job losses in each of the alliance's domestic markets, the proposed tie-up faces myriad challenges, according to the Bloomberg report.
Renault shares were marked 4.3% higher at €93.08 by mid-morning in Paris after having hit a ten-year high of 100.38 each earlier in the session. Thursday's move takes that stock's year-to-date gain to 15.7% compared to a 1.6% decline for the Stoxx 600 Europe Automobiles & Parts index. 
Ghosn, who earned the nickname "Le Cost Killer" from the French media during his early tenure at Renault, was granted a surprise four-year extension to his leadership role last month and pledged to make the company's alliance with Nissan "irreversible".
The French government backed the new term, as well as Ghosn's 20% pay cut, with President Emmanuel Macron saying he wanted  "a road map safeguarding the interests of the company, the alliance and all of the French industrial sites" and finance minister Bruno Le Maire telling France's CNews television the state would accept a "merger in the future" of Renault and Nissan.
Ghosn told analysts last month the financial structure of a permanent alliance would have to be agreed by both the French and Japanese governments and warned that it would not be possible if France retained significant influence over Renault.
"I don't see how the Japanese side is going to accept further steps with the French state as a major shareholder" he told analysts.
Renault owns 43.4% of Nissan, along with the aligned voting rights, which in turn owns a controlling 34% stake in Mitsubishi Motors. Nissan owns 15% of Renault but has no voting rights.
Ghosn is also Chairman of Nissan and was CEO until last year, when he passed the role onto long-time deputy Hiroto Saikawa.