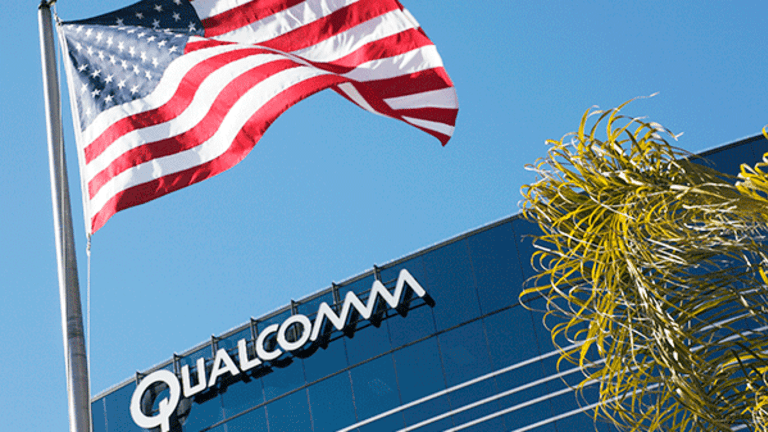 Publish date:
Qualcomm Plants Its Flag in a Booming Mobile Niche
The chipmaker has announced it will make products to improve low-end phones. Here's why that should mean big profits for investors.
The chipmaker has announced it will make products to improve low-end phones. Here's why that should mean big profits for investors.
Chipmaker Qualcomm (QCOM) - Get Report made tech headlines on Monday with the announcement that the company would be rolling out a new line of chips to work in lower-end mobile devices, even flip phones.
At first glance, this seems absurd. After all, flip phones have gone the way of the dinosaur here in the U.S. Although a new attention-grabbing launch from BlackBerry indicates there is already such a thing as "cellphone nostalgia," how could working on products for cheap, relatively outdated models make good business sense for Qualcomm?
In reality, though, there's still a huge and booming market for cellphones that we in the West might consider outdated. In India and countries in Southeast Asia, as the middle class grows (and as the infrastructure improves) lower-end phones are wildly sought after.
JPMorgan Chase (JPM) - Get Report analysts expect smartphone sales in India to experience 15% growth this year alone. The country boasts a low-cost yet aggressive wireless carrier, Jio, that currently has more than 100 users in 2016. The company's goal is to reach 400 million customers in the near future.
That means there are 300 million new cellphone users with comparatively little disposable income who need cheap phones, which in turn need chips. And that's how Qualcomm and its investors are going to profit.
The India and Southeast Asia cellphone markets are hotly desired by mobile phone and technology companies, especially because cellphone growth has flat-lined here in the U.S. and in other developed countries. Worldwide smartphone sales saw growth of only 2% in 2016, but compare that to the 15% expected for India this year.
Apple (AAPL) - Get Report has been trying to break into the India market, with mixed success. The company's phones are simply too expensive for the average Indian citizen, who is on average willing to spend only $150. And in order to launch a chain of Apple-branded stores in the country, a certain percentage of goods would need to be manufactured in India.
Apple is attempting to smooth over this problem by opening an iPhone plant on the subcontinent, but the Cupertino giant is lagging other cellphone companies that already have cheaper phones on the India market.
Qualcomm's new chips, referred to as the "205 Mobile Platform," allow low-end cellphones to connect to 4G LTE networks, which are relatively new to India. The maximum speed of the chips is 150 megabits per second - low when compared to the company's top-end chips that rocket past one gigabit per second, but this helps to keep the price tag affordable.
The new chips will also allow for support for three-megapixel cellphone cameras, high-definition video streaming, and Voice over Internet Protocol (VoIP) calls. Think Microsoft's (MSFT) - Get Report Skype.
The chips will be made available to cellphone manufacturers immediately, which means phones with these chips will start spilling onto the streets sometime in the second quarter.
Qualcomm is a great investment play on the growing class of cellphone users around the world.
I just sent the cable company a check... but I got an even bigger one back
Writing my monthly check to my cable company used to really burn my biscuits. But that all changed when a construction worker friend clued me in on a virtually unknown Cashback Program that sends me checks every 90 days. Now, I get cash back from my cable company, PLUS I earn money just for using websites like Netflix, Facebook, and Google. Any American citizen can get in on this lucrative opportunity and start getting checks just like me. Click here to get the details on this program.
John Persinos is an analyst with Investing Daily. At the time of publication, he owned stock in Apple.