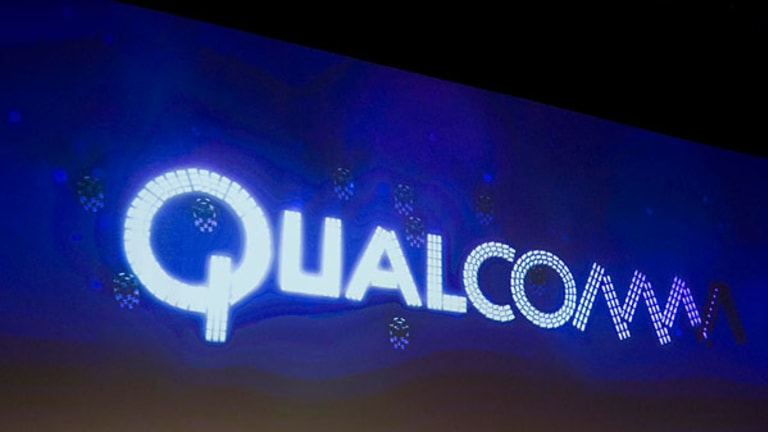 Publish date:
Qualcomm Gets to the Core of the Mature Smartphone Market
Qualcomm is fighting to safeguard its market share. It's Octa-Core processor is one weapon.
Qualcomm is fighting to safeguard its market share. It's Octa-Core processor is one weapon.
NEW YORK (TheStreet) -- It's not easy being a Qualcomm (QCOM) - Get QUALCOMM Incorporated Report investor.
Right now, after a strong fiscal year 2013, the bulls are living with the knowledge the smartphone market has "matured" -- sales are down in some regions, particularly the U.S.
But if you look down the road, Qualcomm's growth fundamentals look strong for 2014, and there are reasons to be bullish about this stock:
New market segments in the application processor market like 64-bit architecture and octa-core.
Strong growth potential from China and other emerging countries will help the company offset negative impact from the maturing smartphone market in developed countries.
China's transition to LTE will boost the royalty and licensing revenue of the company.
Welcome to the Octa-Core Era
In the recently held Mobile World Congress, Qualcomm stirred the processor market battle with the launch of its new 64-bit octa-core Snapdragon 615 processor, its advanced computing architecture with 64-bit support and high processing capability. MediaTek initiated the war of cores after launching the world's first octa-core chip, MT6592, in November last year.
Since then MediaTek has been building a strong product line in octa-core processing with announcement of MT6595 and MT6752 in February. MT6595 is a 4G LTE integrated octa-core SoC that uses four cores of the new ARM Cortex-A17 and four cores of the ARM Cortex A7 design, while MT6752 is a 64-bit octa-core LTE SoC.
Although octa-core processing is at a nascent stage, the availability of these features in the low to mid-tier smartphone market has benefited MediaTek in winning designs in China, one of the reasons why Qualcomm is losing the core war to MediaTek.
So Qualcomm's Snapdragon 615 processor launch will help the company protect its market share in the application processor market. In addition, availability of 64-bit computing, along with the latest Adreno 405 GPU and integrated multi-mode LTE support, solidifies Qualcomm's position against MediaTek's octa-core processors.
Qualcomm had 54% revenue share in the smartphone application processor market in 2013, and its strategy of targeting new market technologies like 64 bit and octa-core will help safeguard its market share in a growing competitive scenario.
The company now has three product designs in 64-bit architecture support, targeting different market segments. The first 64-bit processor, Snapdragon 410, targets affordable smartphones in the sub-$150 price point, while Snapdragon 615 and Snapdragon 610 (quad-core 64 bit offering) are for mid to high end mobile devices.

All three processors are software compatible, allowing OEMs to easily leverage their existing designs and design a higher performance version of a 410 platform. This is an important move in targeting China's market because the OEMs will use this compatibility to offer high-end features at competitive prices in the market.
China is the most lucrative market for Qualcomm -- the country's smartphone sales reported robust 86.3% year-over-year growth in 2013. In addition, transition to a 4G LTE network also acts as a tailwind opportunity for Qualcomm. The company currently has more than 55 licensees in LTE technology, which translates into revenue growth opportunity for its royalty business.
Entry into octa-core processing and expansion in 64-bit computing is a bold move towards sustaining its market leadership position. The company has a strong customer base and having new technology products offsets the risk of losing out on new designs from OEMs.
High Shareholder Value
Qualcomm has always been known for providing high shareholder returns in the form of dividends and share repurchase. The company has been increasing its quarterly dividend since 2003, and going with this trend, the company has increased its quarterly dividend 20% to $0.42 per share (effective for quarterly dividends payable after March 26, 2014).
In addition, the company has increased its current ongoing stock repurchase authorization by $5 billion, bringing its total share repurchase program to $7.8 billion. It announced this increase on March 4, and to date in fiscal year 2014, the company has repurchased 27.6 million shares of common stock worth $2.0 billion. With the increase in share repurchase authorization, the share repurchase will accelerate further.
So 2014 should be another strong growth year for Qualcomm as it strengths its product offering in 64-bit and octa-core processors.
In addition, robust demand of smartphones from emerging countries, especially China, and the country's transition to LTE will boost the licensing and royalty revenue. Qualcomm will leverage its market leading position in the processor and LTE baseband market to add value to its top line.
At the time of publication, the author held no positions in any of the stocks mentioned.
This article represents the opinion of a contributor and not necessarily that of TheStreet or its editorial staff.