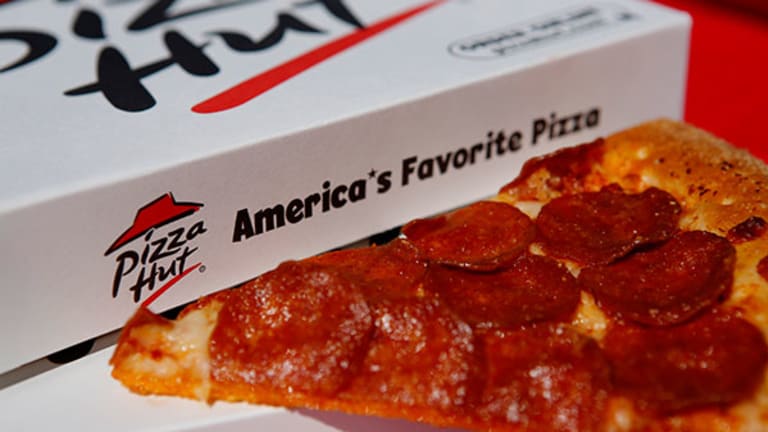 Pizza War Escalates: Who Will Win the Biggest Slice?
Yum Brands has Pizza Hut. Chipotle has gained headlines for testing a pizza concept called Pizzeria Locale. Even Panera Bread offers a prosciutto and spinach white pizza. But, what's up these days with the original fast food pizza purveyors Domino's and Papa John's?
NEW YORK (TheStreet) -- Yum Brands (YUM) - Get Free Report has Pizza Hut, but that chain has always played second fiddle to the company's love affair with its Taco Bell and KFC concepts. Hey, you don't hear Yum Brands finally leveraging its Pizza Hut dessert pizza into some form of breakfast item that could be sold at Express locations housed inside Taco Bell and in supermarket freezers! Chipotle (CMG) - Get Free Report has gained headlines for testing a pizza concept called Pizzeria Locale using the highly efficient operating model found at the namesake division. Even Panera Bread (PNRA)  offers a prosciutto and spinach white pizza. Lost in the sauce, so to speak, are the two companies that actually focus on pizza and somewhat related product extensions day in and day out; Domino's (DPZ) - Get Free Report and Papa John's (PZZA) - Get Free Report.

WATCH: More feature videos on TheStreet TV | More videos from Brian Sozzi
Although Domino's had been wiping the floor with Papa John's for most of 2013 as measured by U.S. comparable restaurant growth rates, the latter had a surprise uptick out of left field in the fourth quarter.
The illustrious, all-knowing Mr. Market hasn't bought into it the possibility of revival for a brand with "PZZA" for a stock symbol, however, Papa John's shares are flat year to date relative to Domino's, which have tacked on 5%. Nonetheless, with Domino's comparable restaurant growth rates headed in the wrong direction (slower...), it appears that Papa John's is at least partially to blame. A couple explanations for this turn of events:
Some 45% of Papa John's sales are digitally derived versus 40% for Domino's. By year end, that number will be 50% for Papa John's. Don't think that Starbucks  is the only food chain with impactful mobile and online technology.
While Papa John's founder John Schnatter is still no Johnny Smooth in his constant TV appearances, they are working, especially those with NFL great and all-American fella Peyton Manning. Just before Papa John's inked a deal with Manning, the company's market cap was near $900 million...now it's $1.92 billion.
New, premium menu items are hitting the mark for Papa John's, such as the double cheeseburger pizza and mega chocolate chip cookie.
That said, I am very intrigued by the forthcoming impact to Domino's U.S. sales from it being the only fast food chain to have an app on an infotainment car system. The app in partnership with Ford (F) - Get Free Report and its Sync system is set to go live shortly.
-- By Brian Sozzi CEO of Belus Capital Advisors, analyst to TheStreet.
This article represents the opinion of a contributor and not necessarily that of TheStreet or its editorial staff.
At the time of publication, Sozzi held no position in the stocks mentioned.