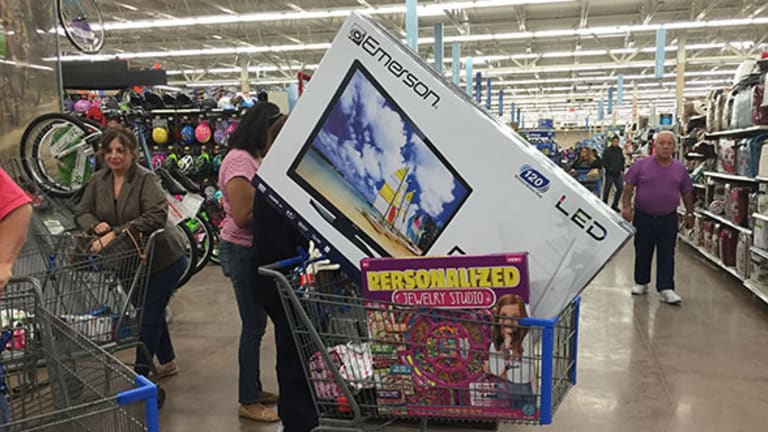 Photos: South Africa Goes Berserk for New Walmart and Starbucks Stores
Despite South Africa's struggling economy, new openings in the country for Walmart and Starbucks are met with huge crowds.
Brand conscious South Africans, battling a slowing economy and rabid inflation, have managed to give two of the biggest U.S. consumer companies hearty welcomes in recent weeks. 
Walmart (WMT) - Get Walmart Inc. Report CEO Doug McMillon said in a new Instagram post Monday evening that about 20,000 people visited the opening of its 20th Makro warehouse club format last week in Brakpan. Lines snaked around the 237,000-square-foot store, and along the street, as people clamored for cheap food and other discounted merchandise. McMillon said the store sold an astounding 1,000 TVs, 400 laptops, 35,663 gallons of milk, and 144,000 rolls of toilet paper on opening day alone.  
The world's largest retailer sought to tap South Africa's growing consumer class in 2011 by
in Massmart, one of the country's main retailers of general merchandise and home improvement goods. Massmart consists of nine wholesale and retail chains under banners such as Makro and Game Foodco. Massmart sales rose 8.4% to 84.7 billion rand ($6 billion) in the 52 weeks ended Dec. 27. Sales for the following eight weeks through Feb. 21 increased 8.9%. But the discounter slashed its dividend by 39% and offered up a weak outlook on
, citing high levels of inflation in South Africa that is crippling consumer spending. 
Despite the challenging economic conditions, South Africans apparently also would like a pricey coffee to go along with their new laptop bought from Makro.  
Starbucks (SBUX) - Get Starbucks Corporation Report opened its first location in Johannesburg last week to huge crowds through a license agreement with South Africa's Taste Holdings. Many people waited overnight to get their first-ever Starbucks caffeine fix, and took to social media to tweet their experience -- #StarbuckSA trended on Twitter for most of Thursday, for example.
The coffee giant plans to open about 12 to 15 locations in South Africa over the next two years. "We continue to view Starbucks as a core holding and remain bullish in the long-term," said Jim Cramer and Jack Mohr of the
, which own Starbucks shares, in an April 21 note after the company's
. They added, "Going forward, management has several long-term growth levers at its disposal (mobile, corporate partnerships, loyalty program, China, etc.), which, in addition to its existing competitive moat, give us confidence that the company -- led by founder and CEO Howard Schultz -- will continue to create sustainable, consistent value for shareholders."
Whether both new stores sustain their opening day success is questionable. South Africa's economy, which is considered an emerging market, grew a paltry 1.3% last year, according to the World Bank. It's expected to grow a mere 1.4% in 2016, the World Bank estimated.