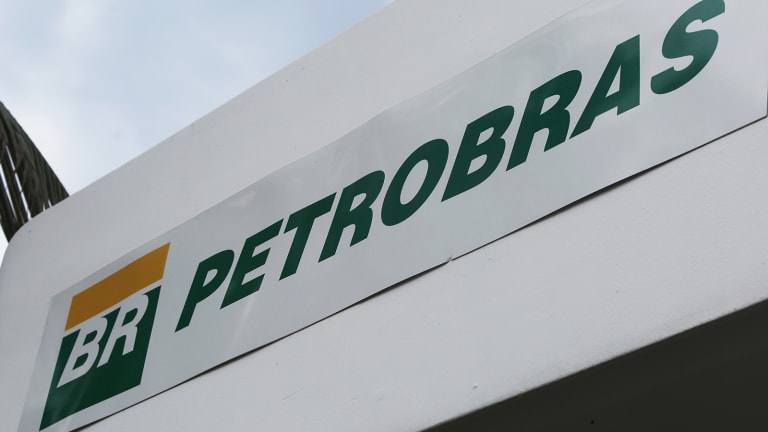 Petrobras Shares Untouchable After Brazil Debt Downgrade
The prospect of more credit-rating downgrades for Brazil after S&P cut the country's debt to junk last week signals a dismal outlook for shares of corruption-plagued oil producer Petrobras.
NEW YORK (TheStreet) -- Stock in Petrobras (PBR) - Get Petróleo Brasileiro SA Report is poised to drop further after Standard & Poor's cut Brazil's credit rating, a move that may increase financing costs as the state-controlled oil producer struggles to recover from a corruption scandal.
JPMorgan Chase cut its rating on the stock to neutral from overweight on on Sept. 11, citing Brazil's political and economic deterioration, volatile oil prices and currency depreciation.
It's now less likely that the oil company will get relief in the near term from price caps that force it to sell gasoline and diesel at artificially low levels, Swiss bank UBS said. UBS had projected an inflation-based price increase of 8.8% before year-end.
The company's American depositary receipts have already fallen 72% in the past year as investigations of bribes involving some of the country's biggest construction companies forced Petrobras to delay earnings reports amid an accounting review. Petrobras, whose own credit hinges partly on the assumption of government support, had its credit rating cut to BB, a junk level, by S&P last week.
"It's an unholy mess, and I don't see an easy way out," said John-Paul Smith, a former Deutsche Bank strategist who now runs the independent emerging-market research firm Ecstrat, based in London. 
Brazil is mired in recession, with its economy projected to contract 2.5% this year and another 0.5% in 2016, according to S&P. A decline in the value of its currency, the real, has driven up payments on Petrobras' dollar-denominated debt. 
The reduction in Brazil's credit rating, to BB+ from BBB-, puts the country's debt at junk grade for the first time since 2008. President Dilma Rousseff faces growing calls for impeachment, threatening to derail her administration's plans to tighten the country's budget and pass investor-friendly reforms.
The government's latest proposed budget envisions a primary deficit of 0.3%, compared with a 0.7% surplus projected as recently as July. Further cuts to Brazil's rating are possible, S&P said. 
Downgrades of Brazil's sovereign credit rating by either of the two other main credit-rating firms, Fitch and Moody's, could lead to capital flight by pension funds and other money managers that are prohibited from owning junk-grade debt.
Moody's had already cut Petrobras debt to junk in February, meaning the oil producer now has two ratings that are below investment grade.
The company will have about $134 billion of debt at the end of 2015, compared with previous expectations of $108 billion, according to JPMorgan. The bank cut its year-end 2016 price target for Petrobras shares to $7 from $10.50. 
As if the government's deficit, political paralysis and "Carwash" corruption investigation weren't enough of an overhang, low prices threaten to make some of Petrobras's oil uneconomical to pump. UBS estimates that Petrobras's oft-touted pre-salt reserves are break-even at $45 to $55 a barrel. New York crude futures are close to $44 a barrel.
"Even before the Carwash, you'd better pray that oil is above $100 a barrel, and obviously we're well below that," said Stuart Quint, senior investment manager and international strategist for Brinker Capital, a Berwyn, Pa.-based firm that oversees $18.5 billion.
UBS, which rates Petrobras ( (PBR.A) - Get Petróleo Brasileiro SA Report ) shares neutral, said failure to meet a target of $15 billion of asset sales may pose a risk that the company will have to sell stock at depressed valuations.
"Over the next six months, it's a very dicey outlook,'' Quint said. "They want to sell a bunch of assets. Well, I've got some news for you. There's a bunch of people that are trying to sell assets right now."