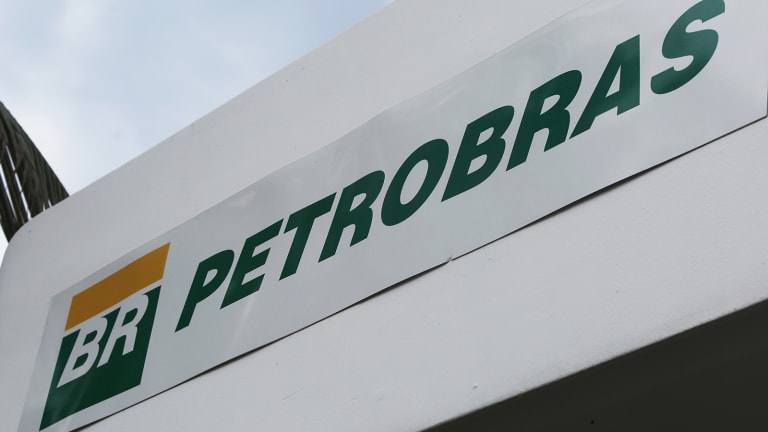 Petrobras Debt Yielding 11% Will Rattle Markets After Downgrade
Junk-rated bonds of the Brazilian oil company may face a wave of selling next week, bringing further turmoil to the high-yield debt market.
NEW YORK (TheStreet) -- Petrobras (PBR) - Get Petróleo Brasileiro SA Report bonds could face a wave of selling next week, as securities firms including Barclays kick the Brazilian oil company out of high-grade bond indexes following its credit-rating downgrade to junk status earlier this month by Standard & Poor's.
The shift could rattle high-yield debt markets, because there will probably be few natural buyers for more than $50 billion of the oil company's international bonds, said Wilbur Matthews, CEO of San Antonio-based Vaquero Global Investment, a money manager focused on emerging markets.  
Under the rules of the Barclays index, a company must be removed from investment-grade bond indexes if at least two of the three major credit-rating firms -- S&P, Moody's Investors Service and Fitch Ratings -- cut it to junk. Petrobras had already been cut to junk by Moody's in February. Many investors base their bond-selection criteria on those bond indexes.  
"The investor base for high-grade bonds and the investor base for high-yield bonds is massively different,'' Matthews said in an interview from San Antonio, where his firm is based. "You've got to figure out a new home for it. The best-case scenario is that a certain amount is going to rotate into new hands, a market that's a tenth the size.''  
Earlier this week, Jim Cramer, host of CNBC's "Mad Money,'' called Petrobras "the number one problem in the world right now because it has so much debt.''  
Six of the top 10 most-actively traded investment-grade bonds on Sept. 22 belonged to Petrobras, according to the Financial Industry Regulatory Authority. The company's notes due in 2023 changed hands at 66 cents on the dollar, for a yield of 11.1%. A bond yielding more than 10% is considered distressed.  
The market for global investment-grade corporate dollar-denominated bonds is about $4.12 trillion, while the market for high-yield emerging-market corporate bonds is about $251.7 billion, according to data compiled by Bloomberg. While there are about $1.48 trillion of high-yield corporate bonds, most investors typically will choose companies in the U.S. or other developed markets over those from emerging markets such as Brazil, Matthews said. 
"I've talked to a lot of U.S. high-yield managers, and they said, 'I don't know about Petrobras, and I don't care,''' Matthews said. "They've got plenty of other stuff to look at in the energy space. Most of it has better collateral and trades at higher yields.''
S&P cut its ratings on Petrobras by two levels to BB following this month's downgrade of Brazil, which owns a majority of the oil company's common shares. While Brazil provides no explicit guarantees on Petrobras debt, many investors assume that the government would come to the oil company's aid. 
Rio de Janeiro-based Petrobras had $53.8 billion of debt in capital markets abroad at the end of 2014, according to its annual report. In total, the company had $120.2 billion of debt, including bank loans and bonds placed in Brazil. In June, Petrobras sold $2.5 billion of 100-year bonds. 
Peter Lannigan, a Stamford, Conn.-based emerging-markets strategist at CRT Capital Group, said that Petrobras bonds have cheapened so much that they're "getting close to where you have some value.'' 
Even so, he said, he won't buy them until it's known whether Brazil's government can avoid having its own credit cut to junk by Moody's and Fitch. So far, only S&P has cut the sovereign rating below investment grade. 
"Until you get resolution on Brazil's credit rating, it wouldn't matter to me what level the bonds were trading at,'' Lannigan said. "If high-grade investors are forced to sell, they'll sell at whatever price they have to to get out.''