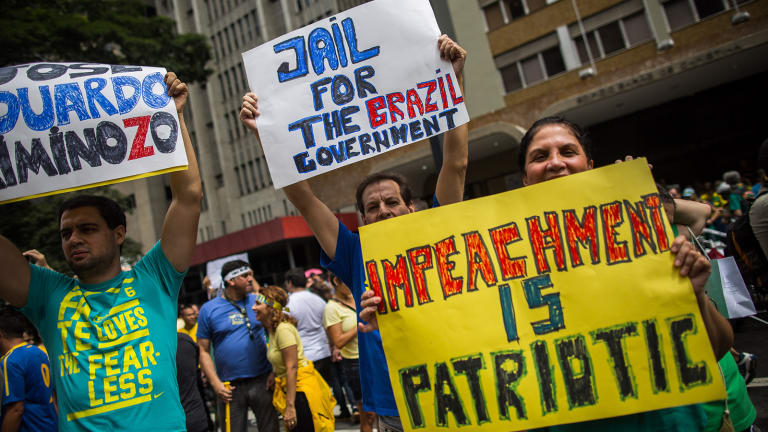 Petrobras Bankruptcy Seen Unlikely Despite Tumult in Brazil
Brazil's government is likely to step in to protect creditors in scandal-tainted oil giant Petrobras, say financial markets participants, though many believe the company can repair its own balance sheet.
NEW YORK ( TheStreet) -- Brazil's government is likely to step in to protect creditors in scandal-tainted oil giant Petrobras (PBR) - Get Petroleo Brasileiro SA Sponsored ADR Report if necessary, according to financial markets participants, though many believe the company has sufficient resources to repair its balance sheet on its own.
Petrobras shares and bonds have sold off sharply in recent months due to a drop in energy prices and a corruption investigation of both government officials and former high-level Petrobras executives. The treasurer of Brazilian President Dilma Rousseff's Workers Party was formally charged Monday, along with 26 others in the probe, the Guardian newspaper reported.
The scandal has helped spur street protests and calls to impeach Rousseff, a former energy minister who sat on the board of the company while serving as chief of staff to Brazil's previous president. The Brazilian government owns about 49% of Petrobras but has some 60% of the voting rights, according to Fitch Ratings.
Petrobras has still not released fully audited third-quarter financial statements. If it cannot release audited year-end financials by approximately June 29, it will need to negotiate with creditors to avoid being forced into accelerating debt payments. The amount that may need to be accelerated is roughly $57 billion, according to a Feb. 26 report by J.P. Morgan analyst Felipe dos Santos.
"At this point, we remain constructive on PBR's ability to release the audited financial statements to avoid the debt pre-payment," dos Santos wrote.
If Petrobras cannot release audited financial statements before the deadline, it may be in the interest of creditors to grant an extension, says Stanford University Professor Darrell Duffie.
In such a scenario, the equity "could easily" retain value, Duffie says. Petrobras, he says, "could potentially reach a settlement with the creditors that would result in the firm continuing with equity value and in fact, it does seem to have a significant amount of solvency, at least according to the best available numbers that we have."
MUST READ:Hedge Funds Love These 5 Big Stocks, But Should You?

But at least one of Petrobras' creditors, hedge fund Aurelius Capital Management, has a history of playing hardball and has already shown signs of impatience with Petrobras. Indeed, Aurelius contends Petrobras is already in default.
Creditors may be in a position to benefit from a company going into default if they hold a large enough position in credit default swaps (CDS) or other financial products that rise in value upon default.
"The payoff that this kind of creditor could receive from its large CDS position may swamp the impact of bankruptcy on the debt the creditor holds," said University of Texas law professor Henry Hu, who was the Securities and Exchange Commission's inaugural director of the Division of Economic and Risk Analysis from 2009 to 2011.
Hu coined the term "empty creditor with negative economic exposure," to describe such a creditor. Both he and Stanford's Duffie believe that greater disclosures relating to creditors who hold CDS positions would generally be a good idea.
Aurelius would not comment on whether it owns other securities tied to Petrobras in addition to its bonds, according to Hal Bienstock a spokesman for Aurelius at public relations firm Prosek Partners.
Whatever happens with creditors, however, several analysts believe the Brazilian government would step in to save Petrobras from bankruptcy if necessary.
"Ultimately, the government will support Petrobras if that needs to be the case," said Morningstar analyst Allen Good. Good, however, said the profit Petrobras locks in from government price controls for gasoline along with spending cuts by Petrobras should be sufficient to keep the company out of bankruptcy without a government backstop.
Fitch Ratings also includes government support in its BBB- rating for Petrobras.
"Absent implicit and explicit government support, Petrobras' credit quality is not commensurate with an investment grade rating," Fitch analyst Lucas Aristizabal wrote Feb. 3.
Credit markets take a dimmer view. Credit default swaps (CDS) offering protection against a default on Petrobras 5-year bonds cost $688,000 annually, compared to $303,000 for comparable Brazilian sovereign debt and $22,000 for Exxon Mobil (XOM) - Get Exxon Mobil Corporation Report bonds, according to March 17 data from Markit.
Before a default can occur, it requires a vote by an International Swaps and Derivatives Association committee comprising representatives from many of the world's largest financial firms. While CDS contracts can be customized, they typically define default as a bankruptcy or failure to pay debts.