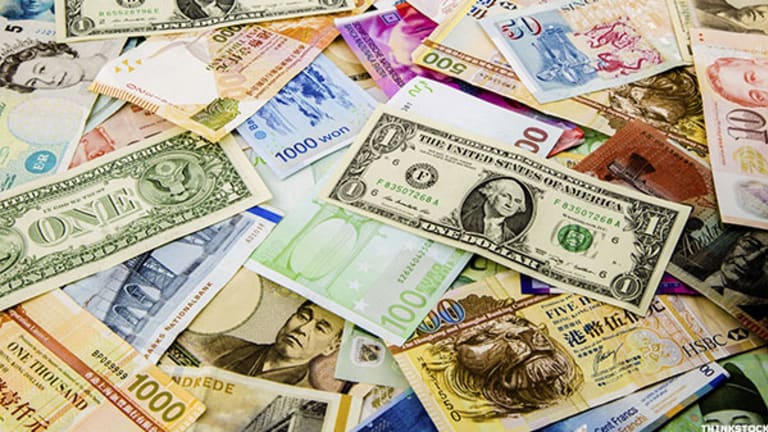 Is China Freaking You Out? Wall Street Wants to Help
Devaluation jitters around the world have ETF investors scrambling to hedge their foreign-exchange bets, and BlackRock, WisdomTree and Deutsche Bank are obliging them.
The yuan is everyone's obsession right now, with the Chinese currency down about 6% against the U.S. dollar since August following more than a decade of meticulously government-controlled appreciation.
But look around the world: Devaluations are happening everywhere.
Cash-strapped Argentina's new president let the country's peso loosen by 30% as soon as he took office in December. Azerbaijan abandoned its peg to the U.S. dollar late last year, sending the country's manat into a 48% nosedive.
In Mexico, where the peso has slid 26% over the past year to its weakest level ever, people are more focused on the depreciation than the recent arrest of drug uber-lord Joaquin "El Chapo" Guzman, according to Bloomberg News.
All of which helps explain why exchange-traded funds that protect investors against foreign-exchange weakness in Europe, Japan, China and elsewhere are the hottest thing right now in the universe of ETFs.
Assets in U.S. currency-hedged ETFs almost tripled in 2015 to $66 billion, compared with total industry growth of 6.5%, according to data provider ETFGI. Two of the year's top three ETFs in terms of new assets were currency-hedged: WisdomTree's Europe Hedged Equity Fund (HEDJ) - Get WisdomTree Europe Hedged Equity Fund Report  and Deutsche Bank's X-trackers EAFE Hedged Equity ETF (DBEF) - Get Xtrackers MSCI EAFE Hedged Equity ETF Report .
Given the dollar's ongoing strength, more ETF investors are viewing currency hedging as a long-term strategy instead of a tactical short-term play, managers of the funds say.
The instruments outperformed their unhedged counterparts last year as the European Central Bank's quantitative easing pushed down the euro. Now that the U.S. Federal Reserve has started raising interest rates, a move that theoretically should further elevate the dollar, hedging could prove even more crucial.
"What we've observed is a shift in the conversation," said Arne Noack, who helps oversee exchange-traded product development in Deutsche Bank's asset-management business. "A lot of those currency-hedged products are getting looked at in a different light."
Just in the past month, BlackRock, the biggest ETF provider, and WisdomTree, the fifth-biggest, announced seven new currency-hedged ETFs, a sign they expect demand to continue in 2016. Deutsche Bank also plans additional roll-outs.
WisdomTree's hedged Europe ETF drew in $12.7 billion of assets last year, second in the ETF industry only to Vanguard's S&P 500 Index-tracking fund, according to ETF.com. Deutsche Bank's fund, which offers currency-hedged exposure to developed markets outside of the U.S., was the year's third most-popular, with $12.2 billion of net inflows.
Currency-hedged ETFs are designed to benefit from a scenario in which foreign stock markets rally even as the local currencies lose ground. The main reason to avoid them, of course, is that the exchange rates might reverse direction.
"The risk is that the dollar stops strengthening," said Todd Rosenbluth, director of mutual-fund and ETF research at Standard & Poor's Capital IQ in New York. "Then, hedging is taking away some of the performance."
IndexIQ, a unit of New York Life Insurance Co., started three 50% currency-hedged ETFs last year -- for investors who can't decide or want it both ways. The instruments "take a neutral approach," according to the company.
Another risk comes from the way the instruments are structured. Almost all of them use derivatives -- a type of financial contract -- to provide the hedge. The contracts pay off when a currency declines, and the gains are used to offset losses on the foreign-denominated stocks.
That's not a problem if you're confident the Wall Street investment firms on the other side of the currency trades will be able to pay off, said Gary Gastineau, principal at ETF Consultants. Money-losing derivatives led to the collapse and government bailout of insurer AIG (AIG) - Get American International Group, Inc. Report  in 2008.
"They're probably going to be good for it,'' Gastineau said of the Wall Street banks.
If you can get past that, it's pretty easy to see why hedging might be a good idea: The U.S. dollar has been on a tear versus just about everything. Russia's ruble slid last week to its weakest-ever level -- above 85 per dollar -- after the International Monetary Fund predicted the nation's economic growth would decline by 1% in 2016, faster than the 0.4% contraction forecast just three months ago.
European Central Bank President Mario Draghi signaled last week that additional monetary stimulus may be needed in March, sending the region's currency to its lowest in two weeks.
UBS, the Swiss bank, predicts that the yen will lose versus the dollar in 2016 as Japanese officials consider further monetary-policy easing. The Singapore dollar, Taiwan dollar, Turkish lira and South African rand are also set to drop.
As for China's yuan, Deutsche Bank says the currency could weaken to 7 per dollar from about 6.6 now.
Such weakness would validate investors in the bank's X-trackers CSI 300 China A-Shares Hedged Equity ETF (ASHX) - Get Xtrackers MSCI China A Inclusion Equity ETF Report , which was started in October to facilitate bets on the mainland Chinese stock market -- sans the currency exposure. Assets in the fund are still pretty paltry, at $1.07 million, versus $321.2 million for its unhedged equivalent.
As Chinese officials loosen their grip on the exchange rate and move toward a freer float, hedging could enter the "mainstream consciousness," Deutsche Bank's Noack said. "We haven't had substantial inflows in that fund yet, but it's here to stay."