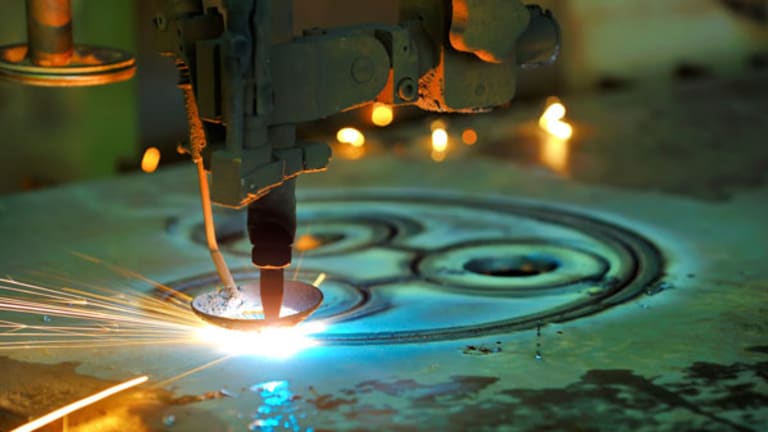 NYSE Moves to Delist China RTO Duoyuan Printing
The NYSE has applied to delist shares of the troubled Duoyuan Printing as a raft of Chinese small-cap companies suffer trading halts and delisting notices.
The NYSE has applied to delist shares of the troubled Duoyuan Printing as a raft of Chinese small-cap companies suffer trading halts and delisting notices.
NEW YORK (TheStreet) -- Duoyuan Printing( DYP), a Chinese reverse-merger company under investigation by the Securities and Exchange Commission for fraud, said the New York Stock Exchange has decided to delist its stock as of April 4.
Duoyuan said it has appealed that decision with the NYSE's board of directors of regulation. Before the Big Board can remove the stock, the exchange must apply to the SEC -- a procedure that, among other things, depends on the outcome of any appeal by the company.
Still, Duoyuan said, "no timetable has been established as to when the Committee of NYSE Regulation would be able to hear such an appeal." If the stock is removed from the exchange, it will trade on the over-the-counter bulletin board, the company said.
Duoyuan, a small manufacturer of printing equipment, has failed to file a financial report with the SEC since May 2010. The company fired its auditor, Deloitte, in September, after the firm raised red flags about the company's accounting. The move appeared to prompt
the SEC's formal investigation
last October, which Duoyuan disclosed only on March 18. (The agency is conducting a broader investigation into Chinese small-cap stocks, particularly those that came public in the U.S. through reverse mergers, a controversial process sometimes called a reverse takeover, or RTO.)
Duoyuan still doesn't have an auditor.
Duoyuan had until April 13 to file the delinquent reports under NYSE rules. That constituted the initial six-month window the exchange offers to late-filing companies. Under normal circumstances, Duoyuan would have the possibility of filing for an extension.
But because the company still hasn't hired an audit firm, and because of the "various disclosures" made by Duoyuan on March 18 -- including, presumably, the SEC probe -- the NYSE decided that the company's common stock "is no longer suitable for continued listing on the NYSE and that any additional trading period is not appropriate," the exchange said in a press release.
In its own press release, the company included remarks by Everett Chui, its "Audit Committee Financial Expert." He said the company's own internal investigation into the red flags raised by Deloitte "has made substantial progress. We anticipate its completion at the end of April 2011, at which point we plan to engage an auditor to allow us to complete our SEC filings and fulfill the listing standards of the NYSE." Chui, a Hong Kong accountant, was hired by Duoyuan to oversee the internal investigation.
"We truly appreciate the continuing patience of our investors and look forward to bringing the market further updates in a timely manner," Chui added.
Duoyuan shares continued to crater Tuesday, falling 25% to $1.28. The stock traded as high as $11 in January 2010 and then crashed after the company's fallout with Deloitte in September.
Duoyuan originally gained a stock listing in the U.S. through a 2006 reverse merger. In 2009, the company's stock began trading on the NYSE after a public offering underwritten by
Roth Capital
and
Piper Jaffray
.
Duoyuan is the latest in a raft of delistings and trading halts among Chinese small-cap companies. The sector appears to be unraveling.
Trading in shares of
China MediaExpress
( CCME), once a $1 billion market-cap company, remains frozen amid allegations of massive fraud.
Fuqi International
( FUQI), a jewelry company long under SEC investigation, was
kicked to the Pink Sheets by Nasdaq
on Monday. Its stock was trading there at $2.47, down 10% from the previous close and light years from Sept. 2009, when the equity surpassed $30.
China Agritech
( CAGC), an embattled fertilizer producer, received a listing violation notice from Nasdaq on March 21 after the company failed to file a 2010 annual report with U.S. regulators. Its stock, halted since March 14, last traded at $6.88. In February last year, the stock ramped above $30 and has mostly declined ever since.
Meanwhile, the NYSE's Amex saw fit to immediately boot the shares of a company called
China Century Media Dragon
( CDM) from the exchange, according to an 8-K disclosure filing made by the company late Monday night. China Century has until Thursday to appeal.
The delisting decision, along with a formal investigation into the company's affairs launched by the SEC, came after its auditor, MaloneBailey, resigned, saying it had discovered irregularities that "may be an indication that the accounting records have been falsified, which would constitute an illegal act."
China Century, which purports to be a television advertising company, sold 1.2 million shares at $5.25 apiece just in February.
A little more than a month later, on March 24, it received a subpoena from the SEC. The agency's investigators are looking into whether China Century "made material misstatements or omissions concerning its financial statements, including cash accounts and accounts receivable," the company said in its 8-K filing. It added that it's "committed to cooperating with the SEC."
The allegations by MaloneBailey are eerily similar to those it made against another of its clients,
NIVS IntelliMedia
( NIV). The firm resigned as that company's auditor last week. The NYSE Amex has also halted trading in NIVS shares, which last changed hands at $2.24.
The offerings of both China Century and NIVS were underwritten by WestPark Capital, an investment bank that has long helped small Chinese companies gain U.S. stock listings.
The shares of a third company,
China Intelligent Lighting
(CIL) - Get Report
, have also been under a trading halt since Friday. The company's underwriter and audit firm were WestPark and MaloneBailey.
-- Written by Scott Eden in New York
RELATED STORIES:
>>Nasdaq to Delist China RTO Fuqi International
>>Orient Paper Ex-Auditor Forces 2008 Re-Audit
>>SEC in Fraud Probe of Duoyuan Printing
>>More Resignations for China MediaExpress
>>Bullish CCME Analyst No Longer With Firm
>>Orient Paper Pops After Results Gladden Bulls
>>China RTO Stocks Slide After China Media Bombshell
>>China MediaExpress CFO, Audit Firm Resign
>>China Security Soars as CEO Talks Up LBO
>>China RTO Transfer Agent Gets SEC Sanction
>>China RTO Gets Bounced by SEC
>>China RTO Pump and Dump Scam Alleged
>To contact the writer of this article, click here:
Scott Eden
.
>To follow the writer on Twitter, go to
.
>To submit a news tip, send an email to:
.
Disclosure: TheStreet's editorial policy prohibits staff editors and reporters from holding positions in any individual stocks.