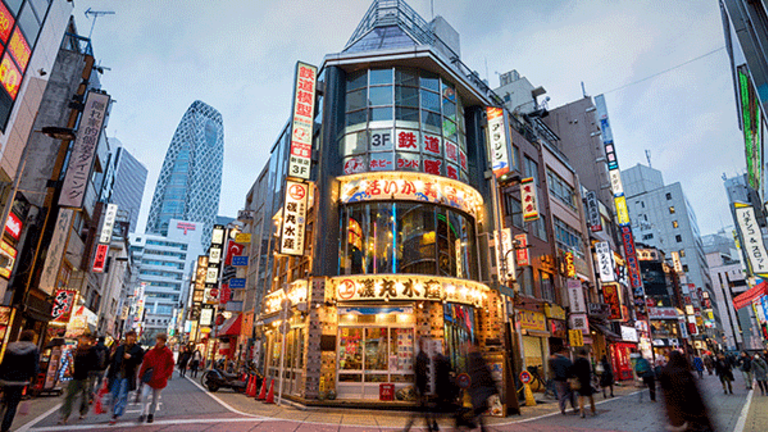 Publish date:
Now That the TPP Is Dead, Here's What Will Happen to Pacific Trade
China, not the U.S., will lead Asia-Pacific economic integration now that U.S. President elect Donald Trump has vowed to quit the partnership.
China, not the U.S., will lead Asia-Pacific economic integration now that U.S. President elect Donald Trump has vowed to quit the partnership.
The Trans-Pacific Partnership, or TPP, was the most state-of-the-art free trade agreement to date. It was supposed to be the centerpiece of the next stage of globalization. Instead, it's U.S. electoral roadkill, run over by the rumbling truck of the U.S. presidency-in-waiting of Donald Trump. 
Donald Trump is bad news for global trade, especially in Asia. But while the U.S. is looking like it's going to pull away, China is taking a greater leadership role in regional economic integration.
Chinese president Xi Jinping recently said that "China will not shut the door to the outside world but will open it even wider." According to a senior adviser on Asian economics at the Center for Strategic and International Studies in Washington, this suggests that China is "stepping into the vacuum that is likely to be there in a Trump administration" with regard to trade negotiations.
And there are a number of free trade deals on the Asia-Pacific horizon. This part of the world isn't turning its back on globalization.
TPP negotiations started in 2006, when Singapore, Brunei, Chile and New Zealand signed the trade agreement. Back then, it was known as the Trans-Pacific Strategic Economic Partnership. It wasn't until the U.S., along with Australia and Peru, joined two years later that the agreement officially became known as the TPP. By February of this year, 12 countries had signed the trade agreement. 
The TPP was intended to further integrate participating economies. The trade agreement was designed to reduce tariffs, foster trade and support economic growth. It also included regulations on intellectual property rights, state-owned enterprises, competition and the environment.
The TPP countries rest on both sides of the Pacific Ocean with a collective population of about 800 million. Its 12 members account for approximately 40% of world GDP and 25% of global exports. By 2030, the agreement would have raised GDP by an average of 1.1% in each country, estimates the World Bank. 
But Trump has vowed to ditch the TPP. Throughout his campaign to become the American president, he repeatedly tore into the deal. On the campaign trail, he said, "the TPP is a horrible deal... It's a deal that was designed for China to come in, as they always do, through the back door and totally take advantage of everyone." (And he may be right, as we wrote here).
On Nov. 8, Donald Trump was elected as the next American president. Shortly thereafter, Trump announced that withdrawing from the TPP was one of his first priorities as president. Without American participation, the TPP is basically dead.
(You can read more about how a Trump presidency will affect Asia's economy in our special report available here.)
With the TPP over, here are three trade deals that could replace it.
1. Regional Comprehensive Economic Partnership
With the future of the TPP in doubt, China has been pushing a rival Regional Comprehensive Economic Partnership (RCEP) and an even broader Free Trade Area of the Asia-Pacific.
RCEP negotiations started in November 2012. The deal intends to sync and streamline existing trade deals between the Association of South East Asian Nations and its free trade partners. ASEAN includes Brunei, Cambodia, Indonesia, Malaysia, Myanmar, Singapore, Thailand, the Philippines, Laos and Vietnam. The bloc's free trade partners are India, China, Japan, South Korea, Australia and New Zealand.
A second round of RCEP negotiations took place in Jakarta, Indonesia earlier this month.
If the RCEP happens, it will be a big deal, in all senses of the word. On its own, ASEAN is the world's sixth-biggest economy. It also has favorable demographics that could guarantee strong economic growth for years to come. Together, RCEP countries share more than one-fourth of global trade and one-fourth of global GDP. And most notably, RCEP includes enormous countries, such as China, India and Indonesia. Meaning that this single trade deal will encompass half of the world's population. 
But, the RCEP will not include the U.S. 
American officials have warned for months that the failure of the TPP would open the door to China to promote its own trade agreements. "We are seeing that play out in real time," Mike Froman, the U.S. trade representative, recently said, "We are the only ones who are going to be left on the sidelines as others move forward if [TPP] doesn't happen."
In theory, the U.S. could join the RCEP. But this looks unlikely because RCEP standards for trade, labor practices and the environment aren't up to American expectations of a trade deal.
These standards were present in the TPP and some argue that's why the TPP was such a complex trade deal.
But the trade agreement's complexity is what made it so innovative. 
If the RCEP and the TPP were centuries, we would call the former trade agreement the "20th" and the latter the "21st." This means that the RCEP fulfills all the old expectations of a free trade agreement. The RCEP would eliminate, or reduce, tariffs on thousands of goods and services and cover investment rules, economic cooperation and intellectual property rights.
But it falls short of the TPP's distinctly modern traits. Unlike the TPP, the RCEP would brush over key issues including state-owned enterprises, the environment and the digital economy.
Of the three trade deals we'll discuss here, RCEP looks the closest to being ratified.
2. Free Trade Area of the Asia-Pacific 
The U.S. proposed the FTAAP in 2006. This trade deal links the 21 APEC economies. China has been a strong proponent of this agreement. It championed the FTAAP at an APEC summit in 2014 (likely in response to the ongoing TPP negotiations, which excluded China).
APEC (Asia-Pacific Economic Cooperation) is a regional economic forum that promotes free trade between Asia-Pacific countries. This economic forum includes major players in the region such as Japan, Australia, Hong Kong, Singapore and China. Among all 21 APEC members, there is a host of different bilateral (involving only two countries) and multilateral (involving more than two countries) trade agreements. Through FTAAP, participating countries hope to harmonize this "spaghetti bowl" or "noodle bowl" of agreements.
FTAAP would be the trade deal to end all trade deals. With U.S. and Chinese participation, the FTAAP would include the two biggest economies in the world. It would incorporate the world's "factory" in China and Southeast Asia. And it would include the world's largest consumer economy. Not to mention that FTAAP countries collectively possess a huge base of natural resources.
Compared to the TPP, the FTAAP is its bigger, stronger brother. But with Trump and his supporters eschewing TPP, U.S. participation seems unlikely. The FTAAP appears to be a long shot ... at least for some years to come.
3. Last-Ditch Option: Bilateral Agreements ... or Something Else?
All of Trump's anti-free trade huffing and puffing may just be hot air. We can safely assume that he will cancel the TPP, but that doesn't mean he won't try to negotiate another deal in its place. Trump may also initiate bilateral trade deals with Asian countries.
To "Make America Great Again," Trump will try to bring manufacturing jobs back to the U.S. He will need to work hard to incentivize American companies that manufacture abroad at a lower cost to return home. If this happens, prices will rise. Low energy prices from Trump's policies may offset some of the costs. But the American consumer, who has benefited from the globalization of production, will be the biggest loser in this scenario. 
Free trade won't end simply because America is throwing a protectionist fit. Trump will likely try to negotiate a new trade deal, or a series of trade deals, with Asian countries. He may even strike a deal with China.
As the world holds its breath, much of Asia stands to lose from Trump's possible policies. We wrote about this in a free report that's available here.
---
Kim Iskyan is the founder of Truewealth Publishing, an independent investment research company based in Singapore. Click here to sign up to receive the Truewealth Asian Investment Daily in your inbox every day, for free.
This article is commentary by an independent contributor. At the time of publication, the author held no positions in the stocks mentioned.