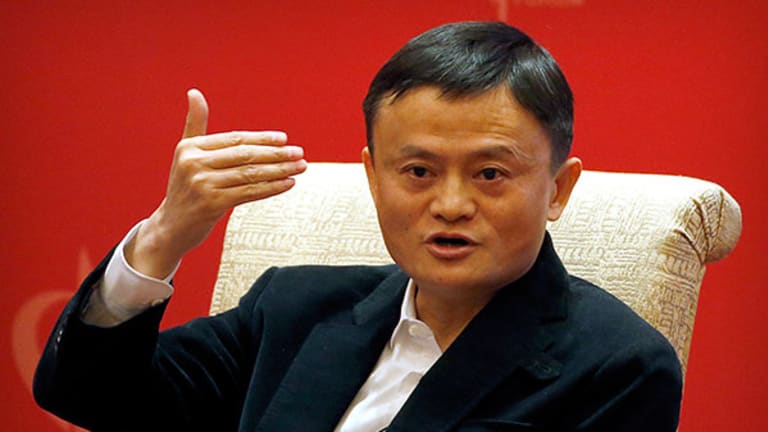 Nothing Is Stopping Alibaba From the $500 Billion Mark
Wow.
Shares of China-based e-commerce player Alibaba Group Holding Limited (BABA) are spiking notably higher Thursday, after the company announced another blockbuster earnings report.
The Chinese Internet king reported earnings of $1.17 per share, which smashed Wall Street estimates of 93 cents per share, and said revenue was $7.4 billion, which beat estimates of $7.13 billion.
Stocks Slide as Walmart Lets Most People Down, but Alibaba Gives a Lift
Alibaba's Biggest Businesses Are on Fire
The big drivers for this quarter were a notable spike in mobile users and a jump in paid cloud computing customers. Mobile monthly users hit 529 million in June, a large increase of 22 million sequentially. Alibaba's cloud computing business hit it out of the park, growing at 96% to $359 million in revenue and passing its one-millionth customer for the first time in the company's history.
Also, revenue from core commerce increased 58% year over year to $6.35 billion, and revenue from digital media and entertainment increased 30% year over year to $602 million. All around, this was a strong fundamental showing for Alibaba and the market is rewarding investors with a higher stock price.
At last check, BABA was trending up 6.9% to $166.70 a share on monster volume. Volume so far in Thursday's trading session has already passed 36 million shares, which is well above its three-month average volume of 18.28 million.
If you take a look at the chart for BABA, you'll notice that this stock has been uptrending incredibly strong heading into the quarter and over the last six months, with shares moving higher off its low of $103.98 to its intraday high on Thursday of $171.49 a share. During that uptrend, this stock has been consistently making higher lows and higher highs, which is bullish technical price action.
Shares of Alibaba have also triggered a bullish breakout this morning, with the stock now trending above some key near-term overhead resistance levels at $159.84 to $160.39 a share. This breakout has now pushed this stock into new all-time high territory, which is once again bullish technical price action.
Once a stock starts to trend into new all-time-high territory, that means that long-term bulls are all winning and up on their positions, and it also means that there's no significant overhead resistance to contend with. This bodes well for future higher prices in shares of BABA.
Longer-term market players should continue to buy the dips on Alibaba as long as this stock is trending above its 20-day moving average of $155.42 a share, or above its 50-day moving average of $148.19 a share. Shorter-term traders can focus on those breakout levels that were taken out this morning at $159.84 to $160.39 a share.
The bottom line, shares of Alibaba are likely heading toward $200 before the year (or a $500 billion market cap) is over based off of strong fundamental trends and a stock price that's just as strong and now trading in new all-time-high territory. The dips should continue to be bought aggressively, since fund managers will be forced to chase this stock at every chance they get. They can't afford to not have this stock on their books into year end, since Alibaba is firing on all cylinders.
More of What's Trending on TheStreet:
Dow's Five-Day Win Streak in Jeopardy as Heavyweights Cisco, Walmart Lag
Gary Cohn's Exit From Team Trump Would Be a Major Blow to Wall Street
Alibaba Just Delivered on Promise to Become an Online Colossus, Jim Cramer Says
This article is commentary by an independent contributor. At the time of publication, the author held no positions in the stocks mentioned.