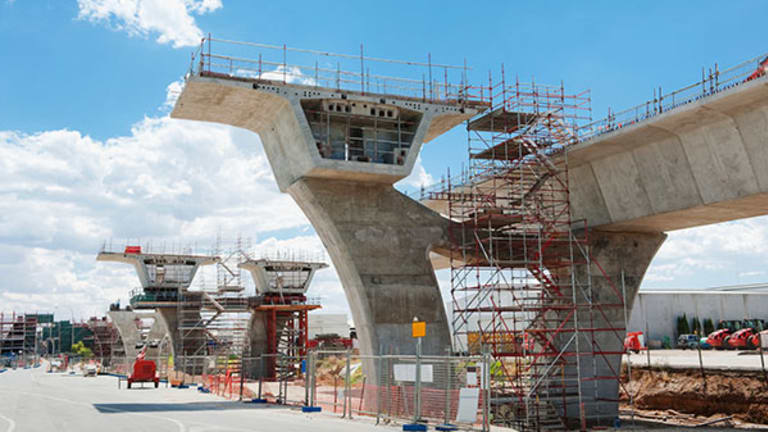 New ETF Lets You Collect Highway Tolls
This new infrastructure ETF focuses on yield.
NEW YORK (TheStreet) -- Late in the emerging market equity boom of the last decade, infrastructure  drew attention for its investment potential. ETF providers now offer funds that invests in that theme. ProShares is the latest company into the space with the ProShares DJ Brookfield Global Infrastructure ETF (TOLZ) - Get ProShares DJ Brookfield Global Infrastructure ETF Report.
This could make for a great investment.
Estimates for global infrastructure spending range into the trillions of dollars in places like India and Brazil. Plus, $3.6 trillion in infrastructure spending will be needed in the U.S. by 2020.
Read: Finding Bargains in Depressed Emerging Markets
ProShares' infrastructure fund buys into companies from nine groups within the infrastructure industry, including master limited partnerships, and draws from developed and emerging markets.
TOLZ is limited to 50% in any one country, and that is its weighting to the U.S. That's followed by the UK and Canada at 11% each. None of the other countries has more than a mid-single percentage weighting in the fund.
Oil and gas storage and transportation dominates the fund at 31% of investment, followed by electricity transmission and distribution at 19%, MLPs at 18%, and six other groups with smaller weightings. By rule, MLPs cannot exceed 25% of the fund because above that level would complicate TOLZ's taxation on distributions. Despite the TOLZ symbol, publicly traded toll roads only account for 5.6% of the fund.
Read: GM, Toyota Are Strong Buys, Says S&P Analyst
The fund's underlying index has 121 holdings. The largest holding is National Grid (NGG) - Get National Grid Transco PLC PLC (NEW) American Depositary Shares Report, a UK electricity transmission company at 7.9%.
Most of the world's need for infrastructure is in emerging markets, but less than 10% of the fund is in emerging market stocks. Of course, U.S. companies still sell into emerging markets. TOLZ won't be a proxy for emerging, but it may be a beneficiary of infrastructure trends in those markets.
Yield is the fund's primary focus. The three largest groups in the fund tend to be where investors look for income. ProShares reports that the underlying index yields 3.88%, which after accounting for the fund's 0.45% expense ratio could put TOLZ's yield at 3.43%. As is the case with all ETFs, dividends may vary.
Read: Why You Should Buy on Citigroup Weakness
The TOLZ fund focuses more on cash flow generators within the infrastructure field: transmission and pipeline companies, toll roads, airports and sea ports.
These are all important quality of life segments which should make TOLZ less cyclically sensitive than some other infrastructure funds. PowerShares Emerging Markets Infrastructure Portfolio (PXR) ,  allocates 43% to materials sector stocks further upstream in infrastructure.  This fund focuses on companies that provide the natural resources to build pipelines, electric lines and paved roads -- in other words, PXR invests in the companies that sell supplies to the infrastructure companies owned by TOLZ.
Zooming out slightly: improving and modernizing the world's infrastructure is going to happen. While there is no guarantee of investment success, the multi-trillion dollar need creates a strong tailwind.
At the time of publication, the author held no positions in any of the stocks mentioned.
This article represents the opinion of a contributor and not necessarily that of TheStreet or its editorial staff.