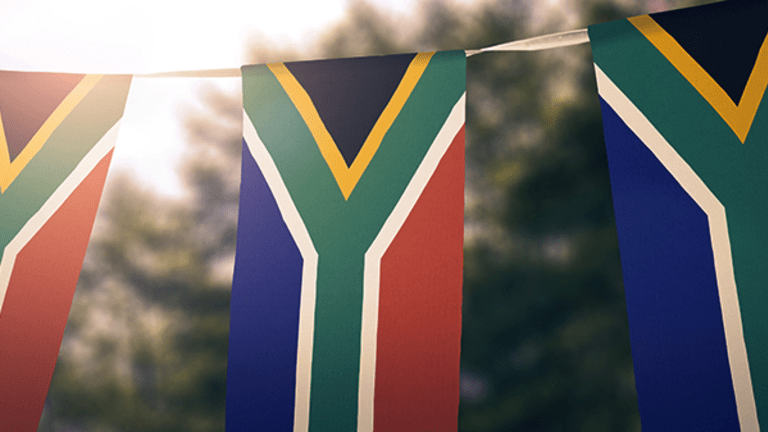 Mining Stocks Tumble As South Africa Re-Writes Ownership Laws
A new mining charter will increase mandatory black economic empowerment ownership of mines to 30% in perpetuity.
Global mining stocks found themselves in a hole Thursday, June 15, after South Africa's government said that at least 30% of domestic mining assets should be black-owned even if previous black owners sell their stakes.
South African-exposed mining companies fell sharply in the wake of the announcement. London-listed Anglo American plc (AAUKF)   tumbled 4.4% to 1,013 pence ($23.87) a share, South32 Ltd fell 4% to 158 pence, BHP Billiton plc (BHP) - Get BHP Group Ltd Sponsored ADR Report was down 2% to 1,155 pence, Rio Tinto (RIO) - Get Rio Tinto plc Sponsored ADR Report fell 2% to 3,079 pence and Glencore plc (GLNCY) fell 2.6% to 279.2 pence.
South African gold producers were hit even harder. Sibanye Gold Ltd. (SBGLF) plummeted 6.7% to 1,562 South African rand ($121.38) and AngloGold Ashanti Ltd. (AU) - Get AngloGold Ashanti Limited Sponsored ADR Report fell 4.8% to 14,015 rand. 
Mines Minister Mosebenzi Zwane announced the changes on Thursday as part of a new mining charter, that seeks to funnel more of the nation's mineral wealth back to black communities. The new regulations will also reserve 1% of mine turnover for local community investment. A draft version of the charter, released in April, had proposed that 26% of domestic mining assets be owned by black investors, black employees or black community groups.
South Africa's black-ownership laws aim to improve the economic situation of its majority-black population by redressing imbalances in ownership that have their roots in the country's apartheid past. The government "is not blind to (the) current economic climate," Zwane told reporters at a press conference on Thursday to announce the new rules.
Mining lobby groups and analysts have warned that the changes risk damaging the attractiveness of investing in the South African mining sector, leading to a long-term decline in output as new projects stall or are abandoned. 
"If the charter ... moves toward increasing BEE (Black Economic Empowerment) participation to 30% (from 26%) and more importantly moves to scrap the "once empowered, always empowered" rule - it would introduce significant uncertainty for [South African] miners," Goldman Sachs noted ahead of today's announcement.
South Africa's Chamber of Mines on Wednesday refused an invitation to meet with the mining minister ahead of today's announcement claiming that the new law had been rushed through without proper consultation. The chamber "will not be co-opted into participating in an attempt by the DMR (Department of Mines) to provide any support into what we believe has been a flawed process," it said in a statement.
Metals and minerals account for about half of South Africa's export earnings and bout 7% of its total gross domestic product. The nation has the world's largest platinum deposits as well as giant reserves of gold and coal.