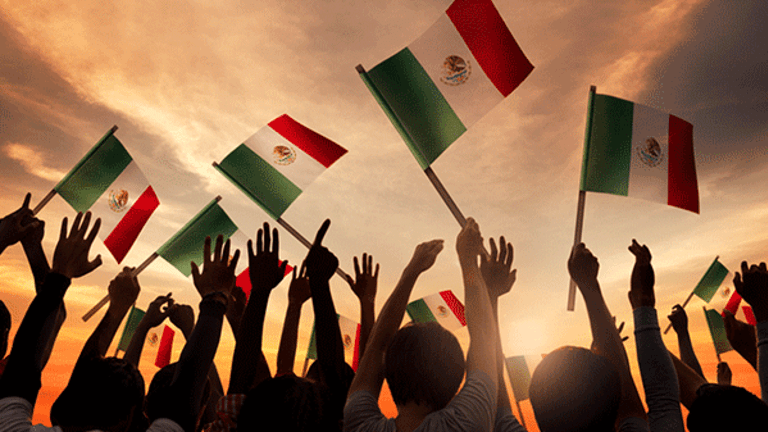 Here Comes the Surprising Mexico Peso Rally -- This Is Why
Mexico's peso is trading at a record-low valuation thanks to tough talk by President Trump, and that could portend an imminent rally.
If President Donald J. Trump builds a wall along the southern U.S. border and slaps a 20% tariff on imports from Mexico, that country's currency -- the peso -- will tumble.
Says who?
A lot of the experts are arguing just the opposite.
The peso fell 17% in the past nine months as Trump campaigned on promises to build a wall and renegotiate the two-decade-old North American Free Trade Agreement. With that rapid depreciation, the news is already priced into the market, according to investment banks Morgan Stanley (MS) - Get Morgan Stanley Report and UBS (UBS) - Get UBS Group AG Report. In other words, many investors already assume that the president will follow through on his pledges.
So with the peso at a record-low valuation relative to its trading history, the coming months may actually bring a rally in Mexico's currency.
"The peso has already priced in all sorts of very negative scenarios," said Simon Nocera, chief investment officer of Lumen Advisors in San Francisco, which counsels a $1 billion private foundation. "And if you look at it from a pure value point of view, the exchange rate with Mexico is now one of the most competitive in the world."
The public spat between Trump and Mexican President Enrique Pena Nieto played out last week in the press and on Twitter, as the leaders planned a meeting in Washington, then canceled it, then spoke by phone to patch things up.
The peso rallied at the prospect of the meeting, plunged on the cancellation and recovered ground on news of the reconciliation. Year to date, the peso is down 0.5%, even as most emerging-market currencies have gained. Mexico is the second-biggest exporter to the U.S. after China.
The rumpus between the two countries began when Trump ordered construction of a border wall with Mexico, seen by many people in that country as an offensive symbol of anti-Mexican sentiment. White House press secretary Sean Spicer said that a 20% border tax might be imposed on imports from Mexico -- a radical departure from the two-decade-old North American Free Trade Agreement.
Proponents of such a plan, a version of which has been mooted by Republican lawmakers, believe that the peso would fall in response to tariffs, according to Bank of America (BAC) - Get Bank of America Corp Report . Such a market move would reduce the cost of Mexican goods and offset any possibility that higher prices might be passed along to U.S. consumers.
But the peso's drop has already taken place, according to analysts with Morgan Stanley.
The tariff level of 20% "can be seen as a starting point for negotiations," the analysts wrote in a report on Wednesday. In other words, that's more or less the worst-case scenario. By one valuation measure, the peso is now more than three standard deviations below its historical average -- something that only happens 0.3% of the time.
The resumption of dialogue between the two presidents reduces the risk of a "much harsher outcome," such as if Trump were to simply withdraw from Nafta, according to the Morgan Stanley analysts.
"This option is not off the table, but the fact that both sides agreed to keep dialogue channels open makes it less likely," they wrote. "We believe that the odds are increasingly in favor of a steady to stronger Mexican peso."
UBS, Switzerland's largest bank, calculated in a Jan. 24 report that the peso's current level reflects a 70% chance that a 20% tariff gets imposed.
Of course, there remains the risk that the relationship between the U.S. and Mexico breaks down further and a steeper tariff is imposed. And Mexico's fiscal health could deteriorate, since the peso's lower level has made it more expensive for the government and the national oil company Pemex to make payments on dollar-denominated debt.
Mexico could become embroiled in domestic political turmoil -- or a turn to leftist leaders -- as the country's 2018 presidential election approaches, according to David Hendler, an analyst at Viola Risk Advisors in Montebello, N.Y.
There's also the chance that companies from the U.S. and elsewhere could scale back investment in Mexico, and that investors would decide to avoid the risks of its local markets. Under pressure from Trump, Ford (F) - Get Ford Motor Company Report and other manufacturers already have curtailed plans for new factories in the country, to appease the new president as he presses for job creation at home.
"We would urge investors to trim their exposure to Mexico until there is further clarity in U.S.-Mexico relations, which with Trump in the White House may be a tall order," Hendler wrote.
But there is likely to be pushback against Trump's border-tax plan from U.S. companies such as WalMart (WMT) - Get Walmart Inc. Report that rely on imports from Mexico. According to Bank of America, retailers would see their earnings per share drop by 55% if a 20% tariff is imposed on imports from all countries, even after an expected cut in corporate tax rates.
Jorge Mariscal, chief investment officer for emerging markets at UBS Global Wealth Management, forecasts an exchange rate of 20 pesos per dollar in six months -- slightly stronger than the current rate of about 21 per dollar.
Ironically, one catalyst could be Mexican pride and a newfound determination to address such domestic problems as corruption, inefficiency and lawlessness. Trump has managed to galvanize public opinion in Mexico against the country's historical economic dependence on its behemoth neighbor to the north.
"The degree of unity that I'm witnessing now from Mexicans across the political spectrum is remarkable," Mariscal said. "They're not going to go without a fight."