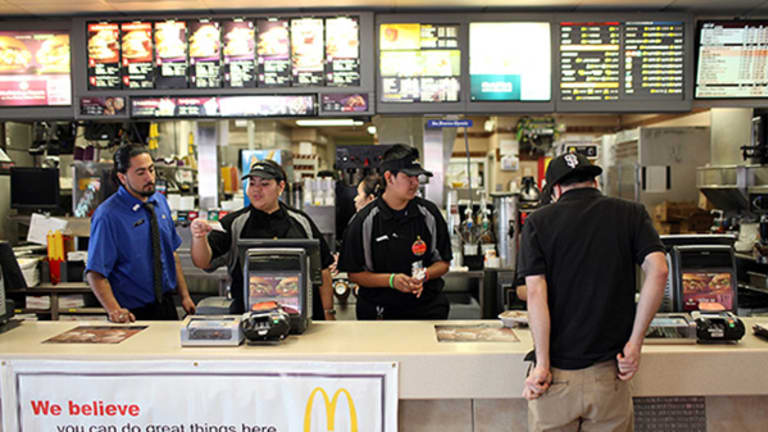 McDonald's Will Soon Let You Order A Big Mac With Your Smartphone
McDonald's will begin piloting mobile ordering in several markets very soon, says the company's chief digital officer.
Ordering a McDonald's (MCD) - Get Free Report Big Mac may soon be as easy as tapping a button on a smartphone.

"We will be piloting ordering capabilities through mobile in some geographies outside the United States this year," McDonald's chief digital officer Atif Rafiq told TheStreet in an interview.  Rafiq, who worked at Amazon (AMZN) - Get Free Report and Yahoo (YHOO) before joining McDonald's in 2013, declined to specify where mobile ordering would be tested but said, "it's important for us to work out the kinks so we can scale it up as soon as possible." 
Indeed, Rafiq and his digital team at McDonald's are a busy bunch right now as CEO Steve Easterbrook works to modernize the chain's customer experience. McDonald's is simultaneously working on its first-ever national loyalty initiative, building out the technological infrastructure and e-mail database (through app downloads) required to support a successful rewards program. The app currently offers only basic functions, such as a restaurant locator and menu details. 
In 2015, McDonald's added a rewards program to its app for beverages in test markets such as California and New York City. When a customer buys five McCafe beverages, he or she receives a sixth one free. So far, the McDonald's app has been loaded about 7.5 million times.
"I think McDonald's is just getting started [on digital]," says TheStreet's founder Jim Cramer. McDonald's is likely hoping it can channel some of the success that fast-food rivals such as Domino's Pizza (DPZ) - Get Free Report and Papa John's (PZZA) - Get Free Report have had with their mobile ordering platforms in recent years. 
TheStreet talked with Rafiq at length about McDonald's digital transformation; a condensed version is below.

The McDonald's of the future is taking shape, and it will have a big digital component. 
TheStreet: What does the McDonald's digital team look like right now?
Rafiq: Talent has been an important part of our digital strategy. We have essentially, at this point, done the majority of our hiring that we intend to accomplish, adding the critical skill sets we needed to have when we started this journey two years ago. A Silicon Valley office is a part of that, but it's way more than that given our scale.
TheStreet: How many people are on the team?
Rafiq: We are approaching 200 people on the digital team. In terms of distribution, we have people in our top five to 10 markets. The largest build-up has been in the United States because that's the largest market for McDonald's in terms of number of restaurants, revenue and income. We have added digital talent both in Oak Brook, Ill., [headquarters] and Silicon Valley to work with our local teams.
TheStreet: McDonald's CEO Steve Easterbrook has been at the helm for just over a year. How has the approach to digital changed within the organization?
Rafiq: It has been very consistent because Steve has been the biggest advocate for digital since we began with the digital push. The reason for that is he hired me from Amazon, and as Steve became CEO a year ago, his enthusiasm and passion for digital has remained very consistent, and at a high level. That includes his engagement with it. On top of that, he is a change agent for the whole company now, which is great because digital is about changing our business to be more modern and progressive for the customer.
TheStreet: What problems among consumers is your team trying to solve?
Rafiq: When we think about the customer experience of how people get their food from McDonald's, we want to do a much better job on behalf of the customer. We think technology plays a huge role in making that experience more streamlined, whether that means helping people skip steps, have more control over the process and reduce stress, or customize their food experience -- digital allows all of that to happen. As a result, we look at both mobile and in-store kiosks -- our goal is to digitize the whole customer journey.
We certainly have elements of that launched in some markets, and are working at driving scale. The goal is to bring it all together in a cohesive experience that is in all McDonald's geographies. Obviously that will take some time. We do, however, have in-store kiosks in about 45% of our restaurants in Europe. We have launched a mobile app in the U.S. that has generated significant adoption in terms of downloads and users. We will be piloting the ordering capabilities through mobile in some geographies outside the United States this year.


Ordering an Egg McMuffin on a mobile device will be an option soon.
TheStreet: The mobile-ordering pilot, could you share more on that? Will that look like the Starbucks app?
Rafiq: First, it starts with providing the right menu options and pricing information to customers. Menus and pricing can be different by market, so we have to get that right by location. Then, we have to make it easy to navigate the different menu options and be able to craft an order. Also, it involves making it easy to check out and make a payment. You also have to be able to access your favorites and past orders, so it becomes even easier to order next time around.
We also have to make the food easy to get. For example, will it be a drive-through order or will I sit in the restaurant and eat? So, there is a lot there to solve. What we have been building are these types of capabilities and doing it in a way that's easy for us to deploy in any McDonald's country, and that's pretty powerful.
So, we are going to pilot it in some of our top markets -- I can't tell you which ones right now, but it's important for us to work out the kinks so we can scale it up as soon as possible.
TheStreet: What problems does adding mobile ordering to a McDonald's restaurant cause?
Rafiq: We are going to give customers a lot of control, and we need to make our operations work in this type of world. Some of the considerations would be, for example, when do you begin to prepare the food when someone is doing a mobile order? A sandwich is very different than a coffee. Preserving the freshness of food is not something we will compromise on. Then, once they arrive, how do you make it clear where to pick up the food?
TheStreet: McDonald's has started testing delivery with Postmates. How are you thinking about delivery moving forward?
Rafiq: Our outlook on delivery is this: We are a customer-obsessed organization. And we live in a world where we can get you food even if you are not formally involved in the process. Postmates is just one company; there are a number of interesting companies out there. If someone could send another human being as a runner to the restaurant to go pick up food that they have ordered through a third-party application, we want to get a feel for how to make that process better. For example, does it make sense for a third-party provider to stand in line like a customer and order the food, or would there be a way to make it more streamlined if you are working more formally with a third-party service? Those are things we are trying to assess, as well as what level of demand really exists for it.
Also, we have to try and figure out how to keep it a good value for the customer, given that there are costs involved. I would say we are in the exploration stage around delivery with a number of providers.


An Uber driver taking you to McDonald's for a burger? It could happen.

TheStreet: Cars today are rolling computers. What is McDonald's working on to capitalize on that?
Rafiq: We do talk to the major players who are defining the future of transportation, including cars. We understand future driving trends include ride-sharing, but also very different patterns around car ownership and even things like autonomous vehicles. Our view is that there will be a wave of innovation here. McDonald's has been very well known for convenience, so we are looking for modern and progressive ways to continue to be the leader here. If that means bringing some form of transportation experience or ride sharing experience with a food experience, that will be more and more possible. The car is connected, and the McDonald's process of ordering food will be connected so we have to figure out how to bring the two together to save people time.
TheStreet: So you mean if I order an Uber, I get a discount for a Big Mac? Or, if I order an Uber, it takes me to McDonald's?
Rafiq: I would say more so the latter, because that's where convenience comes into play. For example, I am headed to the airport, I am running late, so how convenient would it be for the technology to not only get you to the airport, but also find the closest McDonald's in a very efficient way? That is where things are headed, and there is no reason it can't happen with an Uber or Lyft.