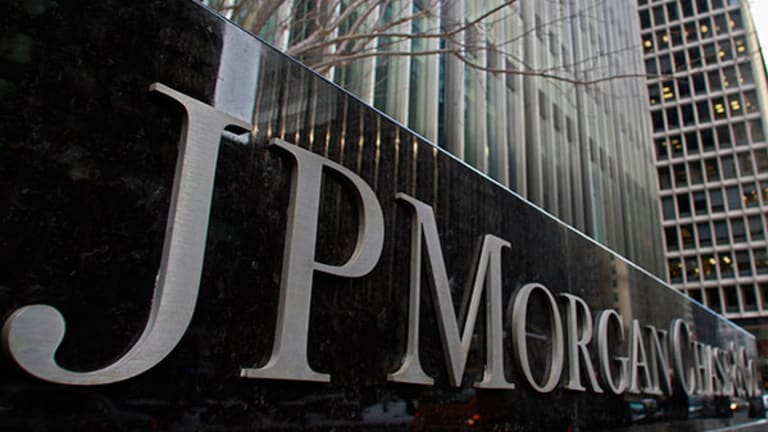 Market Recon: You'll Have to Get to Work on the Banks Today
Forward guidance will be crucial for this sector, but also for the markets.
"I have always been afraid of banks." -- President Andrew Jackson
Banks Gone Wild
Unless you just fell off of a turnip truck, you are probably well aware that three of the four largest U.S. banks by assets will post quarterly earnings this morning. JP Morgan (JPM) - Get JPMorgan Chase & Co. Report , Citigroup (C) - Get Citigroup Inc. Report and Wells Fargo (WFC) - Get Wells Fargo & Company Report will all go to the tape with their numbers. Slightly beneath the radar, but also reporting from the financial sector today will be PNC Financial (PNC) - Get PNC Financial Services Group, Inc. Report , First Republic (FRC) - Get First Republic Bank Report , and Commerce Bank (CBSH) - Get Commerce Bancshares, Inc. Report , so this day, despite its position ahead of a three-day weekend for the marketplace, will undeniably set the tone for the entire group.
There are clearly some headwinds facing this group that may have not been foreseen a few months ago, when the investing public was expecting some quick and easy victories in the wake of the electoral sweep of the executive, and legislative branches of government by the same (and thought to be more pro-business) political party. Yeah, so much for that. Since those heady days for the sector and for the markets, the bond market has not reacted predictably as yet to the FOMC's trajectory of forward looking monetary policy. Simply put, the spreads between short-term, and long-term interest rates are not quite what the banks were looking for. This is where the margin on that whole "lending as a business" thing comes in. Not surprisingly, overall lending, already soft in 2016, has continued to slow year to date in 2017.
Should we even go into credit card debt, auto loans, and student debt, all of which are showing elevated levels of delinquency? For instance, defaults on subprime auto loans are running at their highest levels since 2009. At some of these major banks, the auto loan portfolio can run five times the size of the student loan portfolio. A rebound for the long end of the curve would improve the environment, but there will undeniably be a dent in demand for credit from an already wounded consumer.
Oh, it will not all be horrible. The trading environment for these banks may not be in a better place than it was late last year, but it almost has to look much better compared to the first quarter of 2016 year over year, and investment banking is finally showing some improvement. The knee-jerk reaction in the futures markets will come from the data. Where these equities open, and how price develops throughout the day, will rely heavily on forward guidance. You're going to have some work to do this morning.
Dollar Bill Y'all
President Trump was it again. Late yesterday, for any who actually still doubted the president's preference, Donald Trump again complained about the strength of the U.S. dollar. This is a leader who is focused on the overall trade deficit and rebuilding the U.S. manufacturing base. This is what he understands best, and that is where he is going. I actually love this quote by the president yesterday afternoon: "Look, there's some very good things about a strong dollar, but usually speaking the best thing about it is that it sounds good." On that note, the president also indicated that we will not be labeling China as a currency manipulator.
Flip flop? No. This is a good thing, because there really was not a recent factual basis for this claim. The president and his crew know that. What this does is illustrate a certain level of skill in negotiation. By threatening to do something aggressive that he probably could not do anyway, the president has gained some favor, and probably some help with North Korea. Some might think he looks foolish, reversing course. I don't think that concerns him at all, as long as he gets what he thinks he needs. Chinese help on North Korea, opening Chinese markets to U.S. beef, and allowing for U.S. investment in country are steps in the right direction. For those keeping score at home, the DXY basket has met technical support at precisely 100 this morning.
Tax Plan, What Tax Plan?
Speaker of the House Paul Ryan is having a lousy year. It's his own fault. First, the Speaker puts together a healthcare plan as if it were a high school science project, and now, nobody likes his tax plan. The abandonment of the House tax plan by just about everyone else almost assures a later, if ever legislative victory on tax reform. You may have noticed the steady erosion in equity prices as evidence of the lack of faith in some eventual economic growth.
You now have White House Budget Director Mick Mulvaney stating on CNBC that the president and his staff are going to have to put together their own tax plan, and then take it to the House and try to sell it to the Congress. You now also have Senate Republicans dusting off and reviewing a 2015 tax plan that went nowhere at the time, as the framework for their own package going forward.
On top of these zigs and zags, Steve Mnuchin, Secretary of the Treasury, is talking to members of both parties about including an infrastructure build as part of any tax plan going forward, which is not part of the Ryan plan.
What's so bad about this House/Ryan plan? The BAT, or border adjustment tax, and the elimination of business deductions for interest payments. These two ideas, though seemingly would help fund the plan itself, are political poison. Nobody wants to touch them, and nobody who needs to run for re-election will support them. Just thinking out loud here, in case any of our national leaders come across this article: don't even think about a VAT, or value added tax. The last thing we need is a national sales tax on everything that everyone buys. A VAT would never go away, and we would never forgive you.
Macro
08:30 - Initial Jobless Claims (Weekly): Expecting 243,000, Last Week 234,000. This data-point surprised to the downside last week, with its lowest print in over a month. The four-week moving average now stands at 250,000 and shows no sign of returning to significantly higher levels any time soon. It is that regularity that has pushed this item outside of the realm of trader focus.
08:30 - PPI (March):Expecting 0.0%, February 0.2% m/m.
08:30 - Core PPI (March):Expecting 0.2%, February 0.3% m/m. The expectation is that for the purpose of monthly comparison, there was no headline inflation at the headline level. The year-over-year print should be a different story. For traders, this will be neither here nor there. The inflation data that everyone wants to see will still be released tomorrow, along with retail sales, despite the day being a market holiday.
10:00 U of Michigan Consumer Sentiment (April-adv):Expecting 96.8, March 96.9. Though drifting in a bit over the last few months, this survey remains close enough to its recent highs. The similar Consumer Sentiment survey, which is released by the Conference Board, has been far more euphoric in nature. Of all of today's economic data, this one has the most potential to impact the marketplace.
10:30 - Natural Gas Inventories (Weekly):Expecting -10 billion, Last Week +2 billion cubic feet. Last week's inventory build in this space was the second (even if it was minute) over a six-week span. In fact, over those six weeks, there really only has been one draw that I would consider sizable in nature. The commodity is working its way back in, off of last week's highs despite a weakish dollar.
13:00 - Baker Hughes Rig Count (Weekly):Last Week 839 total, 672 oil. Producing U.S. oil rigs just keep growing in number, as does U.S. production in general. I do not expect this to change with WTI crude trading above $50 a barrel, much less hanging around the $53 level.
Sarge's Trading Levels
These are my levels to watch today for where I think that the S&P 500, and the Russell 2000 might either pause or turn.
SPX: 2363, 2352, 2345, 2337, 2327, 2320
RUT: 1374, 1367, 1360, 1350, 1341, 1335
Thursday's Trading Levels (Consensus EPS Expectations)
Before the Open: (APOG) - Get Apogee Enterprises, Inc. Report ($0.72), C ($1.25), CBSH ($0.65), JPM ($1.52), PNC ($1.83), WFC ($0.96), FRC ($1.01)
(What will move markets this quarter and how should investors position themselves ahead of time? Jim Cramer sat down with four of TheStreet's top columnists recently to get their views. Click here to listen to his latest Trading Strategies roundtable with them and read their advice for stocks, bonds, forex and gold.)
At the time of publication, Stephen Guilfoyle was long C, JPM, although positions may change at any time.