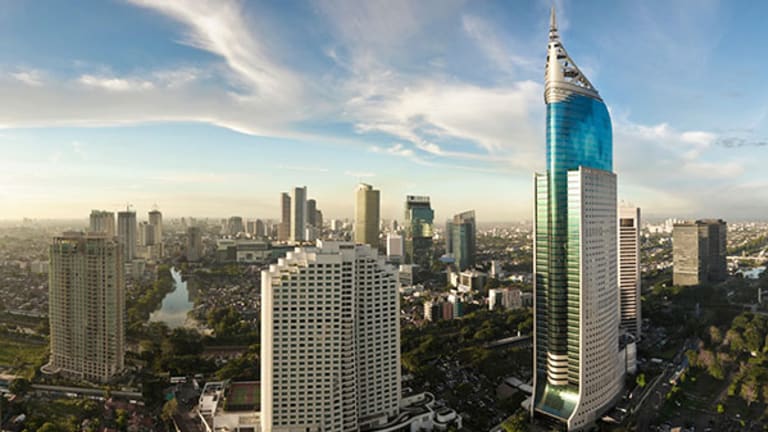 Malaysian Plane Carrying 162 People Disappears Over Sea- Reports
Malaysian AirAsia plane carrying 162 people disappeared over Indonesian waters without a trace Sunday, a search by air and sea lasting several hours was called off as night fell.
NEW YORK (TheStreet) -- An AirAsia plane carrying 162 people disappeared over Indonesian waters without a trace about an hour after taking off Sunday, according to published media reports. The incident is the third involving a Malaysian airline this year.
A search by air and sea has resumed Monday morning after being called off as night fell on the region. The search began when the flight, headed to Singapore from Surabaya, Indonesia, vanished from radar after 6:18 a.m. Sunday morning local time over the Java Sea.
The last call from the aircraft was the pilot's request to move to higher altitude away from storm clouds. Air traffic control gave the pilot permission to move away from the cloud, but denied permission to fly higher because of air traffic. The pilot didn't make any additional distress calls, the reports said.
The airline has no clues about what may have caused the plane to disappear other than the storm clouds the flight encountered.
On the airline's website, AsiaAir Indonesia's CEO Sunu Widyatmoko offered the disappeared passengers' family and friends his condolences. "We are cooperating with the relevant authorities to the fullest extent to determine the cause of this incident. In the meantime, our main priority is keeping the families of our passengers and colleagues informed on the latest developments.
"We will do everything possible to support them as the investigation continues and have already mobilized a support team to help take care of their immediate needs, including accommodation and travel arrangements. A briefing center has also been set up in Surabaya for the families," Widyatmoko said, adding that for the families in Singapore, there is also an emergency briefing room at Changi International Airport Terminal Two, where AirAsia Indonesia will be providing regular updates.
The airline established an emergency call center for those seeking information about relatives or friends who may have been on board the flight. The number is +622129270811.
Search and rescue operations are being conducted under the guidance of National Search and Rescue Agency Republic of Indonesia (BASARNAS). AirAsia Indonesia said it's cooperating fully and assisting the investigation.
In March, Malaysia Airlines Flight 370 disappeared shortly after takeoff with 239 people aboard en route to Beijing from Kuala Lumpur. The plane was never found.
Another Malaysia Airlines flight was shot down over eastern Ukraine while traveling to Kuala Lumpur from Amsterdam in July. The attack killed all 298 people aboard.