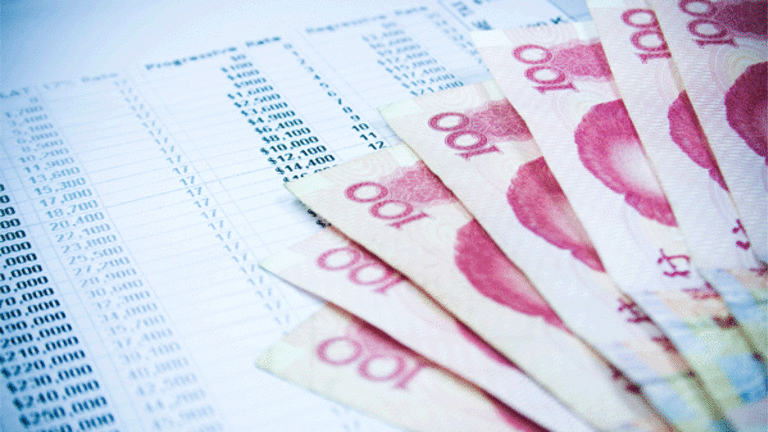 Publish date:
Longtop Financial: Fund Managers' Dilemma
Serious fraud allegations at Longtop Financial have raised concerns that fraud among U.S.-listed Chinese companies extends beyond just RTOs to major IPOs as well.
Serious fraud allegations at Longtop Financial have raised concerns that fraud among U.S.-listed Chinese companies extends beyond just RTOs to major IPOs as well.
The following commentary comes from an independent investor as part of TheStreet's guest contributor program, which is separate from the company's news coverage.
BEIJING (
) -- Serious fraud allegations at
Longtop Financial
( LFT) have raised concerns that fraud among U.S.-listed Chinese companies extends beyond just RTOs to major IPOs as well. Longtop poses a dilemma for fund managers who are holding large positions that can only be sold by further pushing down the price.
Shares of Longtop Financial fell by as much as 18% on Tuesday following
which bluntly stated that "every financial statement from its IPO to this date is fraudulent."
The simple crux of Citron's research is identical to the issues identified at
China Media Express
( CCME), namely that the numbers are simply too good to be true and that the company is using undisclosed related party entities to inflate profits in a way that is not easily detected by their auditor, Deloitte.
>> China MediaExpress in a Bind Against Shorts
LFT stock closed down approximately 13% on over 11 million shares volume, more than 10 times the average daily volume. While this may sound significant, it is clear that the institutional selling has not yet kicked in. Institutions are slower to move and more likely to require their own internal due diligence checks before liquidating a large position. As a result, I believe there is significant share price overhang and the potential for a substantial further drop.
There has been a frequent pattern in the selloffs following detailed fraud allegations on Chinese stocks. The first day drop is typically 10-15%, with the bigger drops occurring within the next two to four days as institutions come to grips with their dilemma. The dilemma for the institutions is that they often own large enough positions that they will materially impact the price when they sell.
However, if they do not sell immediately, they may face the prospect of being stuck holding the stock as it plunges, only to get out 50-60% lower. In the case of CCME, it was even worse than that. Many investors still thought they had the chance to get out at around $11.88, but then the stock was suddenly and unexpectedly halted and it is now being marked by brokers at $1, having traded as high as $23 just weeks before.
As of the last reporting date, over a third on LFT was held by only nine institutions, as follows:
Unlike many of the RTO names in the China space, the larger cap IPOs are predominantly owned by institutions. LFT's institutional ownership stands at over 70%. While many individual investors may be inclined to take speculative risk on a name like this, institutions have an obligation to handle their funds with a greater degree of diligence which would certainly discourage them from holding onto large position with "digital" outcomes.
In addition, institutions have a reputational risk that is not shared by individuals. No institution wants to be known as the last one holding the next
Enron, Lehman, AIG, Freddie
or
Fannie.
And certainly no one wants to be the one remembered for "buying on the dips" in one of these names. Clearly there may be upside in buying a stock that has been beaten down to below fair value. With LFT it could potentially bounce back to $30, up 36% from current levels.
LFT has a March 31 fiscal year end, meaning that its 10K is due out soon, and has not yet received sign off from Deloitte. As with CCME, investors must now debate whether or not to hold through the release of the 10K, effectively betting that LFT will get a 100% clean bill of health. This will be the "digital" moment where the stock either rises back to $25-$30 or tanks to below $10 (or perhaps much lower).
I have made this point in the past, but it bears repeating. The burden of proof rests with the company to be 100% accurate. If there is a 10-20% problem with the numbers, then the consequences will be dire. The fact that various analysts have verified certain portions of the business to be completely legitimate does not in any way guarantee that some portion of it is not.
Many investors in CCME took extreme comfort based on a series of "partial verifications" done by various parties. But at the end of the day, the only thing that could have completely validated CCME would have been a clean sign-off by Deloitte. As we now know, Deloitte not only didn't sign off the 10K, but resigned completely and disavowed its former sign-offs.
The Citron report is notably brief, and raises a number of issues that I do not believe will affect the 10K. However, even though I may not agree with all of the Citron arguments, I am highly certain that one or more of the issues will affect the 10K. It remains to be seen whether these issues will be major or minor.
At a minimum, LFT is not disclosing the nature of related parties (i.e. the employment agency used to staff the company) and this will be an issue for the 10K. This is simply a disclosure issue and should not have a significant impact on the share price, as long as the underlying numbers between the parties matches. However, the existence of this undisclosed related party arrangement is a black eye for Deloitte because it should be easily observable during the audit process and should obviously be disclosed. It raises the risk that Deloitte has not fully audited all of the necessary components of the company's revenue and income stream.
Citron also discusses past criminal behavior by the chairman and CEO which resulted in a court ruling against them. The company they had previously worked for (and which took them to court) was omitted from their biographies in the IPO and I expect it will also be a disclosure issue going forward. To the extent that this does not affect Deloitte's sign off on the 10K, it should not be an issue for the share price. However it should certainly be viewed as a red flag and obviously raises the likelihood of accounting irregularities.
The key red flag is that LFT has reported margins that are more than double that of competitors. From an auditing standpoint, deconstructing the numbers is made more difficult due to the unusual employment arrangement by which LFT offloads employment to a different entity. Since the entity appears to be a related party, this arrangement makes very little sense from a business standpoint. If there are any issues with revenue and expense recognition, it will at a minimum result in a restatement of earnings which will, as always, cause a mass exodus from the stock.
Citron touches on one issue with LFT that I believe may have much wider ranging implications for U.S.- listed China stocks, namely the transfer of shares by major insiders using unusual transactions. According to Citron, the founder and chairman has "gifted" 70% of his stock to employees and friends over the past four years. This is certainly unusual and unexpected. However, if it turns out that there is more to the transactions than simple gifting, then the consequences for the company and the share price will be significant.
As of now, I have no reason to believe that there is anything improper as it specifically relates to insider share transfers at LFT. However, I am currently working with others to look into the subject in a more general way as it applies to other companies and I am currently of the opinion that there are significant offshore sales of stock occurring by insiders of certain Chinese companies which are not being disclosed.
After reading the Citron report and making a number of phone calls to other China investors, I took a short position in LFT. I plan on holding until the release of the 10K, which I believe will contain either major or minor restatements. As of March 31, short interest stood at over 9 million shares ($180 million at the time), and I am guessing that this is substantially higher now.
Disclosure: The author is short LFT.
The author can be reached for comments at
comments@pearsoninvestment.com.
Rick Pearson is a Beijing-based private investor focusing on U.S.-listed China small-cap stocks. Until 2005, Pearson was a director at Deutsche Bank, spending nine years in equity capital markets in New York, Hong Kong and London. Previously, he spent time working in venture capital in Beijing. Mr. Pearson graduated magna cum laude with a degree in finance from the University of Southern California and studied Mandarin for six years. He has frequently lived, worked and traveled in China since 1992.