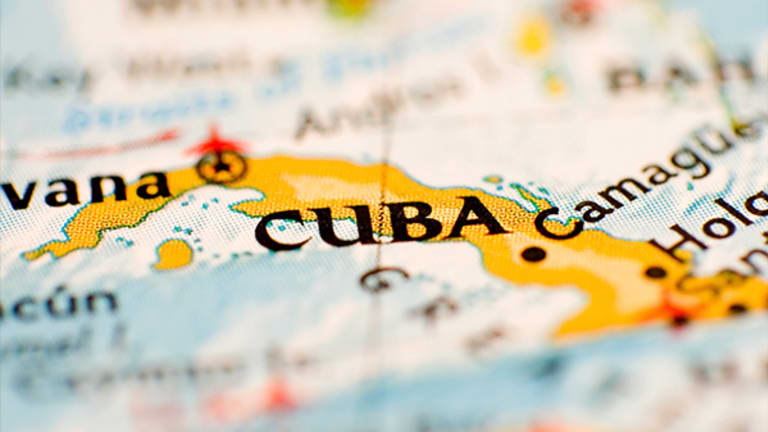 Lifting of Cuba Sanctions Could Be Bonanza for U.S. Companies
Companies involved in mining, petroleum exploration, agribusiness, biotechnology and tourism may benefit.
NEW YORK (TheStreet) -- The lifting of U.S. sanctions against Cuba could prove to be a boon for U.S. companies, especially those involved in mining, petroleum exploration, agribusiness, biotechnology and tourism.
That's the view of Kirby Jones, a longtime business consultant on trade with in Cuba, after President Obama announced plans on Wednesday to end more than half a century of economic sanctions against the Castro regime.
"There will be large interest in mining and mining equipment," Jones, whose Alamar Associates has worked with U.S. companies around Cuba for more than 40 years, said in a phone interview Wednesday from Fountain Hills, Ariz. "Agribusiness has the potential to attract a lot of interest as well, as Cuba has opened all of its lands to foreign investment, including sugar. The sale of food has the potential to expand tremendously."
Biotech is another area that is primed for investments because Cuba has developed vaccines that are unavailable in the U.S., Kirby added. Cigars and spirits are two other products that U.S. companies are certain to pursue in Cuba, he said.
"Cigars and rum are sexy, and they also represent great potential for sale to the U.S.," Jones said.
And then there's tourism, probably the most obvious industry for U.S. investment led by hotel chains and cruise lines that already operate in the Caribbean.
On Wednesday, Obama said that the U.S. had agreed to restore full diplomatic relations with Cuba and to open an embassy in Havana for the first time in more than 50 years. But because a vote of Congress is needed to eliminate broad economic sanctions in place for decades, Obama was able to take only comparatively small steps such as permitting U.S. financial institutions to open "correspondent accounts" at Cuban financial institutions to facilitate transactions. Also, travelers to Cuba will be able to use U.S. credit cards in the country.
Additionally, the maximum limit on remitrances will be raised from $500 to $2,000 per quarter for Cuban nationals. Other travel restrictions were also lifted, though not for ordinary tourists.
"When Obama talks about financial arrangements, that's potentially very important," Jones said. "But if this is just about credit cards, 'who cares?' "
Much will depend on whether Obama can convince a skeptical Republican-led Congress that U.S, businesses stand to gain in areas of the Cuban economy that remain comparatively undeveloped, even as European, Brazilian and Canadian companies have stepped up investments in the island nation. U.S. companies have been prevented from most trade relations with Cuba since the embargo was enacted in October 1960.
Unrestricted by the U.S. embargo, European hotel chains, including Spain's Grupo Sol Melia and Hoteles Tryp, have expanded operations on the island, while Iberia and Air Europa fly into Havana. Mining companies, including Canada's Sherritt International and South Africa's Minorco, are active in Cuba, and Brazil's Petrobras (PBR) - Get Free Report has made investments in oil exploration. 
Not open to discussion, at least not formally, will be Cuba's political system, Jones said. Nonetheless, the resumption of formal diplomatic ties, after decades of secret back-channel negotiations, marks an historic turning point that could lead to a resumption of economic relations.
"What the Cubans won't permit is anything that makes it look like they've made political changes in order to attract investment," Jones said.
Cuban officials, Jones said, are eager to have conversations about ending the U.S. economic sanctions and allowing U.S. companies to invest in the country.
"This opens the door, and once the door is open, the pressures to change are going to be immense," Jones said. "The hardest thing is to get things started but once you have this big 50-year-old Neanderthal moving in a new direction, anything could happen." 
Written by Leon Lazaroff in New York
Contact by Email.
Follow @LeonLazaroff
TheStreet's editorial policy prohibits staff editors, reporters and analysts from holding positions in any individual stocks.