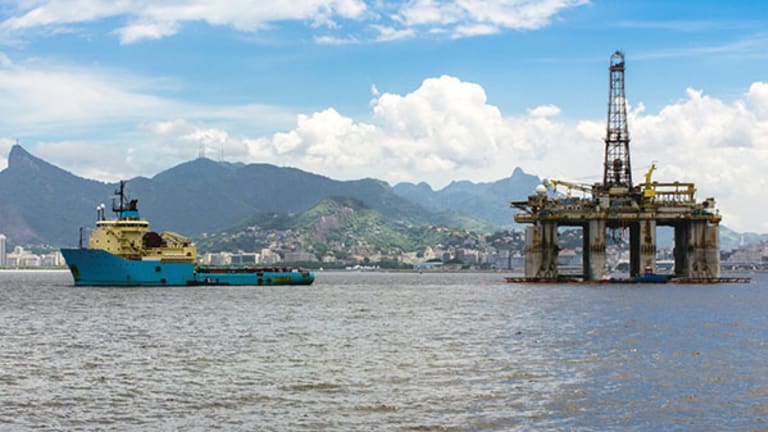 NEW YORK (TheStreet) -- Forget Ebola. The next big thing to come out of Liberia may be crude oil. Since 2010, the government has awarded exploration rights for eight offshore blocks to bidders including Exxon Mobil (XOM) - Get Exxon Mobil Corporation Report , Chevron (CVX) - Get Chevron Corporation Report and AnadarkoPetroleum (APC) - Get Anadarko Petroleum Corporation Report  . In addition, four new blocks are scheduled to conclude bidding this week. The country has mapped 30 blocks in total that could be opened for exploration.
Chevron says it's successfully drilled several exploration wells, but any oil is still years -- and billions of dollars in infrastructure -- away from coming to market, according to analysts. And oil finds could prove a boon -- or a bust -- to the impoverished West African country, which was still trying to recover from a decades-long civil war when it was hit again by the Ebola epidemic earlier this year.
Nearly a dozen foreign firms are already actively exploring off Liberia's coast, said Young Okunna, an upstream oil analyst at London-based energy consulting firm GlobalData. Other companies actively exploring include Spain's Repsol, Canadian Overseas Petroleum Ltd/, Mistubishi Corp. of Japan, European Hydrocarbons/African Petroleum (listed in Oslo and Australia), Compania Espanola de Petroleos (Cepsa), the Spanish oil company owned by Abu Dhabi's International Petroleum Investment Company, and a Nigerian oil firm called Oranto. 
African Petroleum (NSX: AOQ) said it's found oil in one the blocks it's exploring, and Chevron said it's completed drilling three test wells. An Exxon spokesman says his firm has yet to drill a well off the coast of Liberia.
The U.S. Geological Survey estimates the West African Transform Margin, the offshore oil region that stretches from Guinea through Sierra Leone, Liberia and the edge of Nigeria, holds 7 billion barrels of crude oil, some 60 trillion cubic feet of gas and 1.8 billion barrels of natural gas liquids.
If oil is developed in commercial quantity, it's most likely to be exported. "The economy's not able to give the exploration companies the cashflows they need," Okunna said in an interview. "They don't have a refinery in the country, so the oil has to be sold off and the cash used to run the economy of the country. Right now, Liberia just runs on international aid." Liberia now imports diesel fuel to generate virtually all its electricity, according to the U.S. Central Intelligence Agency.
The country's embattled government is working to create a transparent process for bidding for the offshore blocks and for ensuring that the oil wealth is shared equitably. Some 80% of the population lives below the poverty line. Rubber and timber are the two largest exports. Legislation to improve the oil bidding process is stuck in parliament, Okunna said.
Liberia is probably the least prepared of African countries to benefit from any oil find, said Jennifer Cooke, director of the Africa Program at the Center for Strategic and International Studies in Washington.
"To get the kind of terms a country might like, and get production going, you need a regulatory and legal structure in place, the capacity to negotiate deals with oil companies, systems of oversight and management and technical expertise, and Liberia is short on all of those things," Cooke said in an interview. "It would be a tough investment environment for companies to go into."
Entrenched Challenges
Corruption is endemic, Transparency International wrote in its last report on the country two years ago, warning that despite enormous strides made under President Ellen Johnson Sirleaf, the 2011 Nobel peace prize winner, an oil boom could launch the country into "a spiral of corruption and kleptocracy."
Tensions between indigenous peoples and the descendants of the freed American slaves who founded Liberia in 1847 erupted in civil war in 1980, and the country has yet to recover. "I don't want to say the place is doomed," Cooke said, "but you are talking about a country with very fragile institutions, a lot of corruption and a lot of divisions. Oil could be a boon for Liberia, but it could also raise the political competition and be more destabilizing than helpful."
The Ebola crisis has already taken a toll on the nascent oil industry. Chevron said in an emailed statement that while its office in Liberia's capital Monrovia remains open, it has relocated some staff outside the country. Exxon spokesman Patrick McGinn said in an email that his firm has halted its ocean exploration efforts 18 miles off Liberia's central coast in Block 13 before drilling any wells, because of the Ebola crisis. The rig and work crews would be supported by boats from a shore base in Liberia, McGinn wrote. Block 13 contains 625,000 acres in depths of water ranging from 250 feet to 10,000 feet, according to an Exxon press release on April 5, 2013.
If Liberia can tackle its demons, oil there could prove lucrative to investors. BP's (BP) - Get BP p.l.c. Sponsored ADR Report annual energy outlook, a bible for the industry, notes that the increase in combined oil and gas production in Africa between today and 2035 is bigger than in any of the BRIC countries (Brazil, Russia, India and China), and predicts the continent could supply 10% of the world's oil by 2035, as Africa's energy demand nearly doubles.
Still, warns Cooke, don't look for even a locally significant oil find to alter world markets, where the price of benchmark Brent crude has fallen more than 20% from its highs of more than $110 over the summer to $84.44 Monday. 
"Liberia is going to make no difference in the global energy landscape," Cooke said. "It's not Angola, we're talking peanuts if you compare it to Nigeria -- the amounts are not enough to be of any security significance to the United States."
Peter S. Green is a New York-based writer who spent more than a decade covering the former Soviet Bloc.