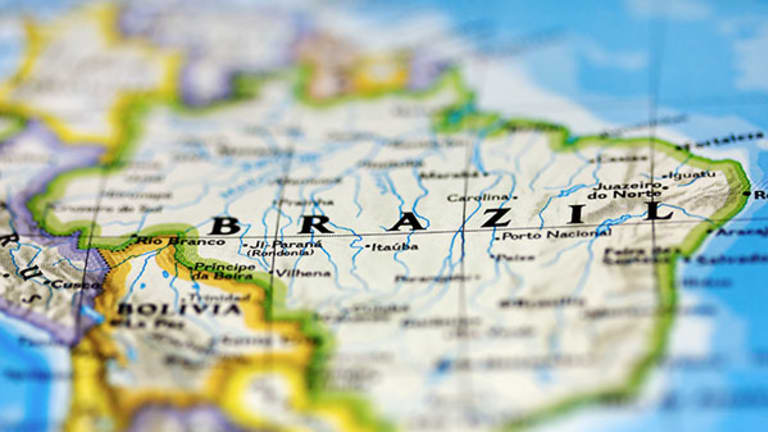 Lessons From OGX's Downfall
Want a nation's oil? Support stable government institutions, rather than betting on a speed-racing playboy.
NEW YORK (TheStreet) -- When it comes to economic development, Wall Street prefers going private to dealing with a government. But that can be a big mistake, as Brazil is now proving.
OGX
, a huge energy balloon in Brazil blown up by a man named Eike Batista,
and may take a lot of Wall Street money with it.
Big names such as
BlackRock
(BLK) - Get BlackRock Inc. Report
and Pimco are on the hook for billions of dollars in bonds that now look worthless. Both those companies are on the OGX creditor committee.
Read: This Is Your Golden Opportunity to Buy Visa
What lured Wall Street to OGX was the promise of privately financed oil development. Since the monopoly of state-owned
Petrobras
(PBR) - Get Petroleo Brasileiro S.A.- Petrobras Report
was broken in 1997, explorers armed with new technology have been finding vast pools of oil off the country's southeast coast. There's now a promise of even more on the northeast coast.
Brazil needs U.S. technology to tap the oil. Wall Street wants to protect its investment, but doesn't trust the government.
Enter Eike Batista.
Batista founded OGX in 2007 to tap the oil. It quickly found a big pool about 50 miles off Rio de Janiero, an area called the Campos Basin. Other companies found more, and there was soon talk of Brazil joining OPEC. OGX' Waimea field was producing at a rate of 12,500 barrels per day early last year, with the promise of more to come.
Read: Kass: Nix the VIXX
Batista wasn't just pumping oil, however. He was building a nation. A former speed-boat racer, and a key player in winning the 2016 Olympics for Rio, he created EBX Group which invested in steel production, property development, mining, and a huge "super port" aimed at bringing all of Brazil's oil wealth to market.
The speed-boat racing should have been a clue. Batista likes risk. Wall Street ignored the warning and backed him to the hilt.
Read: A Rousing Rebuttal of the Sarepta Serial Short
But as with the gold in the Western musical
Paint Your Wagon
, it all played out. Instead of being the hunky young Clint Eastwood character, Batista turned out to be the drunken, slovenly Lee Marvin one. Wall Street bought itself
a ghost town.
OGX said early this month that its latest find might be just one-third the size of earlier estimates. The oil is turning out to be harder to bring to the surface than first thought. But OGX had already spent the money it was going to make, and more, and now it can't pay back its loans.
Read: How to Pick the Cheapest Wireless Plan
Analysts are calling the crisis a test of Brazil's legal system, threatening to pull out of the country if they're not taken care of.
They may not be. Batista is trying to move his natural-gas production into a company he partially controls, along with Germany's
EON
. Just before declaring bankruptcy, OGX sold its only producing field.
All this is happening amid the backdrop of an inflationary spiral that is raising Brazilian interest rates and may cause economic collapse. Protests that rocked soccer's Confederations Cup this year could now turn violent as next year's World Cup is played out against the backdrop of national elections.
Read: If Sears Went Away, Would Anyone Care?
Brazil's president, Dilma Rousseff, is often called a "leftist." Faced with the Confederation Cup riots, she promised consumers relief. But it's Brazil that ultimately controls the oil, not some speed-boat racer. If Wall Street wants that oil, it needs to be backing stable government institutions, no matter who is running them.
That's unlikely to happen, because Wall Street is more interested in the money it's losing than the lessons of that loss. The impact of South America's largest economy collapsing, and the political storm that unleashes, may have just begun.
At the time of publication, the author owned no shares in companies mentioned here
This article is commentary by an independent contributor, separate from TheStreet's regular news coverage.
Dana Blankenhorn has been a business journalist since 1978, and a tech reporter since 1982. His specialty has been getting to the future ahead of the crowd, then leaving before success arrived. That meant covering the Internet in 1985, e-commerce in 1994, the Internet of Things in 2005, open source in 2005 and, since 2010, renewable energy. He has written for every medium from newspapers and magazines to Web sites, from books to blogs. He still seeks tomorrow from his Craftsman home in Atlanta.