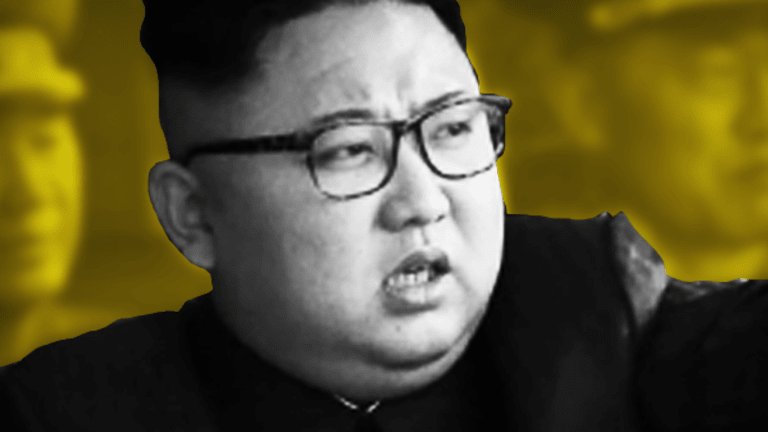 Just One Trump Tweet on North Korea Could Send Stock Market Into Tailspin
The dip buyers believe that any extreme response is unlikely, but this is not a clear situation.
"North Korea is the country that the monkeys in the Wizard of Oz come from." -- Lewis Black
The indices have been looking for an excuse to correct, and Kim Jong-un is providing one. A launch of missile by North Korea over Japanese airspace is putting pressure on equities and causing a move into bonds and precious metals.
The indices have been showing signs of stress for a couple of weeks, but the bears have not been able to crack support. There continues to be sufficient buying support to prevent key support levels from falling, but there aren't many positive catalysts to bring in buyers to keep the uptrend running.
On Monday, a big takeover in the biotechnology sector helped the bulls to hold the market up, but gold has been gaining ground lately, which is an indication that there is growing concern in the market and money looking for safe havens.
The question we face this morning is whether the market is concerned that the United States and South Korea may react to the North Korea action. Japanese Prime Minister Shinzo Abe called the move "an unprecedented, grave and serious threat," but the chances of a military response are still quite low.
Overnight, most foreign markets bounced back from early pressure. The South Korean Kospi index was down as much at 1.6% before recovering and closing down just 0.2%. Market players are well trained to buy dips, and even missiles by a rogue nation are viewed more as a potential buying opportunity than a cause for panic.
The flooding in the Houston is causing tremendous suffering and misery, but it is not necessarily a market negative. It will force a surge in construction, repair and infrastructure spending without the normal governmental interference. It isn't the way anyone would use to boost the economy, but the desire of everyone to help actually creates positive growth.
The big danger for the market right now is that Donald Trump will cause uncertainty with comments about dealing with North Korea. If the market believes that a military response is likely, it is going to cause some real fear. So far, the market doesn't seem too concerned, but a single tweet can change the tone of this market very fast.
The dip buyers will want to do their thing. They believe that any extreme response is unlikely, but this is not a situation with much clarity.
My stock of the week was to remain in cash, and that continues to be a pretty good idea this morning.
(This article originally appeared at 8:01 a.m. ET Aug. 29 on Real Money, our premium site for active traders. Click here to get great columns like this from Jim Cramer, James "Rev Shark" DePorre and other writers even earlier in the trading day.) 
More of What's Trending on TheStreet:
At the time of publication, James "Rev Shark" DePorre had no positions in the stocks mentioned.