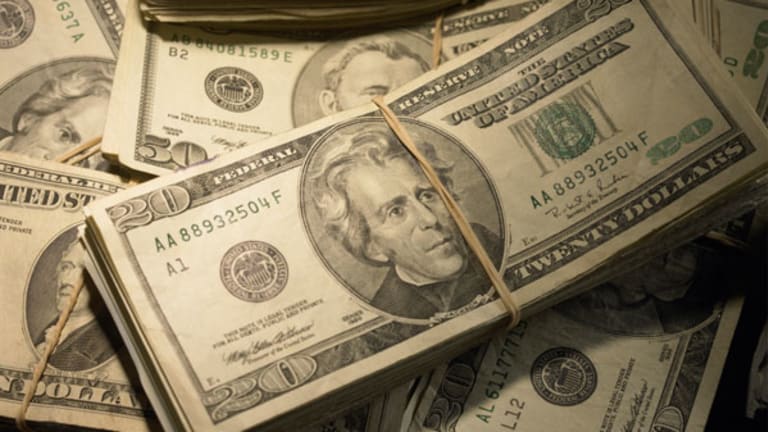 Jim Cramer on Why You Should Tune Out the Fed Naysayers
They're just self-promoting ministers of their own portfolios.
NEW YORK ( Real Money) -- There's too much moralizing going on for my taste. There's too much hand-wringing about what Janet Yellen, the Fed chief, wants to do. She wants to take rates higher -- not with giant bond sales from her huge inventory, which is what I want, but by raising short-term rates.
Here's my problem. If she were to raise rates now, it is very clear that there could be huge repercussions. The emerging markets, which had their biggest one-day rally in ages, are hanging on her every word. If she raises, that immediately means capital coming out of those markets to ours.
I am no fan of emerging-markets funds, bonds or stocks. The emerging-markets bond people are simply reaching for yield, which I was taught from day one at Goldman Sachs (GS) - Get Goldman Sachs Group, Inc. Report 30 years ago is a terrible idea. You don't want risk from fixed income. You want safety of principle. But there's always some brilliant manager out there making a killing in some abstruse market, and that gives them license to play in others. These have been the scourge of the stock market for years; Yellen didn't trigger them.
I also think that the timing would be dreadful for the Europeans. Right now, their central banker, Mario Draghi, is doing everything he can to try to jump-start the European economy, including taking on a huge amount of debt, something that his chief antagonist, Angela Merkel, the steely tight money leader of Germany, also known as Herbert Hoover in a pants suit, seems mortally opposed to. Our tightening, while it would raise the value of the dollar -- good for Europe -- would cause capital flight from there and tremendous instability when this continent of 770 million people hangs in the balance.
Plus, let's face it: if the Fed is supposed to raise rates when inflation rages, there's no reason to take action because we have more deflation than inflation. Our economy is still far from growing at a solid sustainable clip. We only just now got a major headwind turned tailwind -- the price of gasoline and business formation is still not strong. Don't forget that the Affordable Care Act is about to go into full effect next year and that could prove to be a real drag on small business and sole proprietors, the backbone of new job growth.
But something bothers me about the endless complaints about Yellen. They tend to be from people who are either so rich that they fear their purchasing power will be eroded, or they can't get enough safe income to make themselves happy, or they are short bonds and stocks and betting against them. These people are forever knocking the Fed and have done so for ages, and all for naught as the stock market has continued to climb. They would be right if we did have inflation. They would be right if they would adopt my plan of having the Fed sell off its trillions of dollars in bonds that it has inventory. You get a better balance sheet for the next crisis and some incredible gains for the Fed that would go to the Treasury.
These moralists fail to understand that the gains they could have gotten from being long bonds or stocks would be totally acceptable at any bank. Believe me, most of these people are not being stewards of our country's finances. They are simply talking their book and trying to panic out those who own stocks so they are knocked down.
They revolt me.
When we have inflation, the Fed, which is data dependent, will switch. Until then, what's the point? Promote havoc? Slow down growth to make it so the hiring binge is over? Make it tougher on Americans and Europeans? Is that really their job?
Short-selling "moralists," don't ask the Fed to bless your short positions. Oh, and shut up or disclose your real positions, including your shorts and your underinvested status. Then, at least, you can be taken at face value -- unlike now, where I just see you as self-promoting ministers of your own portfolio.
Editor's Note: This article was originally published at 2:07 p.m. EST on Real Money on Dec. 17.
Action Alerts PLUS, which Cramer co-manages as a charitable trust, had no positions in the stock mentioned.