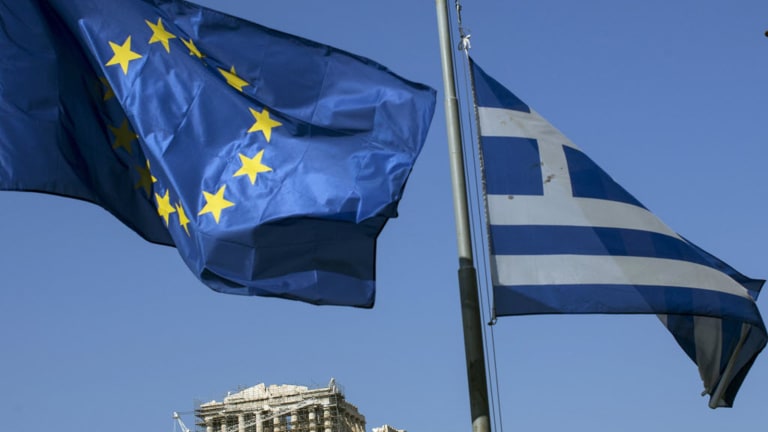 Jim Cramer -- Best and Worst Scenarios for Greece and the Stock Market
If the worst happens, everybody will want to get out of the market at once.
NEW YORK (Real Money Pros) -- There are more scenarios than we can shake a stick at, but here we go, from best to worst for our stock market:
Germany figures out that Greece is going to gravitate to Russia and China, like Venezuela, and offers a sweet deal to Greece that amounts to a substantial cut in debt. This is the ideal scenario and sparks a huge rally. Euro goes through the roof. Odds -- kind of like beating American Pharoah.
Greece unveils drachma printing press, a line of credit from Russia for the amount that the IMF is owed and sells a new issue of bonds to China. Another triumph over American Pharoah that could cause a big rally and euro does fine, not great.
Greece says it wants to stay in the euro union but won't pay the money. Not all that good a scenario, because that amounts to no resolution and a gun to Germany's head. This one could be perceived as blackmail, because the subtext would be "we are going with Russia if you kick us out."
Greece agrees to some terms that don't amount to a big haircut and gets back in the game. In many ways, this is horrendous because Greece can't pay any terms. We will be back in the soup in six months.
Greece tells Europe that the referendum says the people want to default but Greece has no back-up plan whatsoever, and there's just a gaping black hole until things are fixed. This is the most likely and, unfortunately, the worst.
Now, there might be something that hasn't been thought through, but this is really about all there is on the table at the moment, and if number five comes through, then we will all want a whoosh down and we won't get it, because of the "drag on" factor. So stay tuned. Too many want a whoosh.
We often don't get what we wish for when it comes to Europe.
Must Read: 5 Small-Cap Stocks to Trade for Big Gains
At the time of publication, Jim Cramer's charitable trust Action Alerts PLUS held no positions in stocks mentioned.