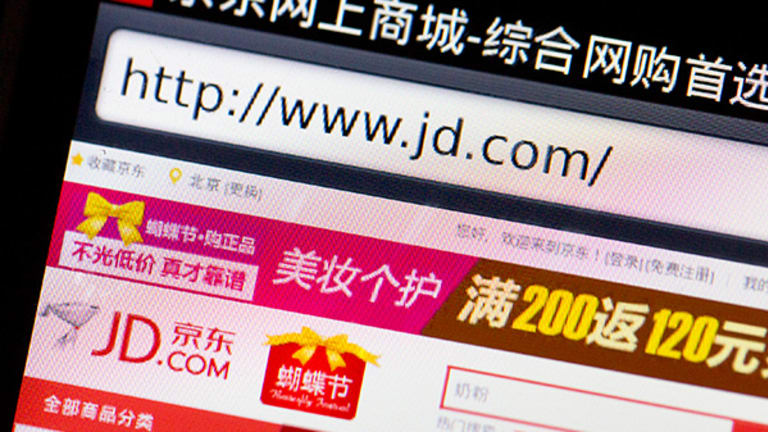 JD.com Surges in Largest-Ever Chinese IPO
JD.com, China's largest online direct sales company, will break new records for a Chinese company listing its shares in the U.S. On Wednesday evening, the company sold 93.7 million American depository receipts for $19 each, raising $1.78 billion. The initial public offering values JD.com at about $26 billion.
Updated from 10:13 a.m. EDT to include opening trading prices.
NEW YORK (TheStreet) - JD.com, China's largest online direct sales company, broke new records for a Chinese company listing its shares in the U.S. On Wednesday evening, the company sold 93.7 million American depositary receipts for $19 each, raising $1.78 billion. The initial public offering values JD.com at about $26 billion.
>> Read More: JD.com Founder's $591 Million Payout
JD.com opened trading on Nasdaq on Thursday morning at $21.75, nearly 10% above it IPO price. JD.com shares were rising over 15% in early trading, indicating strong institutional and retain demand for the offering.
The IPO follows a string of large Chinese public offerings in 2014, including Weibo (WB) - Get Weibo Corp. Report and Cheetah Mobile (CMCM) - Get Cheetah Mobile Inc. Report and comes ahead of e-commerce giant Alibaba's expected offering. That offering could not only break records for a Chinese company, it may also turn to be the largest-ever IPO, eclipsing the size of Visa (V) - Get Visa Inc. Class A Report, Facebook (FB) - Get Meta Platforms Inc. Class A Report, and Google's (GOOG) - Get Alphabet Inc. Class C Report listing.
While many believe JD.com's IPO could be a telling sign of investor interest in Alibaba, the businesses aren't directly comparable. Nevertheless, JD.com's multi-billion dollar listing on the Nasdaq and its IPO pricing above a $16-to-$18 a share range augur well for Chinese e-commerce titans looking to list their shares in the United States.
Investors appear interested in e-commerce IPO's as the Chinese economy becomes more oriented around consumer spending, a rising middle class and increased connectivity to web-enabled devices.
There is also the prospect that companies like JD.com use their U.S.-based offerings as a starting point for international expansion. In coming years, both JD.com and Alibaba could begin to compete directly against some of the largest e-commerce giants like Amazon, eBay (EBAY) - Get eBay Inc. Report, and companies that are tied to commerce by way of large marketing and advertising businesses such as Google, Facebook and Twitter (TWTR) - Get Twitter, Inc. Report.
JD.com most-closely resembles Amazon because it holds a large inventory of merchandise and has made a heavy investment in distribution networks throughout China. There is no United Postal Service in China, meaning JD.com has spent heavily on a fleet of transportation vehicles and even has large staff of carriers.
Alibaba, by contrast, is more of a marketplace to match buyers and sellers with additional payment, search and advertising networks that play a prominent role throughout the company's ecosystem. Those businesses can be loosely compared to eBay, which pioneered the online marketplace in the 1990s and has the most successful mobile payments business in PayPal.
Financially, the characterization of JD.com as comparable to Amazon and Alibaba to eBay holds true. JD.com has yet to report an annual profit as costs to run the company's various businesses has outrun sales in recent years.
Amazon reported just $274 million in net income in 2013 on over $74 billion in revenue, while eBay reported a full-year profit of $2.9 billion on over $16 billion in revenue.
In 2013, JD.com generated 11.4 billion in revenue but had total operating expense of $11.5 billion. For 2013, JD.com reported a gross profit of $1.13 billion and gross margin of 9.9%. Alibaba, by contrast, reported $6.5 billion in 2013 revenue and net income of over $2.8 billion.
There are other differences between JD.com and Alibaba.
While JD.com is listing its shares with a dual class stock structure that will effectively give founder Richard Qiangdong Liu full control of the company, Alibaba is seeking to list its shares with a single class of stock and a structure that will allow the partners of the firm to elect a majority of nominees to the company's board of directors.
In fact, JD.com's board cannot form a quorum without the presence of its founder.
JD.com and Alibaba face a legion of political risks as a result of their operations in China, and the accounting and financial complexities of listing shares of a Chinese business internationally. However, one troubling issue raised by TheStreet in JD.com's IPO was a $591 million stock grant to founder Richard Qiangdong Liu.
That stock grant was decided just weeks ahead of the company's filing of a prospectus for an IPO in the U.S. Amended IPO prospectuses eventually detailed the value of those stock grants and actually caused the company to report a first quarter loss in 2014.
U.S. investors would likely not take similar stock grants well as JD.com becomes a public company.
Tiger Global Management
JD.com has a handful of blue chip investors, including the venture capital arm of hedge fund Tiger Global Management. Tiger Global will have a 431 million share stake in JD.com after the offering. While the firm may be more famous for its hedge fund operations, Tiger's stake in JD.com is illustrative of its prominence as a venture investor in the Chinese market.
Scott Shliefer, a managing director in Tiger Global's VC arm led the firm's investment in JD.com.
Tiger Global will sell a small portion of its investment in JD.com through the company's IPO. Founder Lie, Yuri Milner's DST Global and Sequoia Capital Funds also sold shares in the IPO.
With IPO proceeds, JD.com will expand its fulfillment infrastructure, conduct land purchases, build warehouses and purchase delivery vehicles.
No Underwriter Overlap
None of the underwriters who helped JD.com with its record-sized IPO are currently involved in Alibaba's IPO planning.
Bank of America Merrill Lynch and UBS will lead JD.com's offering, while Allen & Co., Barclays, China Renaissance, Jefferies, Oppenheimer, Piper Jaffray, SunTrust Robinson Humphrey and Cowen & Co. will also have underwriting roles in the offering.
JD.com will list on the Nasdaq under ticker 'JD.' By contrast, Alibaba has yet to announce a lead-underwriter or the exchange it expects to list on.
Credit Suisse, Deutsche Bank, Goldman Sachs, JPMorgan and Morgan Stanley in alphabetical order, with no single underwriter getting a so-called lead-left treatment on the prospectus. Citigroup, which is listed in Alibaba's F-1 out of alphabetical order, will take a slightly junior role, a source said.

Alibaba Underwriters Go from Alpha to Beta
Alibaba Files IPO with $1B Placeholder
-- Written by Antoine Gara in New York.