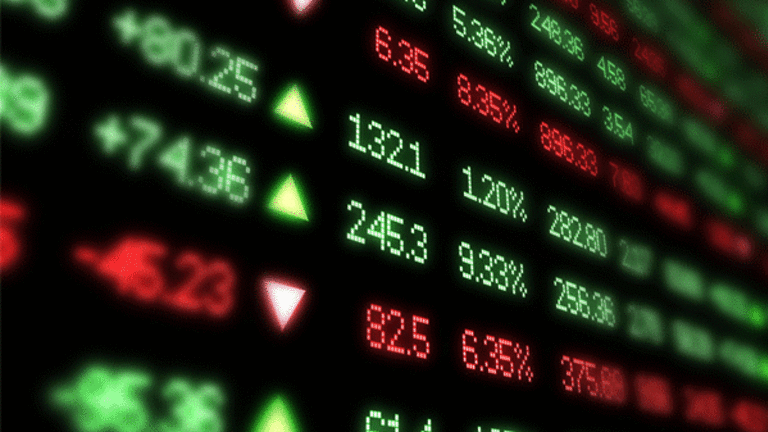 iShares Adds Emerging-Markets ETFs
The two new funds will focus on the financial and materials sectors.
NEW YORK (
) --
iShares
is looking to add to its roster of emerging-markets ETFs with a filing for two new sector-focused funds last week.
The new iShares MSCI Emerging Markets Financial Sector Index Fund and iShares MSCI Emerging Markets Materials Sector Index Fund will join iShares emerging-market funds like
iShares MSCI-Emerging Markets
(EEM) - Get iShares MSCI Emerging Markets ETF Report
and
iShares MSCI-Brazil
(EWZ) - Get iShares MSCI Brazil ETF Report
.
The launch of these funds comes in the wake of a large influx of assets into emerging-markets ETFs. According to data from the National Stock Exchange, EEM had $1.76 billion in net inflows in October.
Vanguard MSCI Emerging Markets
(VWO) - Get Vanguard FTSE Emerging Markets ETF Report
reported $2.2 billion in net inflows during the same period.
Net inflows into EEM and VWO alone made up a sizable chunk of all net inflows across all ETF and ETN products. The October net inflows into EEM and VWO accounted for 45% of all net inflows into ETFs last month.
As investors consider purchasing one of the existing emerging-market funds, or one of the upcoming funds from iShares, they need to examine the three levels of concentration that can occur. While emerging-markets ETFs are a helpful tool for portfolio diversification, cap-weighted strategies and limited equity markets can lead to pockets of over-concentration in your portfolio.
The first level of concentration to consider is location. Broad emerging-markets funds like EEM and VWO diversify assets over a handful of emerging markets. The top five country holdings in EEM's portfolio are Brazil, South Korea, China, Taiwan and South Africa, with 14.83%, 12.43%, 11.16%, 10.41% and 8.08% allocations respectively.
On the other end of the spectrum, funds like
iShares MSCI-Brazil
(EWZ) - Get iShares MSCI Brazil ETF Report
,
Market Vectors Russia ETF
(RSX) - Get VanEck Vectors Russia ETF Report
and
iShares MSCI Turkey
(TUR) - Get iShares MSCI Turkey ETF Report
offer exposure to individual countries.
Investors looking to build a long-term portfolio should consider choosing one of the broader funds, or selecting several country plays to increase the breadth of exposure. More active ETF investors may choose individual country funds to track global trends.
The second level of concentration to consider is oversized components. ETFs that use market capitalization or modified market capitalization to allocate assets often concentrate a large portion of funds into top components. In many emerging markets, single companies dominate because of their relative size. Emerging markets-ETFs, particularly single-country ETFs, reflect this balance and concentration.
Before purchasing an emerging-market ETF, examine the underlying holdings. Ideally, the top component should account for 10% or less of total assets. If you are looking to purchase a fund with larger concentrations, make sure to monitor those holdings in particular. A large component can hold sway over a portfolio.
The third level of concentration is the sector components. While
iShares Turkey
(TUR) - Get iShares MSCI Turkey ETF Report
has 84 holdings, more than 50% of the portfolio is allocated toward the financial sector. Nearly 50% of Market Vectors Russia is allocated to oil, gas and energy companies.
Before selecting an emerging-market ETF, investors should consider the underlying sector allocation. This is especially important when considering your portfolio as a whole. If you already have significant exposure to oil and gas in your portfolio, the addition of an emerging-markets ETF like RSX will amplify this position.
Investors need to check for overlap and concentration whenever they add funds to their portfolios. Sector concentration, geographical concentration and single-stock concentration are important factors to consider when building a well-rounded portfolio.
-- Written by Don Dion in Williamstown, Mass.
At the time of publication, Dion owned iShares MSCI-Brazil and iShares MSCI Turkey.
Don Dion is president and founder of
, a fee-based investment advisory firm to affluent individuals, families and nonprofit organizations, where he is responsible for setting investment policy, creating custom portfolios and overseeing the performance of client accounts. Founded in 1996 and based in Williamstown, Mass., Dion Money Management manages assets for clients in 49 states and 11 countries. Dion is a licensed attorney in Massachusetts and Maine and has more than 25 years' experience working in the financial markets, having founded and run two publicly traded companies before establishing Dion Money Management.
Dion also is publisher of the Fidelity Independent Adviser family of newsletters, which provides to a broad range of investors his commentary on the financial markets, with a specific emphasis on mutual funds and exchange-traded funds. With more than 100,000 subscribers in the U.S. and 29 other countries, Fidelity Independent Adviser publishes six monthly newsletters and three weekly newsletters. Its flagship publication, Fidelity Independent Adviser, has been published monthly for 11 years and reaches 40,000 subscribers.