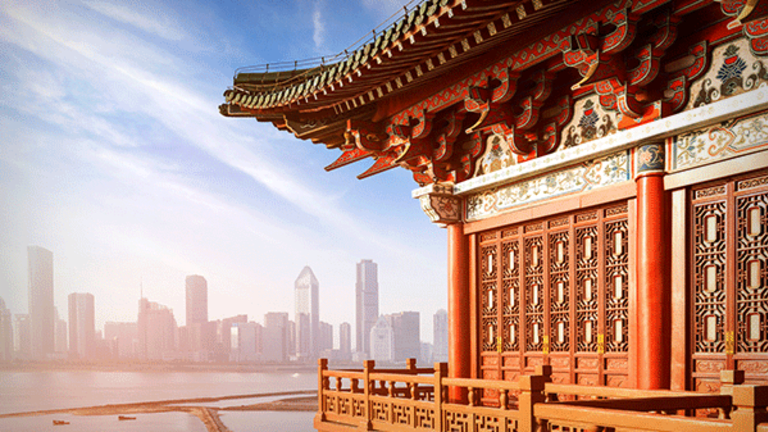 Is China's Fintech Sector Just Another Knockoff?
Whether China's fintech sector is real or fake, it's huge and growing fast. China is on its way to becoming a major global hub for fintech.
The number of counterfeit products pumped out of China is unprecedented. Their total value adds up to $1.2 trillion, which accounts for 63.2% of the world's total. Chinese make fake Gucci clothing and Cartier watches, open Apple stores that aren't authorized retailers and have even duplicated global investment bank Goldman Sachs.
So whether China's technology sector is another pirated import is a fair question. And the answer isn't black and white. "China never really stopped being a copycat, and that's why its tech companies aren't changing the world," read the headline of an opinion piece in the South China Morning Post in April. The article said:
"Innovation and creativity are not rewarded in the Chinese commercial or educational sectors, which emphasize rapidly monetizing activities and rote learning.

"Obeying authorities ensures stability and eventual success. Gaining favors from regulators and party elites are the surest path to good fortune. Unfortunately, it is precisely this type of closed minded thinking coupled with cronyism and exclusive capitalism with Chinese characteristics that will continue to kill innovation and stifle creative thinking across China.

"That explains why China's big internet companies are basically copies of their western counterparts. It also explains why their tech giants aren't changing the rest of the world. ..."
Wired magazine offered a contrasting view in an December 2015 article titled "China is no longer a nation of tech copycats." The article said:
"Now major cities are crowded with ambitious inventors 
and entrepreneurs, flocking into software accelerators and hackerspaces. They no longer want jobs at Google or Apple; like their counterparts in San Francisco, they want to build the next Google or Apple.

"Anyone with a promising idea and some experience can find money." 
Regardless of whether China's financial technology, or fintech, sector is real or fake, it's huge and growing fast. Fintech, or the use of technology to make financial services more efficient, is making banking and finance cheaper and more accessible to billions of people in China and abroad.
Asia is leading the way for future growth in fintech, as we have talked about before.A recent report by professional services firm Ernst & Young and Singaporean bank DBS said that China has overtaken Silicon Valley and London, becoming the "undoubted center of global fintech innovation and adoption." The world's largest fintech outliers, or "unicorns" (start-up companies valued at more than $1 billion), call China home.
Eight of the 27 fintech outliers in the world are located in China and are valued at more than $96 billion combined. The four largest outliers are Chinese. Antfinancial, which operates the payment affiliate of Chinese online retailer Alibaba, is the largest by a big margin. Meanwhile, the U.S. is home to 14 fintech outliers that are collectively worth $31 billion. 
Eager for a piece of the pie, private equity firms and other fintech investors have been flocking to China to invest.
What's Driving China's Rise?
McKinsey, a global consultancy firm, recently identified some of the factors driving China's success in fintech.
First, over the past few years, central banks have worked to develop digital finance in China by providing a supportive regulatory framework. Chinese Premier Li Keqiang has expressed the need to encourage the "healthy development" of the internet banking sector. 
Second, China's e-commerce industry is thriving. Surpassing the U.S. in 2013, China now makes up 47% of the world's digital retail sales, and demographics suggest that share will continue to rise. The country has 721 million internet users (around 52% of the population). In comparison, 89% of the U.S. population uses the internet. 
Third, a large segment of China's population remains underserved by traditional banks. Many people in China have skipped conventional banks to use more convenient and accessible online financial institutions. This phenomenon is similar to how many consumers in some emerging markets went from having no phone services at all to having mobile service, leapfrogging land lines entirely. 
Two Groups Are Accelerating the Process
Small businesses and consumers overlooked by China's banking system are driving China's fintech sector.
As we can see below, 20% of Chinese adults do not have access to banking services. China has 8.1 commercial bank branches (and 55 ATMs) per 100,000 people. This is much less than the 28.2 branches (222 ATMs) in the U.S. and Canada, and the 28 branches (81 ATMs) in Europe.
Despite accounting for 60% of GDP and 80% of employment in urban areas, small and medium-sized enterprises (SMEs) get less than one-quarter of loans in China. In growing numbers they are seeking online finance solutions for their payments, credit, investments and insurance needs. Peer-to-peer lending networks make it possible for businesses to receive loans far faster than they could through a bank. 
China's fintech sector is particularly dependent on payment solutions. Currently, about 40% of China's banking services customers use fintech platforms for domestic and international payments. Almost 58% of all internet users use fintech payment applications, meaning that 380 million Chinese people shop on the internet with their phones. Slightly less than 200 million people substitute their phones for a wallet for in-store payments.
The three tech giants in China, Baidu Alibaba and Tencent -- known in China collectively as "BAT" -- support some of the biggest fintech companies. DBS and Ernst & Young see BAT "aggressively creating all-encompassing platforms" to serve the needs of underbanked customers and SMEs.
An industry report by Innotribe, which tracks trends in financial services, said that BAT is proving that "services like wealth management can be provided to anyone at an affordable price, relative to the value, which often means incredibly cheap."
Consequently, the cost of capital for banks in China has increased, Innotribe said, as deposits move onto fintech platforms and away from standard banking institutions. But peer-to-peer lending isn't without risk. Ezubo, a peer-to-peer lender, was exposed as being allegedly one of China's largest Ponzi schemes. The company defrauded more than 900,000 people of $7.6 billion.
Asia Stands to Benefit From China's Boom
China's rise is pulling the center of global fintech away from the early leaders such as the U.S. and U.K. Technology firms in China are entering new markets abroad in order to diversify their operations and lessen their dependency on the domestic market. What Chinese fintechs learn abroad will improve their capabilities domestically. This will help them stay ahead of the competition.
Credit China FinTech Holdings Limited, a publicly traded company in Hong Kong, is a leader in providing peer-to-peer lending among other financial services in China. The company focuses on "SMEs and middle-class consumers via mobile internet" and recently announced that it plans to open a Southeast Asia headquarters in Singapore to bring its operating experience in China to developing markets in Southeast Asia and South Asia. 
The BAT giants are, through their partners, expanding to serve Chinese travelers going abroad. They're also growing their customer base in emerging markets such as Southeast Asia. For example, Alibaba bought a controlling stake in Lazada, a Southeast Asian e-commerce platform, for $1 billion in early 2016. And at the beginning of 2016, Baidu invested in MakeMyTrip, India's largest online travel agency.
The Chinese government is eager to move the country toward a more services- and consumer-oriented economy. Its highest priorities are technological innovation and e-commerce growth. China's breakthrough as the world's main fintech hub will further push this objective. For these reasons, Asian investors, consumers and businesses should expect a bright future.
---
Kim Iskyan is the founder of Truewealth Publishing, an independent investment research company based in Singapore. Click here to sign up to receive the Truewealth Asian Investment Daily in your inbox every day, for free.
This article is commentary by an independent contributor. At the time of publication, the author held no positions in the stocks mentioned.