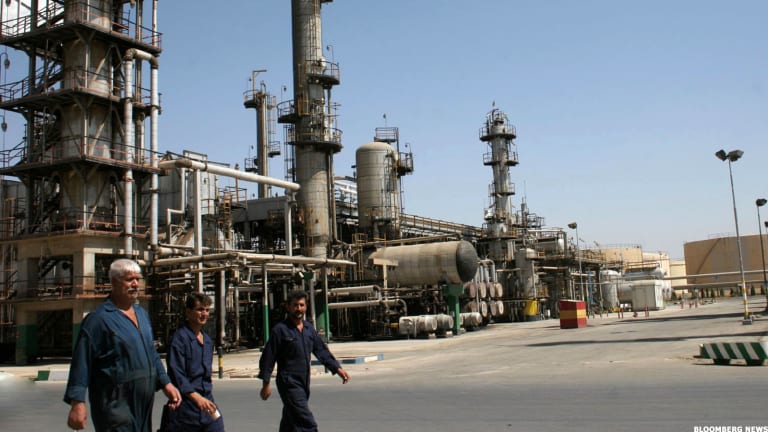 Iran Is Already Gearing Up for a $100 Billion Spending Spree
Shut out of the global economy for more than 35 years, Iran is itching to go on a major shopping spree -- and U.S. companies are eager to help out.
NEW YORK (TheStreet) -- Shut out of the global economy for more than 35 years, Iran is itching to go on a major shopping spree -- and U.S. companies are eager to help out.
Although the lifting of economic sanctions will be slow and in stages, there's no shortage of items on Iran's wish list. 
At the top, country analysts say, is equipment to repair and expand its oil pipeline network, as well as new airplanes and the back-up parts that go with them. To make those deals, the U.S. government must still ratify the landmark nuclear treaty, as must its European counterparts.
But the prospect of long-term investment opportunities has strategists across a variety of industries looking east.
Within the energy sector alone, Iran intends to invest around $100 billion in the next several years, according to a report by the National Iranian American Council.
Among the six "supermajor" energy companies, Exxon Mobil (XOM) - Get Exxon Mobil Corporation Report and Royal Dutch Shell (RDS.A) -- both of which have long histories of doing business in Iran -- stand to gain a significant portion of those contracts.
"Iran needs a lot of help maintaining and servicing pipelines and other equipment in the field," said Thomas Finlon, analyst at the Energy Analytics Group. "Exxon and Shell go back a long time there and are likely poised to go in."
Shell confirmed its interest in Iran to TheStreet.
"Strictly within the boundaries of the law, we are interested in exploring the role Shell can play in developing Iran's energy potential," said spokesperson Kimberly Windon in an email.
Exxon declined to comment on the nuclear deal with Iran.
The Islamic Republic's lack of access to world markets due to the sanctions has taken a technological toll on the country, leaving many industries with run-down equipment and poorly trained personnel, said Suzanne Maloney, senior fellow at the Saban Center for Middle East Policy at the Brookings Institution.
The most glaring deficiencies within the energy trade are in the "upstream" phase of the business, the segment of the industry focused on exploration, drilling and extraction.
"The Iranians really need upstream expertise," Maloney said in a phone interview. "They're missing a lot of the technology that's been developed over the last decade."
Iran lacks much of the technology for the fracking and horizontal drilling processes that have made the U.S. the world's top producer of energy. Nearly all of these patents belong to U.S. companies.
But oil isn't the only industry needing U.S. and European know-how. Boeing (BA) - Get The Boeing Company Report and Airbus (EADSY) - Get Airbus SE ADR - Level I Report, the world's two largest makers of passenger airplanes, are just as eager to start transporting Iranian passengers, said Trita Parsi, founder of the National Iranian American Council, a Washington nonprofit that works for Iranian-American causes.
"Boeing has the potential to score a $20 billion contract with Iran," Parsi said in a phone interview. "The government is ready to spend."

Aviation experts agree the country's fleet of aircraft are dangerously out of date and under-serviced, and securing a steady stream of new parts for overused airplanes has been an issue for the country for years.
As more sectors of the Iranian economy are opened by the Iran deal, the possibilities for U.S. businesses will continue to grow.
"One of the things that people are missing about this deal," Maloney said, "is it makes it possible for foreign U.S. subsidiaries to do business in Iran. This means that if you're a U.S. company and you want to explore the Iranian market, you can."