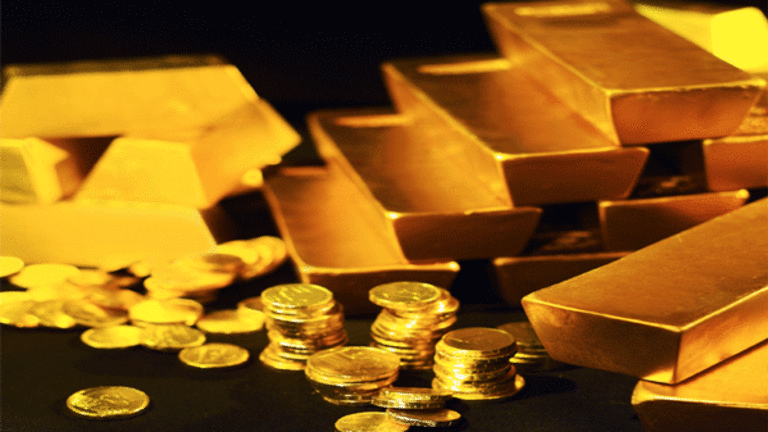 Investors Dump Gold, Emerging Market Equities and Fixed Income in December
Let's take a look at December's top 10 ETF redemptions.
NEW YORK (TheStreet) -- Equities have returned more than 30% in 2013, and many investors are trying to position themselves for the new year. Maybe your portfolio became a little unbalanced after the astounding broad market returns.
December's ETF redemption data gives us some insight into the minds of the big boys on Wall Street at year-end. The following data was sourced from IndexUniverse.com, an online research site that offers users many free tools for analyzing ETFs and indexes.
I used the ETF Fund Flows tool to determine the top 10 fund outflows for the month of December. The net outflows are ordered in descending order in millions of dollars. At the top of the list sits the SPDR Gold Fund (GLD) - Get SPDR Gold Shares Report, the most popular ETF for gold exposure. Over the last year, the value of SPDR Gold shares have dropped by an astounding 28%, gold's worst annual plunge since 1981.
Over the course of this year, investors began to lose faith in the gold trade. The improving economy, low inflation, and the equities rally really put a damper on the long gold trade, which had been extremely profitable over the last few years. Moreover, the Federal Reserve has committed to slowing its assets purchases. That is significant because quantitative easing has been a key point for many gold bugs since the start of the program.

Who knows where gold is going over the next year? Nobody. However, I think we can say with some certainty that interest in the shiny stuff is falling. The SPDR Gold Fund has seen outflows of $1.641 billion thus far in December. Fund inflow data would suggest that these dollars are heading into equity funds and the stock market instead.
In the second and third spot, we see a couple of emerging market funds. The iShares MSCI Emerging Markets Fund (EEM) - Get iShares MSCI Emerging Markets ETF Report and the Vanguard FTSE Emerging Markets Fund (VWO) - Get Vanguard FTSE Emerging Markets ETF Report have both dramatically underperformed domestic equity markets over the last year. The two funds are down 5% and 7% respectively over the last year. Global growth hasn't lived up to expectations and currency problems are weighing on the developing world. Some on the Street have called emerging markets the comeback kid for 2014. But fund flows say that investors are positioning otherwise. A combined $2.5 billion has bled out of the funds in December.
In the fifth spot, we see the iShares iBoxx $ High Yield Corporate Bond Fund (HYG) - Get iShares iBoxx $ High Yield Corporate Bond ETF Report with $0.852 billion in redemptions this December. The fund sports an attractive 6% dividend yield, and has lured many investors to the long side as fixed income yields sit low. Should interest rates begin to rise to normal levels due to a stronger economy and decreasing Fed purchases, expect demand for the fund to fall. Currently, junk bond yields sit well below normal historical levels, presenting a risk to face value when rates increase.
In December, the majority of purchases were seen in broad equity ETFs, including the SPDR S&P 500 Fund (SPY) - Get SPDR S&P 500 ETF Trust Report, PowerShares QQQ (QQQ) - Get Invesco QQQ Trust Report and the Vanguard S&P 500 Fund (VOO) - Get Vanguard S&P 500 ETF Report. According to Index Universe, $8.5 billion in SPDR S&P 500 assets were created, implying strong demand for equity exposure heading into the new year.
In 2014 many investors are looking for underperforming assets including gold and emerging market equities to fare well. However, it looks like investors are positioning themselves into domestic equities. The large number of redemptions in gold and emerging market equities imply that demand will decline further.
At the time of publication the author was long on physical gold.
This article was written by an independent contributor, separate from TheStreet's regular news coverage.
Nate Matherson is currently a student at the University of Delaware where he is pursing degrees in Finance and Economics. Over the last year, Nate has actively produced investment analysis and opinion for a number of financial media companies including TheStreet.com. Upon graduation in 2016, Nate would like work within asset management. Feel free to add Nate on LinkedIn, just identify yourself as a reader.