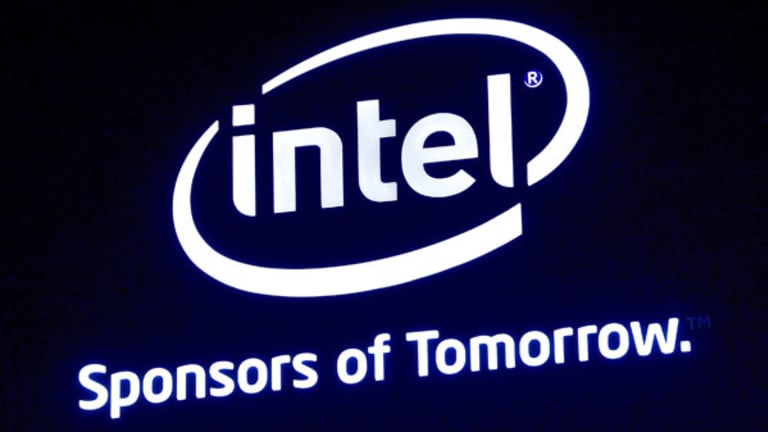 Intel Turns to Rockchip to Scale the Great Wall of China's Tablet Market
With almost 400 million tablets projected to ship in the next three years, Intel sees an opportunity its can't pass up.
NEW YORK (TheStreet) -- In a deal that went almost unnoticed, last week Intel (INTC) - Get Intel Corporation Report struck a strategic partnership with China-based semiconductor company Rockchip.
After having allowed the mobile devices era to sneak up from behind and trample its bread-and-butter PC dominance, Intel management, which has embraced the Internet-of-Things (Iot), is determined not be fooled twice.
Some call it paranoia. I call it leaving no stone unturned. Investors should keep an eye on Intel's stock, which closed Wednesday at $27.60, up 6.3% for the year to date.
The deal with Rockchip makes sense. PC shipments have plummeted and won't reverse any time soon -- if ever. Mobile devices, on the other hand, are still on the uptrend. Smartphones and tablets, in particular, have posted robust numbers to the extent that both Apple (AAPL) - Get Apple Inc. Report and Samsung (SSNLF) can co-exist and still leave room for smaller players to profit.
Consider that four years ago total tablet shipments stood at 72 million. That figure grew 201% to 217 million three years later. Research firm IDC predicts that tablet shipments will grow by another 80% in the next three years, reaching 386 million.
This means that by the end of next year, tablets would have surpassed all PC shipments. Where do you suppose that would leave Intel?
With the Rockchip deal aimed at expanding Intel's mobile/tablet presence in Asia, management is taking hold of its own fate.
Without getting too technical, Intel will provide Atom cores and 3G modem technology to Rockchip. This agreement calls for Rockchip to use system-on chips (ScC) from Intel, allowing both companies to seize market share in lower-priced tablets segments that are powered by Google's (GOOG) - Get Alphabet Inc. Class C Report Android.
As evident by the lack of coverage, it seems observers don't believe this to be a big deal. It's also possible they don't envision much value creation by Intel. In either case, investors should understand the long-term implications.
In 2013 Intel, which accounts for just 4% of the global tablet market, shipped only 10 million total tablets. The company has set a goal to ship 40 million tablets in 2014, representing a 300% year-over-year jump. Calling this an aggressive goal would be an understatement.
In the first quarter, Intel shipped five million, which means it has to average almost 12 million in the next three quarters to achieve its goal. I don't think management would have set the company up to fail if they didn't believe this was achievable.
If Intel is successful at producing its own branded tablet in a fast-growing Chinese market, it only has to secure a small percentage of the market to achieve billions in annual revenue. This is why this deal with Rockchip becomes even more important. Right now it's a tactical move. But it's certainly one to keep an eye on.
Given management's aggressiveness to accelerate the delivery of Intel technology-based devices, I expect there will be more deals of this sort for Intel in the next several quarters. With 35 million more tablets to sell, Intel has its work cut out.
More important, with almost 400 million tablets projected to ship in the next three years, Intel sees an opportunity it can't pass up. Investors would be wise to not pass up on Intel's stock.
At the time of publication, the author was long AAPL.
This article represents the opinion of a contributor and not necessarily that of TheStreet or its editorial staff.