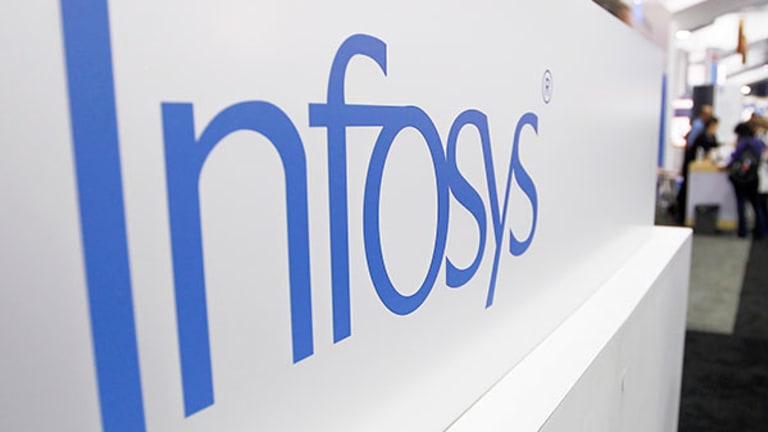 Infosys: Not Just Another BRIC in the Wall
India's growth is outpacing that of emerging-market peers Brazil, Russia and China. Now's the time to jump aboard India's bellwether tech company while it trades at a bargain.
If you haven't been paying attention to India's economy, you've missed a very important story.
The nation's economic growth in 2015 and 2016 exceeded that of its BRIC compatriots Brazil, Russia and even China, and it's on course for similar world-beating prosperity in 2017.
India's well-educated workforce has made the country a "go-to" destination for global information technology outsourcing, a multiyear trend that should accelerate in 2017 and beyond, regardless of growing political and economic uncertainties around the world.
As Wall Street traders like to say: The trend is your friend. To profit from the confluence of megatrends that favor India, now's a shrewd time to buy shares of outsourcing giant Infosys (INFY) - Get Report , ahead of its earnings report, which is expected to be released in the second week of January.
With a market cap of nearly $33.59 billion, Infosys is one of the world's largest IT services companies. Founded in 1981 and considered the grandfather of IT outsourcing, the company exemplifies India's rise as a technology leader.
Infosys provides consulting, technology and outsourcing services in more than 50 countries. The company's client roster is diverse, encompassing banking, insurance, manufacturing, energy, telecommunications, utilities, retail, consumer goods and health care. As such, Infosys is a proxy for the Indian economy, making it one of the most compelling growth opportunities you can find in a global equity market that appears poised for a correction. Infosys shares are trading at a bargain, to boot.
The average analyst expectation is that Infosys will report adjusted earnings per share in the current quarter of 23 cents, equal to the adjusted EPS reported in the same quarter a year ago. For the full fiscal year, EPS is projected to come in at 93 cents, compared with 90 cents last year. Next year, adjusted EPS are projected to grow 8.6% on a year-over-year basis. For the next five years, earnings growth is pegged at 11.67% on an annualized basis.
Infosys should appeal to value investors. The company's trailing 12-month price-to-earnings ratio of 16.17 is lower than those of peers Microsoft (29.82); Cognizant Technology Solutions (21.87); Accenture (18.16); and its industry (20.90).
Infosys is an appealing tech stock too often ignored by Wall Street analysts who are overly enamored of the well-publicized U.S.- based darlings. If you want to tap reliable emerging-market growth amid a volatile global climate, Infosys fits the bill.
---
As an investor facing what promises to be a volatile 2017, you want to be in control of your own destiny. That means being able to predict in advance how much money your investment portfolio will generate. Think it can't be done? Our top analyst has a system that can ensure you will make a profit on more than 80% of your trades. To find out the secret, just click here!
This article is commentary by an independent contributor. At the time of publication, the author held no positions in the stocks mentioned.