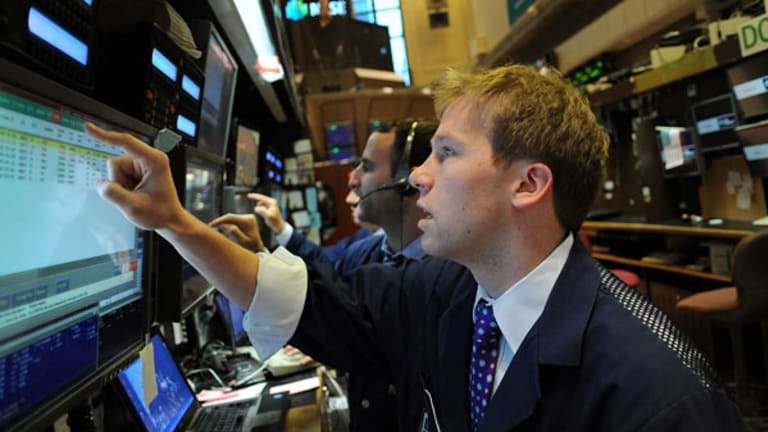 Indonesia, Thailand Add to Emerging Market Worries
Current account problems in emerging Asia have moved beyond the larger economies and into peripheral nations.
Current account problems in emerging Asia have moved beyond the larger economies and into peripheral nations.
NEW YORK (TheStreet) -- Earlier in the month I wrote about the negative prospects in emerging markets, but it is quickly starting to become clear that this weakness has spread well beyond this year's disappointing stock performance in China.
The bearish pressure continues this week as foreign investors reduce exposure in light of broad-based speculation that stimulus programs and the era of "easy money" accommodation are winding down to a close.
One of the most important stories of late has been seen in India, where current account problems have driven the rupee to all-time lows. But the most troublesome element is the fact that these problems have filtered into peripheral areas as well.
The latest examples can be found in Thailand and Indonesia -- countries that are especially vulnerable to rising global interest rate environments. Slowing growth in China and falling exports to the eurozone and the U.S. have contributed to unsustainable current account deficits in these countries as well.
Recent data out of Indonesia show the country's current account deficit grew to $9.8 billion in the second quarter, nearly double the figure posted during the first quarter. Slower Chinese demand for coal and iron ore exports has helped push Indonesia's GDP growth below 6% for the first time in three years.
Read: Justice Department Hits JPMorgan Again
But even as exports decline and the rupiah falls to four-year lows, consumer inflation remains elevated. It is difficult for the Indonesian central bank (Bank Indonesia) to raise interest rates as a means for attracting capital, however, as this puts the country at risk for further slowdowns in GDP growth.
All of this points to an alarming scenario for those invested in Indonesian companies. Already this week we have seen single-session losses of more than 5% in the Jakarta Composite Index and the benchmark has now erased all of its previous gains on the year.
In Thailand, the second straight quarter of declining growth means the economy has entered into a technical recession. China is Thailand's largest trading partner, and reduced exports here as well have contributed to a second quarter GDP contraction of -0.3% (following the -1.7% decline seen in the first quarter). Another common theme is being expressed in the country's current account performance, with second quarter numbers suggesting a deficit of $5.1 billion, after posting a $1.3 billion surplus in the first quarter.
Read: Bond ETF Investors Rocked by Trading Turbulence
Thailand is also characterized by high levels of private debt, which has increased by 12% when compared to last year. Household debt in Thailand now makes up 80% of GDP, which is one of the highest ratios in Asia and this is a marked increase from the 55% figure that was seen in early 2009.
Some of the biggest concerns will be realized if
Federal Reserve
tapering continues to limit U.S. demand for emerging markets exports. Policy change speculation has caused long-term interest rates to move higher, with yields on the 10-year Treasury note hitting a two-year high near 2.9%. This ultimately attracts investment capital back into U.S. assets, and exacerbates current account problems seen in emerging markets.
After the 2008 financial crisis, lower interest rates meant it was easier for Asian economies to attract investment and boost prospects for growth. But with the economic imbalances created by growing debt levels, investors need better potential for returns in order to justify the added risk.
But when we look at the performance seen in Asia's individual economies, internal factors look even more discouraging. Whether or not emerging Asia's financial stability will continue to erode will depend largely on the region's ability to calm investor fears and attract foreign investment.
Read: Global Macro: Equities Begin Their Correction
Less external debt and stronger foreign reserves means nobody is really expecting Asia's economic situation to deteriorate to the level of alarm seen during the 1998 financial crisis. But the balance of the evidence ultimately suggests we have yet to see a bottom in emerging Asia's stock markets.
At the time of publication the author had no position in any of the stocks mentioned.
This article was written by an independent contributor, separate from TheStreet's regular news coverage.
Richard Cox is based in China, and has lectured at several universities there on international trade and finance, focusing primarily on macroeconomics and price behavior in equity markets. His articles appear on a variety of Web sites, including MarketBulls.net, Seeking Alpha, FX Street and others. Investing strategies are based on technical and fundamental analysis of all the major asset classes (stock indices, currencies, and commodities). Trade ideas are generally based on time horizons of one to six months.