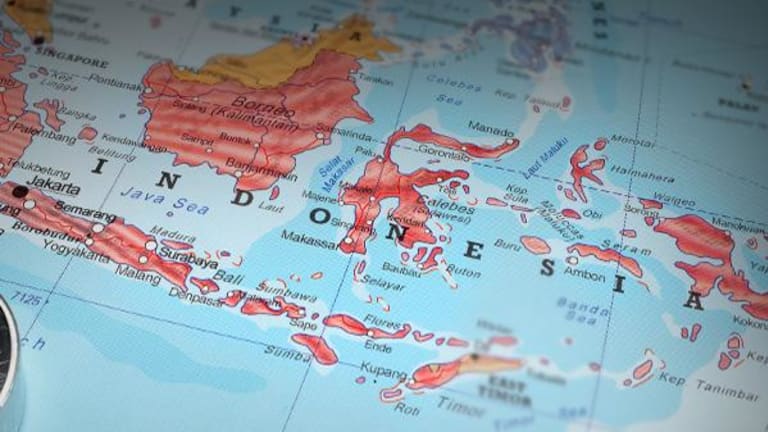 Indonesia Increasingly Looks Like Land of Opportunity
A blossoming middle class and fast-growing e-commerce sector present an opportunity that international investors are beginning to exploit.
This column originally appeared at 11 ET on Real Money, our premium site for active traders. Click here to get great columns like this from Jim Cramer and other writers even earlier in the trading day.
The rise in consumer spending and rapid growth in e-commerce have encouraged Logos Property to start developing logistics space in Indonesia. The company is making its move with backing from two of the largest institutional investors in the world.
The entrance of Logos is likely to be the start of several similar announcements. Logistics operators view Indonesia as an untapped and huge market. Its 258 million people rank it behind only China, India and the United States in population globally, but its middle class is only now coming into its own.
The Canada Pension Plan Investment Board and Ivanhoe Cambridge have fronted up $400 million in funding for Indonesian development by Logos, which is also expanding in Singapore thanks to the partnership.
In Indonesia, warehouse operators can expect rental yields of 8% to 9%. There are yearly capital gains of around 6% on top of that, bringing total annual returns to around 15%.
Logos competitors Global Logistics Properties (GBTZY) from Singapore and the Goodman Group (GMGSF) from Australia both have extensive warehouse operations in China. With growth there slowing, Indonesia and its 5.1% expansion in gross domestic product present an attractive addition to the portfolio.
Indonesia is currently the world's eighth-biggest economy. But it will be the fourth-largest by GDP by the year 2050, to match its population, according to Pricewaterhouse Coopers. Indonesia, India and Vietnam will be the "star performers" between now and then, PwC predicts.
Ivanhoe Cambridge has also said it is looking at logistics investment in India, which like Indonesia has caught the eye of many an institutional real-estate investor in the last 12 months or so. India is currently the world's fastest-growing major economy, forecast by Oxford Economics to grow 7.2% this year. Indonesia's rate of growth is not far behind China's expected 6.3% economic advance for 2017.
As the world's largest archipelago, Indonesia and its 17,000+ islands present a logistical nightmare for manufacturers and transportation companies. Most companies focus largely on Java -- which, with its 141 million residents, is the world's most-populous island.
The Indonesian government and President Joko "Jokowi" Widodo are, though, committed to investment in the infrastructure that the country so desperately needs. The government on March 31 concluded a nine-month tax amnesty that resulted in the declaration of $365 billion in assets that will now enter the "proper" economy, and therefore the tax system, from the black market. That, and the removal of a fuel subsidy at the start of Jokowi's tenure, will help fund the infrastructure construction.
Indonesia certainly has its quirks. The Indonesian motorbike-hailing app Go-Jek is competing fiercely with its car counterpart, Uber, in a country where it's not unusual to grab a motorbike taxi to get around. Go-Jek and its peers may be the answer to the "last mile" delivery so crucial in logistics, a role filled by courier companies in developing countries such as China.
The web of warehouse development in the Asia Pacific region is already a complex one. Sydney-based Logos was founded in 2010 to manage property for the Singaporean sovereign wealth fund GIC. It has a portfolio of properties in Australia and in China.
The Australian investment bank Macquarie Group (MQBKY) , via Macquarie Capital, bought around 40% of Logos in 2014. Ivanhoe Cambridge then reportedly acquired roughly 35% of Logos in March 2016, the rest of the company left in the hands of Macquarie and the Logos founders, both of which sold down.
GLP is also backed by GIC, full name the Government of Singapore Investment Corp., which owns 37% of the Singaporean warehouse operator. Encouraged by GIC, GLP has put itself up for sale, with both Blackstone (BX) and a Chinese consortium led by Beijing-based private-equity manager Hopu Investment among the suitors, according to Reuters.
The Chinese consortium invested $2.5 billion in GLP in 2014. Warburg Pincus is the third private-equity bidder for GLP, according to Bloomberg, completing GLP's short list of potential buyers.
The Canada Pension Plan Investment Board also backs the Goodman Group, which counts China's sovereign wealth fund, the China Investment Corp., among its largest shareholders. The Dutch pension fund APG Asset Management has also invested in warehouse space through Goodman.
Logos said it has identified a "strong pipeline" of development opportunities for modern logistics facilities in Indonesia, and with this move it has opened an office in Jakarta. It recently entered the Singapore market, where it already has two warehouses and a development site. The Canadian backing will also enable expansion in the Lion City. 
Logos is developing new warehouse facilities to own and operate in Indonesia. But it both develops new and acquires existing warehouses in Singapore. It has found deep-pocketed partners. With $202 billion in assets under management, Canada Pension is the ninth-largest pension plan on the planet, according to the latest ranking from Pensions & Investments magazine and Willis Towers Watson.
Ivanhoe Cambridge is the real-estate arm of the Caisse de depot et placement du Quebec, which manages several governmental pension plans for the Canadian province of Quebec. CPPIB and the Caisse are the two largest Canadian pension plans.
Their backing has helped fund the Logos purchase for $23 million of a 26-acre (10.7 hectare) industrial property in Bekasi, a city on the eastern edge of the Jakarta suburbs. Logos will then spend another $130 million to develop a three-level warehouse on the plot, which at 1.7 million square feet would be one of the biggest logistics spaces in the country. The first phase of construction should wrap up by the end of next year.
Logos is so far restricting its catchment area in Indonesia to greater Jakarta. But the port city of Surabaya, in eastern Java, is a likely second destination for warehouse operators. Beyond that, Bandung in West Java and Medan, on the island of Sumatra in the westernmost province, Aceh, are potential cities for expansion beyond that.
Package-delivery companies such as UPS (UPS) and Deutsche Post (DPSGY) subsidiary DHL Express are natural fits to lease newly developed logistics operations. So, too, are fast-moving consumer goods companies like Unilever (UL) and Procter & Gamble (PG) .
At the time of publication, Alex McMillan had no positions in the stocks mentioned.