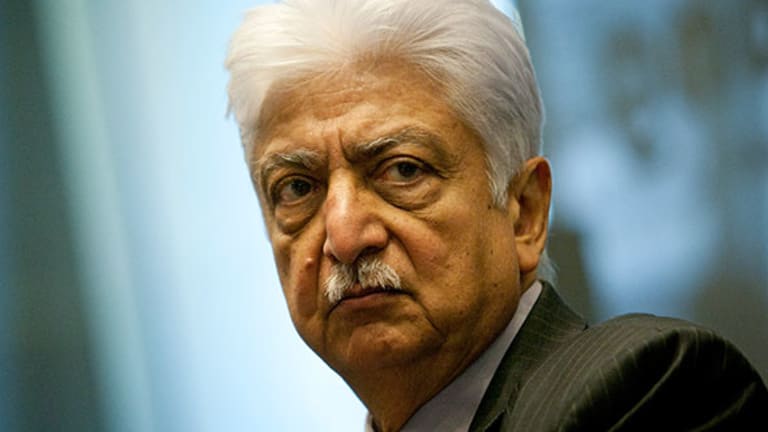 NEW YORK (The Street) -- China's economic growth may be slowing, but India's is rebounding sharply, so investors might want to look at some mutual funds and ETFs with significant Indian holdings to take advantage of the trend.
The International Monetary Fund (IMF) predicts that India will be the fastest growing major economy in the world by 2016. Moody's Investors Service recently noted that India's growth rate for this year is likely to average around 7.5% -- a number that is higher than forecast for similarly-rated peers.
That figure compares favorably with expected average growth rates of 6.8% and 6.3% for China this year and next. The research firm lists favorable demographics (such as a largely young population compared with China's aging population), economic diversity, and high savings as pluses in favor of the country.
"India is the inverse investment proposition to China," says Michael Kass, vice president and portfolio manager at Baron Capital Management, a money management firm that has made several investments in India through its $1.53 billion Baron's Emerging Markets Fund (BEXFX) - Get Baron Emerging Markets Retail Report. Thus, India under-invested in its infrastructure, as China made enormous capital investments in its economy. As a result, China is suffering from the effects of over-investment such as deflation while India has the opposite problem -- inflation.
But, Kass points to the positives in India - a vibrant entrepreneurial culture, an appreciation of property rights, and a functioning judiciary - as proof that the country is evolving.
A number of sectors are poised to take off in India with the unshackling of its economy.
For example, the pharma and healthcare sector is particularly attractive to Baron funds because of growth prospects for Indian firms in the industry on the world stage.
"Indian scientists have a global competency but work for one-fifth the salaries of their German and American counterparts," says Kass. The Indian pharma and healthcare industry is also expected to benefit from growth as patents expire and there is a shift towards generic molecules.
Similarly, Indian prime minister Narendra Modi's government is also busy rearranging the rubric of the banking industry.
In his budget this year, India's finance minister Arun Jaitley reduced capital allocation by 41% from the previous year for public sector banks. This is expected to limit their capacity to provide loans and services to India's burgeoning middle class.
According to a report by Nomura, the change in allocation could affect growth prospects for 50% of public sector banks "drastically."
Private sector banks are expected to pick up the slack as India's economic engine gets going. The same research report states that this shortfall for public sector banks will result in a 25% growth opportunity for private banks.
"In the last decade, private banks had gained around 75 basis points in annual market share and now we expect 200 basis points of annual market share gains for private banks," the report stated.  
This is not the first time that India is being hailed as a major growth engine.
The country was part of the original BRIC (Brazil, Russia, India and China) economies poised to transform the power and economic dynamic of the world. Between 2003 and 2008, India's economy galloped at average rates of 8.8%. But, the global economic recession, coupled with widespread corruption and bureaucracy, have stymied the country's growth prospects in recent times.
The same conditions could be significant risk factors for the country and could prove to be its undoing again.
At the World Economic Forum last year, well-known economist and NYU professor Nouriel Roubini predicted that the "Indian tortoise will overtake the Chinese hare, if it implements reforms in a big way."
Modi has already kickstarted the discussion on implementation of big ticket reforms, but he's already facing problems from the opposition parties.
Kass says he is worried about the opportunity these reforms present for politically expedient vested interests, which may result in a gridlock over important reforms, such as the Land Reform Act. "It is a case of two steps forward, one step back," he said. "The key question (in this gridlock) is whether market will set prices for goods and services or will it let the government set prices."
The gridlock is a cyclical contraction and will result in pent-up demand once a breakthrough is achieved, according to Kass.
Baron funds is invested in India for the long term. "In the short term, expectations are being pushed out on the calendar," he says, adding that India has the "greatest potential" and is "the most exciting destination" over the long term.
Here are three funds that are taking advantage of the India story right now: 
WisdomTree India Earnings Fund
With $2.29 billion of assets under management, the WisdomTree India Earnings fund (EPI) - Get WisdomTree India Earnings Fund Report is the oldest and largest India-focused fund listed on the NYSE. It is a fundamentally-weighted fund, which means that it values companies based on fundamental metrics, such as revenues and income, rather than market valuations.
The fund has an expense ratio of 0.84 and covers a broad range of sectors -- such as information technology, energy, housing, and banking -- that are critical to India's economy.
The fund's largest holdings are in well-known large caps such as Infosys (INFY) - Get Infosys Limited Sponsored ADR Report, Housing and Development Finance, and Oil & Natural Gas Corporation. The fund has average returns of 11.84% over a three-year period.
iShares MSCI India ETF
The iShares MSCI India ETF (INDA) - Get iShares MSCI India ETF Report has approximately $1.3 billion under management. At an expense ratio of 0.68, the fund is cheaper compared with Wisdom Tree's offering.
Its performance over a three-year period is also slightly better with returns of 13.94 %. The fund is index-weighted, which means that the value of its underlying assets is based on market capitalization. The assets themselves are skewed towards the technology sector and represent the top 85% of securities in the Indian market.
iShares India 50 ETF
As its name indicates, the iShares India 50 ETF (INDY) - Get iShares India 50 ETF Report has 50 fast-moving stocks from the Indian stock market.
It tracks the S&P CNX Nifty Index, the Indian equivalent of the S&P 500. It has a high expense ratio -- 0.94, but with average returns of 14.60% over a 3-year period, the fund also best reflects the India growth story in recent times.
Unlike the previous funds on this list (which have a proportional representation of technology stocks), the iShares India 50 ETF is heavily invested in the country's financial sector.
This article is commentary by an independent contributor. At the time of publication, the author held no positions in the stocks mentioned.