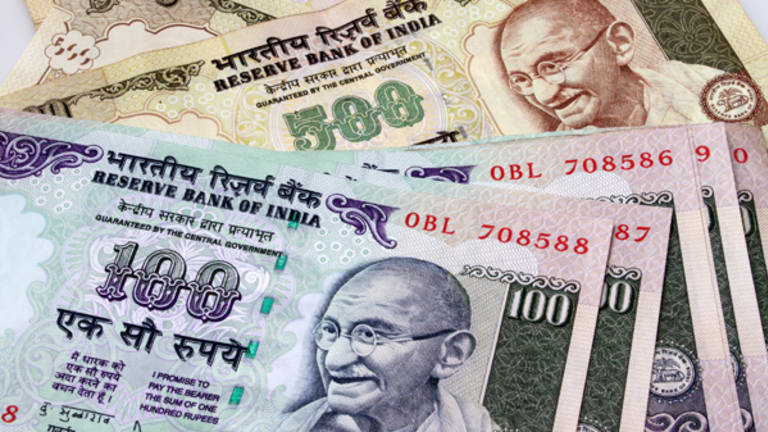 India's Bull Market Is a Better Bet for Your Investment Dollars
Given the limited opportunities available in the U.S. markets this year, it makes sense to look for attractive alternatives abroad such as India.
NEW YORK (TheStreet) -- U.S. stock market returns have been treading water for the year to date, with the Dow Jones industrials up just 0.18% for the year, while the Nasdaq is up only 0.22% (as of Friday's close.).
U.S. small-caps, last year's runaway asset class, rallied last week but it is still one of the worst-performing asset classes this year, down 4.15%.
Here is a current scorecard of where the various asset classes stand for the year to date:
U.S. economic growth continues to be muted, even factoring in weather-related weakness in the first quarter. This is one of the factors spurring a rally in bonds this year as investors now appear more concerned with recession than the prospect of higher interest rates.
Better Opportunities in India
So given the slow-growth environment here in the U.S., I continue to look for better opportunities abroad. One country with superior prospects for growth is India. India just recently elected a pro-business government that is expected to drive market-friendly economic reforms.
India's new leader, Nehendra Modi, was the chief minister of an extremely progressive State of Gujarat for the past 12 plus years. It is hoped that Modi can take his successful regional model and apply it to a very bureaucratic and corrupt national government system. It will not be easy, but the Bombay market is beginning to take off in anticipation of better days ahead.

Markets and stock trade on expectations, and expectations for India are optimistic once again, as demonstrated by the recent performance of the Bombay Stock Exchange which is up more than 20% since the beginning of the year. According to Franklin Templeton Investment's chair Mark Mobius, India is in a bull market that he predicts is likely to continue for some time. He expects inflows from foreign institutional investors into India could double in the next year given the revolutionary changes occurring in the country.
Ways to Invest in India
I have significantly increased my investment exposure to India. It is difficult to invest in individual stocks on the Bombay stock exchange and there are only about 20 stocks that trade as ADRs on U.S. exchanges. So I am opting to gain broad India market exposure through the utilization of exchange-traded funds, closed-end funds or mutual funds.
One mutual fund I like is the Matthews India Investor Fund (MINDX) - Get Matthews India Investor Report.
Here are the top ten holding for the fund, which currently holds a total of 32 names:
Emami Ltd. 6.58%
Kotak Mahindra Bank Ltd. 5.29%
ITC Ltd. 5.14%
Gujarat Pipavav Port Ltd. 4.47%
HDFC Bank Ltd 4.46%
Dabur India Ltd. 4.35%
Info Edge (India) Ltd. 4.22%
AIA Engineering Ltd. 4.13%
Exide Industries Ltd. 4.07%
Sun Pharmaceuticals Industries Ltd. 3.89%
Only one of this fund's top ten holdings trades as an ADR on a U.S. exchange, and that's HDFC Bank (HDB) - Get HDFC Bank Ltd. Report.
There are also several ETFs that track the Bombay Index such as the Barclays Bank Plc iPath MSCI India Index ETN (INP) .
Morgan Stanley also has a closed-end fund that invests in India companies (IIF) - Get Morgan Stanley India Investment Fund Inc. Report.
These are just a few of the vehicles I am utilizing with my clients to gain exposure to the investment opportunities in India. Given the limited opportunities available in the U.S. markets this year, it makes sense to pursue superior prospects abroad in order to bolster investment returns. 
This article represents the opinion of a contributor and not necessarily that of TheStreet or its editorial staff.
>>Read more: Mark Zuckerberg, Jailbird in Iran? Facebook Better Call Its Lawyers
DISCLOSURE: I am currently long MINDX, INP, and IIF