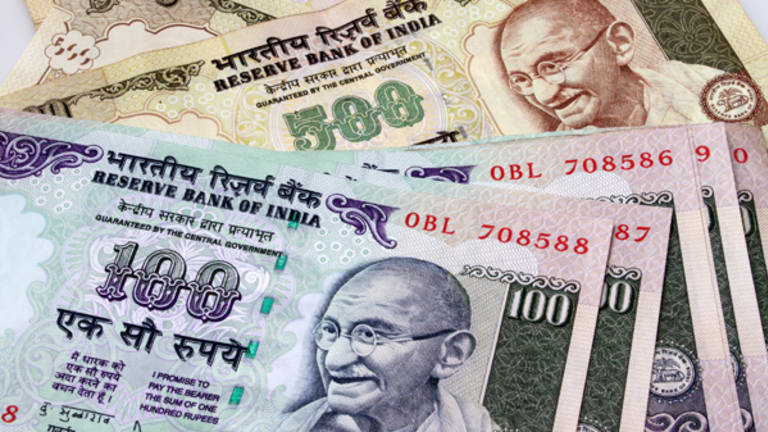 NEW YORK (TheStreet) -- Remember the BRICs? At one time the nations of Brazil, Russia, India and China were synonymous with global growth.
As so often happens throughout the turbulent history of the markets, just when sentiment reached its peak reality swung back the other way. The BRICs, a "sure-bet" on above-trend growth back in 2007, have been among the most disappointing investments in the world since then.
After a breathtaking plunge of over 70% in 2008, India and China represent the backbone of an emerging market trade that has gone nowhere while parts of the developed world have ascended to new heights. With India's new pro-business government, things might be improving for investors, which is why exchange-traded funds of Indian companies may be the way to play this development.
India's GDP has nearly doubled since 2007. While the rate of growth is slowing, it will likely continue to grow between 4% and 5% this year and next. Come 2020, the country is expected to be among the fastest growing economies in the world.
One thing that always separated India from China -- vastly superior demographics -- will still be in place. A decade from now, this will be the world's most populous country in the world. It's also one of the world's youngest countries in terms of median age.
Why have investors avoided India for so long?
The answer is twofold. On the one hand, investors in the post-2008 world are simply unwilling to take risk. The preference for quality, particularly domestic quality, has reached almost unseen heights. On the other, India has had some legitimate economic turbulence in the last few years as adjusts to a lower growth rate. The market has flattened out in response.
Within the last few months this trend of stagnation finally seems to be changing. The Sensex market has broken out to new highs, up a mind-boggling 25% since March. A lot of that has to do with the polarizing new Prime Minister, Nahendra Modi. While his social perspectives have enraged liberal secularists, the markets are buying in to his pro-business, infrastructure-oriented economic agenda.

Economies tend do what they do in spite of the figureheads at the helm. Factors like economic cycles, demographics and global interest rates have a much more powerful effect on growth. India's economy will be a good bet for world-leading growth regardless of who's in charge.
But on the margin, things like a new goverment can matter. To the dispassionate American investor, these trends are unquestionably a good thing. Modi's policies will affect the tone and the psychology of Indian consumers and businesses.
There are several ways to play these new trends.
The largest India ETF, the WisdomTree India Earnings Fund (EPI) - Get WisdomTree India Earnings Fund Report, sports a P/E ratio just over 11x. That's pretty cheap for an economy that will be among the fastest growing in the world with the youngest, most attractive demographics, and a pro-growth nationalist at the helm.
The iShares MSCI India Index Fund (INDA) - Get iShares MSCI India ETF Report contains a slightly different portfolio, with an exclusive focus on large cap stocks. It's slightly more expensive at 14.5x earnings. But keep in mind that some of the stocks within these ETFs are trading with temporarily depressed earnings as India's economy has slowed down and flirted with recession in recent years.
Investors with strong stomachs can play India via small caps. The EGShares India Small Cap ETF (SCIN) trades at 9.6x earnings and 1.05x book value. That's cheap, folks. And that's after the fund is up 36% since early May. It'll be a volatile ride and more tightly leveraged to India's overall economic performance, but there's huge upside potential here.
American investors are severely underweight global markets. When it comes to picking and choosing the best of breed, India is currently worth a look.
At the time of publication the author had no position in any of the stocks mentioned.
This article represents the opinion of a contributor and not necessarily that of TheStreet or its editorial staff.
>>Read more: Adidas Looks to Beat Nike for Soccer Dominance in 2014 World Cup
To get more details about India, jump to the 22:13 mark of my podcast "
".