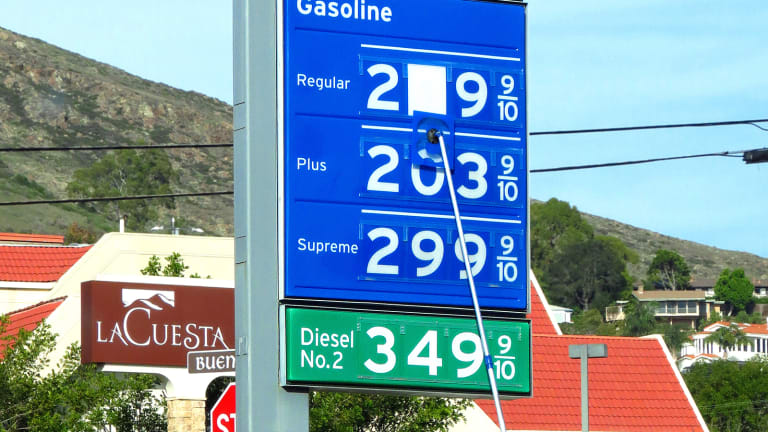 If ConocoPhillips, Big Oil Win Export Vote, Expect Higher Gas, Oil Prices
Producers could see their sales rise by an estimated $25 billion by 2025 and fetch much higher prices if they were allowed to send their crude abroad.
NEW YORK (The Deal) --  A bill that would lift the 40-year-old ban on exporting U.S. crude oil, is expected to hit the floor of the House of Representatives for a vote on Friday, where the Republican majority will probably approve it. Bill HR 702 will then go on to the Senate, maybe with some wind and solar tax credit extensions tacked on to help it to pass muster with Democrats -- and President Barack Obama.
If it doesn't pass this year, the legislation would likely be up to whomever wins the 2016 presidential election.
The bill has been met with a lot of vitriol from opponents. Rep. Kathy Castor, D-Fla., called it an "unconscionable giveaway to Big Oil," saying East Asian countries, primarily China, would be the biggest beneficiaries, not the European allies of the U.S., as has been billed.
Rep. Rick Nolan, D-Minn., said lifting the ban would shut down American oil refineries, putting hundreds, if not thousands, of Americans out of work, and cut oil and gas supplies in the U.S., which would raise prices at the gas pump. "The only beneficiaries would be the big oil companies," he said. "The losers would be everyone else."
If it's approved, which some pundits expect, it would obviously benefit the large oil companies that have been lobbying for it the most, including ConocoPhillips (COP) - Get ConocoPhillips Report , Continental Resources (CLR) - Get Continental Resources, Inc. Report and Marathon Oil (MRO) - Get Marathon Oil Corporation (MRO) Report .
Those three companies and their peers could see their crude oil sales rise by $25 billion by 2025, according to the Energy Information Administration, and their product could fetch much higher prices abroad.
The move would certainly help the U.S. oil and gas industry, which has slashed production, sold off assets and laid off an estimated 200,000 people -- 3,200 at ConocoPhillips alone, according to estimates by energy transaction specialist Graves & Co. -- since oil prices began to collapse in the fall of last year.
Other big winners would include five companies operating in South Texas' Eagle Ford shale, which puts them close to export terminals on the Gulf Coast. Those include Marathon, EOG Resources (EOG) - Get EOG Resources, Inc. (EOG) Report , Pioneer Natural Resources (PXD) - Get Pioneer Natural Resources Company Report , Anadarko Petroleum (APC) - Get Anadarko Petroleum Corporation Report and Devon Energy (DVN) - Get Devon Energy Corporation Report .
The list of beneficiaries from a lifting of the export ban doesn't end with those seven companies. It would also help companies in West Texas' Permian Basin, including Pioneer but also smaller players like Parsley Energy (PE) - Get Parsley Energy, Inc. Class A Report , and those in the Tuscaloosa Marine Shale in Louisiana and Mississippi, including EnCana (ECA) - Get Encana Corporation Report , Sanchez Energy (SN) - Get Sanchez Energy Corporation Report and Goodrich Petroleum (GDP) - Get Goodrich Petroleum Corporation Report as well as Halcon Resources (HK)  and Comstock Resources (CRK) - Get Comstock Resources, Inc. Report , which suspended their operations in the area due to low oil prices.
Pioneer management said at a recent investor conference that lifting the ban is critical, despite a narrowing of the spread between how much a barrel of oil fetches in the U.S. and how much it brings abroad, which mutes the economic benefits of a potential lift. For its part, Pioneer sees the U.S. ultimately becoming the international "swing" producer, meaning it can affect global prices, displacing OPEC, and most importantly, rival Saudi Arabia.
Energy infrastructure providers, or so-called midstream companies, would also benefit, as they would be called upon to get the oil to the coast and ready export. Sunil Sibal, an analyst with SGS Equity Research, said the main beneficiaries in his coverage universe would be Enterprise Products Partners (EPD) - Get Enterprise Products Partners L.P. Report , Plains All American Pipeline  (PAA) - Get Plains All American Pipeline, L.P. Report and Plains GP Holdings  (PAGP) - Get Plains GP Holdings LP Class A Report .
Pioneer and Enterprise have a leg up in the export game, as last year they won the right from the Commerce Department to begin sending lightly processed condensate abroad. Companies can already sell gasoline, diesel and other petroleum products overseas.
The biggest losers? PBF Energy (PBF) - Get PBF Energy, Inc. Class A Report and the three other oil refiners that have opposed the export ban, as their production costs benefit from the lower prices a supply glut in the U.S. brings. The other three members of the "CRUDE Coalition" are Delta Air Lines'Monroe Energy LLC, Carlyle Group-backed Philadelphia Energy Solutions and Alon USA Energy (ALJ) .
"The math is simple on this action," PBF chairman Tom O'Malley said late last year. "Removing the export ban equals higher oil prices equals higher gasoline prices equals angry voters." It will be interesting to see who wins this battle in the oil patch.