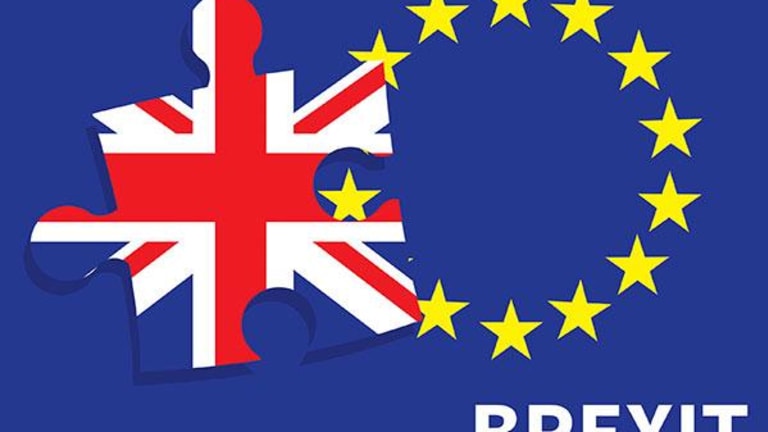 Hunting for Brexit Bargains in China
Chinese investors may be the biggest Brexit beneficiaries.
Editor's Note: This article was originally published on Real Money at 9 a.m. on July 7.
In Asia, we're still counting the likely cost of Brexit. Its ripples will be felt far and wide, even out here. As an expat Brit -- albeit with 15 years in Hong Kong -- I'm still scratching my head about the decision altogether!
We're seeing news that Aberdeen Asset Management (ABDNY) -- which has a large Asian presence, with £20 billion ($25.8 billion) from Asia-based customers -- suspended trading in its U.K. property funds for a day.
Of course, property is often the very first place Asia-based investors put their money. But the Aberdeen fund and its feeder, with £3.2 billion in assets, is limited to U.K. investors. When I asked, the company said it wouldn't provide any figures on redemptions.
Aviva (AV) , Standard Life (SLFPF) and M&G Investments, a subsidiary of Prudential (PUK) - Get Prudential Plc Report , also suspended U.K. property funds as well. Those have £9 billion ($12 billion) in assets.
Henderson (HNDGF) , Columbia Threadneedle and Canada Life joined them, as noted by my RealMoney colleague Antonia Oprita, who has questioned if the moves will prevent redemptions.
The commercial property brokerage DTZ/Cushman & Wakefield believes that Brexit may actually favor Chinese investors. It has certain raised Britain's profile in Asia, that's for sure! Sina Weibo, China's version of Twitter (TWTR) - Get Twitter, Inc. Report , saw a record 280,000 posts in the 24 hours after the decision, and 890 million views the preceding week. Its shares, under parent Weibo (WB) - Get Weibo Corp. Report , are at an all-time high.
That has already caught the interest of my RealMoney colleague James "Rev Shark" DePorre.
But economists are already cutting expectations out here. Nomura on Thursday now reckons Hong Kong's economy will slide backwards this year, down 0.2%. The Japanese bank had been expecting growth of 0.8%, but reckons Hong Kong will be the hardest-hit Asian economy. Global banks have already been scaling back their need for space in the world's most expensive city to place workers.
The impact on Asian real-estate investors and markets is unpredictable. The wave of money that had been heading from Asia toward Britain's shores will surely take a break, those who have been directing it say.
Cushman put out a special report on the issue of heightened Chinese interest, asserting that Chinese investors will likely split into three camps. There will likely be opportunistic players like the huge Chinese insurance companies such as Ping An looking to pick off core assets in London. They're allowed to invest offshore for the first time, but initial yields had started to put them off. The recent volatility will make them look again.
They will be looking for the double benefit of the exchange-rate discount and softening prices. Retail real estate might look particularly attractive, said James Shepherd, Cushman's head of research for greater China, since there should be a rise in tourism and greater purchasing power from foreign currencies like the Chinese yuan.
A gain of 10% to 15% in Chinese tourism would pump $146 million in additional tourist spending into the United Kingdom, the company forecasts.
Certainly, there will be plenty of Chinese players in the "wait and see" camp, Cushman says. And some conservative investors will be put off the United Kingdom and the European Union altogether. But Chinese money flowing into U.K. properties had already fallen, to $2.2 billion in 2015, down from $3.8 billion in 2014, figures from Real Capital Analytics show.
Volatility could be huge if a lot of foreign capital flows the British way. Meanwhile, companies with U.K. property holdings already won't be selling any time soon with the pound so low.
Short-term, Asian capital in general may look for opportunities closer to home, in markets that are comparable in transparency to London, such as Sydney, according to Alistair Meadows, the head of international-capital group in Asia for the commercial-property brokerage JLL. But Brexit market volatility is sure to throw up buying opportunities in the next six to 12 months, he feels.
Asian occupiers with operations in the United Kingdom will slow any activity, according to JLL's Asia Pacific CEO Anthony Couse. This will exacerbate the correction. But the pound's descent to a 31-year low puts a massive discount on stable "core" property, which had become too pricey for many Asian players.
Investment into Asia will also likely take a hit, as funds backed by a high proportion of Europe-based investors will be making head or tail of it all.
.