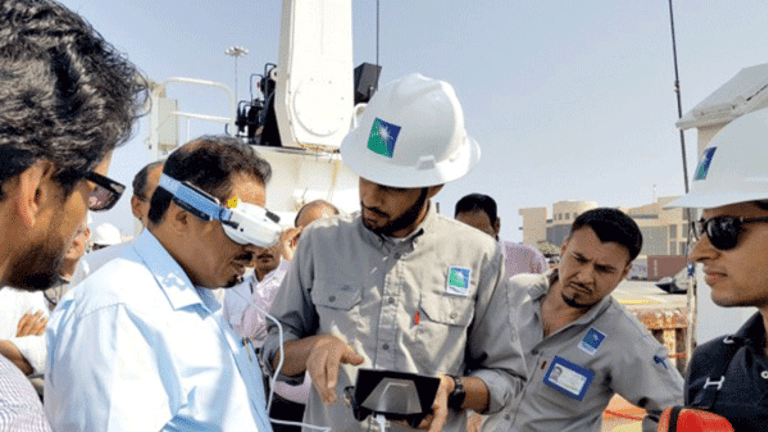 HSBC Wins Formal Mandate for Saudi Aramco IPO - Report
HSBC will advise on Saudi Aramco's multi-billion dollar IPO, according to media reports Monday, potentially increasing chances London could earn a piece of the world's biggest stock listing.
HSBC plc (HSBC) has been formally named to the advisory team for Saudi Aramco's multi-billion dollar IPO, according to media reports Monday, potentially increasing the chances the London could earn a piece of what is expected to be the world's biggest stock listing.
HSBC CEO Stuart Gulliver confirmed the appointment during an informal shareholders' meeting in Hong Kong, Reuters reported. Officials at the bank in London were not immediately available to confirm the appointment when contacted Monday by TheStreet.
Prime Minister Theresa May visited the Kingdom earlier this month, ostensibly to lobby the government to consider London for a portion of Saudi Aramco's international listing, as view that was supported by the fact that London Stock Exchange Group (LNSTY) CEO Xavier Rolet travelled with the U.K. government's entourage. 
Reuters also reported that Motassim al-Maashouq was most recently the company's VP of corporate planning will take on the role of VP of IPO development, has been tasked with overseeing the flotation. Maashouq has been with the company since 1984 and has worked as treasure, as well as CEO of Aramco's affiliate in the Philippines.
Saudi Aramco, formally known as Saudi Arabian Oil Co., has reportedly lined-up several banks that will lead what's expected to be the biggest initial public offering in history next year -- one of which has a direct tie to the oil behemoth and the Kingdom of Saudi Arabia.
Morgan Stanley (MS)  , Moelis & Company (MC) and Evercore Partners Inc (EVR) have been officially appointed as financial advisers, according to earlier Reuters reports, while JPMorgan Chase & Co (JPM)  which has a long commercial banking relationship with Saudi Aramco and counts the current chairman of the oil giant, Khalid bin Abdulaziz Al-Falih, as a member of the bank's international council, where he has served since 2010, is also on the list.
In addition to his role at Saudi Aramco, Al-Falih, 57, is the energy minister for the Kingdom of Saudi Arabia Ministry of Petroleum and Mineral Resources.
The former chief executive of Saudi Aramco, Abdallah Saleh Jum'ah, 76, was on JPMorgan's international council until 2009. Jum'ah is also Chairman of Saudi Investment Bank and a committee member for Saudi Arabia's Supreme Economic Council.
Former Chevron Corp (CVX) CEO David O'Reilly had brief stints at both JPMorgan and Saudi Aramco. O'Reilly was a council member for the bank between 2009 and 2010. He then served as a director for Saudi Aramco between 2010 and 2011, according to BoardEx. BoardEx is a business unit of TheStreet.
For a more detailed look at the banks chasing the world's biggest IPO, please see this comprehensive piece from TheStreet correspondents Anders Keitz and David Marcus.
http://www.thestreet.com/story/14066594/1/saudi-aramco-s-ipo-financial-advisers-have-deep-ties-to-kingdom-industry.html