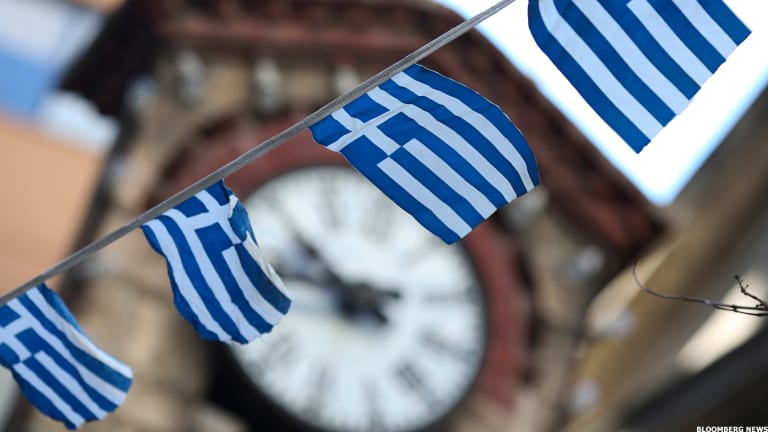 How to Trade Greek Contagion Possibilities
Is Greece contained or has the contagion only begun? Let's look at how the market is reacting.
NEW YORK (Real Money) -- Is Greece contained or has the contagion only begun? As I wrote last week on Real Money Pros, this question isn't entirely financial, it is partially psychological. But we can look at how the market is trading and draw a few conclusions about how we might be able to trade the possibilities.
The U.S. bond market still held in grip of EU core
The U.S. Treasury market has been trading with a very high correlation to European core markets (mainly Germany). This is particularly true of longer-term bonds, which explains why the yield curve has flattened the last two days even though Federal Reserve expectations have been pushed out a bit. When German bunds were falling to near zero earlier this year, U.S. bonds hit their lows. Then when Bill Gross declared bunds were the "short of a lifetime" and bunds started to spike higher, Treasury bonds also spiked.
If Greece leaves the European Union, we could well see some kind of slowdown in EU-wide GDP growth, putting downward pressure on EU yields. German 10-year rates are down 28 basis points since the Greek referendum was announced. If the market starts to believe that the European Central Bank's accommodation will stay in place longer, high-quality bonds worldwide will benefit. I'm a little long of my benchmarks here, meaning I'd rather own bonds than not at this point. It's a trade though, because...
Fed expectations are pushed out even further
By my calculations, fed funds futures are now pricing the odds of a September rate hike at around 22%. That's down from 50% before the Fed's June meeting. We don't see a full 25 bps rate hike priced in until April 2016, and don't see two hikes priced in until October 2016.
I believe this is incorrect on two fronts. First, I don't think the Greece saga will matter much for U.S. GDP and, hence, employment or inflation outcomes. So the Fed isn't likely to change its course because of Greece. If there were to be a knock-on effect, it would take one of two forms. Either a banking contagion inside the EU, which I think is remote, or more likely where the dollar surges and this causes a slowdown in exports and/or input deflation. I'm not really seeing that either right now, as the trade-weighted dollar (a.k.a. the DXY index) is up less than 1% and well within the year-to-date range.

So I still think the Fed is likely to hike in September. I wouldn't be shocked if it waited, but I think the odds favor liftoff then.
But even if it does wait, the path indicated by fed funds futures doesn't make sense, in my view. If the Fed thinks the economy is strong enough to hike in December 2015, for example, it will think it's strong enough to hike again by March or April. And again by June. And again by October.
Maybe it pauses here and there, but the Fed will move more or less toward neutral until it looks like it is harming the economy. I seriously doubt we see one hike and then a second one six months later and then a third one six months after that. The Fed will either be hiking much faster than that or not at all.
I like being long for a trade, but eventually we'll want to be short five-year bonds again.
Credit market much weaker than stocks
Credit is trading very weak, whereas stocks seem to be shrugging it off. As I write this, the S&P 500 is little changed on the day, which only brings us back to levels last seen in early April. We're still at 1.4% year to date. High-yield is trading much weaker, basically at the lows in price for the year.
Some people will say that the credit market is "smarter," meaning we should be listening to the credit market. I say it slightly different. Credit investors have much more downside on any given bond than they have upside. So if the odds of a tail event increase, pricing needs to change substantially to get the upside and downside in balance.
I'd probably be a better buyer than seller if you stuck a gun to my head, but I'm not seeing panic-selling. So I'm not inclined to add a ton to credit here. I think an opportunity might come soon, though.
Tom Graff trades taxable fixed income for
Brown Advisory
, an independent investment advisory firm in Baltimore, Maryland.
Prior to joining Brown, Graff was a Managing Director and taxable fixed-income trader for Cavanaugh Capital Management in Baltimore. Graff earned a CFA charter in 2001.
The opinions expressed here are Graff's own and in no way the statements of Brown Advisory, and may or may not reflect the strategies being pursued for clients of Brown Advisory.
Tom welcomes your questions and can be reached at tomgraff@brownadvisory.com.