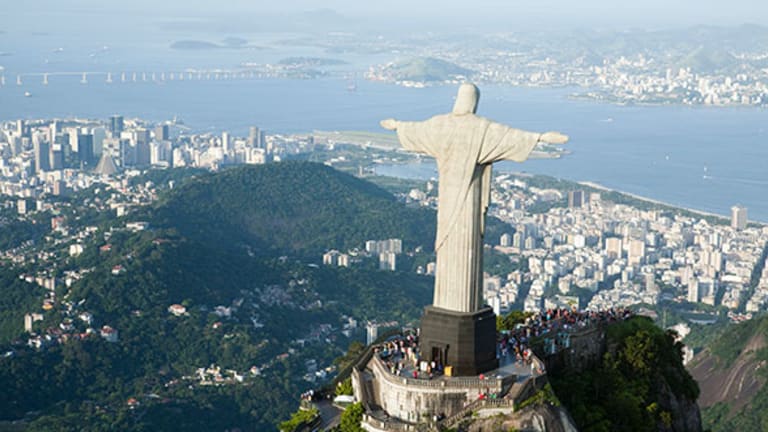 How to Profit from Brazil's Coming Economic Collapse
Once a growth phenomenon, Brazil faces insurmountable economic, social and political woes that will only get worse this year. Here's the best way to make money from this unstoppable trend.
What the heck has happened to Brazil?
For years, this vast country, once touted as a leading emerging market opportunity, was a global economic powerhouse and the growth engine of Latin America. Always eager to apply a snappy label, financial pundits called the country's stunning growth "The Samba Effect."
Today, Brazilians are dancing on the edge of an abyss. The country is now home to some of the most toxic stocks in the world, such as energy giant Petróleo Brasileiro S.A. - Petrobras, aircraft maker Embraer and the utility CPFL Energia, which have declined 22.53%, 21.27% and 20.48%, respectively, over the past year.
Underscoring the country's deepening quagmire, Brazil's federal police on Friday, March 4 detained former president Luiz Inacio Lula da Silva for questioning in an investigation of a bribery and money laundering scheme.
Brazil is the world's fifth-largest country, by geographical area as well as total population (204 million people). But you can do more than simply watch in horror as the nation sinks into chaos. Below, we show you a sure-fire and easy way to make money from this once-proud nation's imminent collapse.
We're not peddling alarmism to make our investment case: Brazil's challenges are truly epic. Brazil's gross domestic product shrank by 3.8% in 2015, the biggest contraction in a quarter century. Government officials now admit that the country is on track this year for its most severe recession in more than a century. The country's central bank is maintaining its benchmark interest rate at 14.25% in attempts to tame the inflation beast, but to no avail. Inflation stands at 10.67%, with unemployment at 7.6% and rising.
Sputtering global growth and the plunge in commodity and energy prices have clobbered Brazil's mining, agricultural and industrial sectors. Brazilian stocks are among the worst performing investments you can find. The iShares MSCI Brazil Capped exchange-traded fund (ETF), a proxy for the country's economy, has declined 27.62% over the past 12 months.
These problems are exacerbated by the terrifying mosquito-borne Zika virus epidemic, which has put health officials in Brazil on high alert, as well as bribery scandals engulfing President Dilma Rousseff's administration.
Indeed, much of the nation's misery is self-inflicted, as the public sector remains bloated, inefficient and corrupt. Disgusted (and fearful) Brazilians have recently taken to the streets to protest.
In another sign of the country's endemic corruption, a federal prosecutor in Brazil on Thursday launched a criminal investigation into McDonald's and its master franchise owner in the country, Arcos Dorados Holdings , charging the franchise and related entities with fiscal and economic crimes, including tax evasion and bribes. It's a sadly familiar headline in Brazil.
The upshot: The country's economy is on course for catastrophe, with analysts and officials predicting that the situation will only get worse in 2016. Three big credit agencies - S&P, Moody's and Fitch - have downgraded Brazil to junk status.
We take no pleasure in misery. But as a cool-headed investor, you must take the world as you find it and invest accordingly. As former growth engines such as Brazil and China sputter, global markets have taken it on the chin all year. Opportunities -- bullish as well as bearish -- should be seized. While Brazil teeters on the precipice, the best way to make a big profit is to buy the ProShares UltraShort MSCI Brazil Capped (BZQ) - Get ProShares UltraShort MSCI Brazil Capped Report , an inverse ETF that seeks daily investment results corresponding to two times the inverse of the daily performance of the MSCI Brazil 25/50 Index. With assets of $27.64 million, the fund's expense ratio is a reasonable 0.95%. Mainly focused on large caps, this ETF is the simplest and optimal way to short Brazil's overall economic mess.
Over the past year, ProShares UltraShort MSCI Brazil Capped has gained 12.16%, compared to a 5.07% decline for the S&P 500.
Do we face a repeat of a 2008-style debacle? Prepare now, by weeding out the fundamentally flawed stocks that could ruin your portfolio. We've done the homework for you, by putting together a report on the world's most dangerous stocks. These equities are poised to collapse; don't get left holding the bag. To download your free copy, click here.
John Persinos is editorial manager and investment analyst at Investing Daily. At the time of publication, the author held no positions in the stocks mentioned.