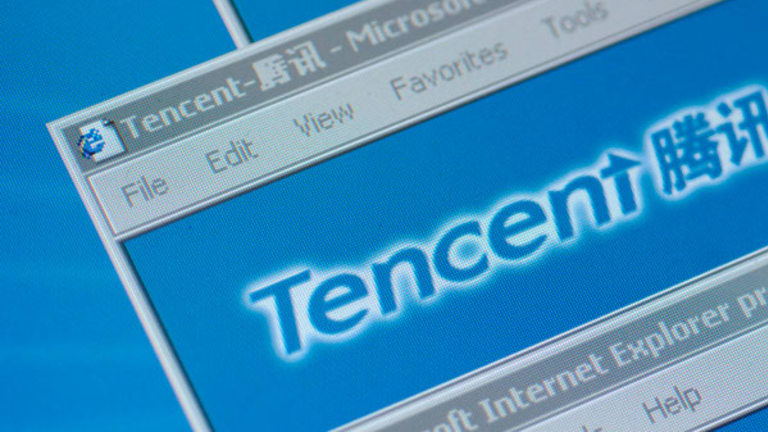 How Tencent, Up 14,000% Since Its IPO, Is Still a Relatively Unknown Chinese Internet Giant
Chinese Internet company Tencent is largely ignored in American circles. Here's what smart investors need to know.
NEW YORK (Real Money) -- Since its IPO last fall, Alibaba (BABA) - Get Alibaba Group Holding Ltd. Report has been the dominant Chinese Internet name talked about constantly in the U.S. press.
That's probably died down a little in recent weeks since the stock came off its high of $120 last November to the $80s now. However, the stock is still valued at over $200 billion. It's a juggernaut. With the IPO of its Alipay financial unit planned for next year, the stock should continue to draw headlines.
But there's another Chinese Internet company that gets ignored in American circles: Tencent (TCEHY) .
Tencent went public back in 2005 -- beforeBaidu (BIDU) - Get Baidu Inc. Report. But it chose to do so in Hong Kong rather than in the U.S. For that reason, it's been pretty much ignored over here, which is too bad. The stock increased about 14,000% from its IPO to the start of last year.
It used to be the case that Tencent made money selling games to Chinese on dumb-feature phones. Then, it figured out how to make money selling games to folks with smartphones.
A few years ago, Sina (SINA) - Get SINA Corp. Report became a hot stock when it launched a Twitter (TWTR) - Get Twitter, Inc. Report-like service called Weibo (WB) - Get Weibo Corp. Report, which is now public. Young Chinese flocked to use the service as a way to connect with others and share ideas.
Tencent launched its own service that it called Tencent Weibo, but it never seemed to gain as much popularity.
However, there were episodes when the Chinese government would crack down on some of the things that were broadcast on Weibo.
Tencent launched a new service called WeChat, which was like a private version of Weibo. It was a mega-hit almost from the start. It still is incredibly powerful.
Earlier this week, Facebook (FB) - Get Meta Platforms Inc. Class A Report unveiled a bunch of new features for its Facebook Messenger service and it borrowed heavily from what WeChat has already done. WeChat has done an amazing job at integrating businesses and commerce into its service. It's like the Messenger app has become the mobile OS in China.
It's helped propel Tencent to a $170 billion market cap. And don't forget that Tencent has its own payment service called Tenpay to take on Alibaba's Alipay.
With the launch of WeChat, Tencent became the first company to really scare Alibaba a year and a half ago. For years, Alibaba thought that it could own Chinese commerce, Tencent would own games and Baidu would own search. Yet WeChat has become so popular that it's threatened the stranglehold Alibaba has held on commerce.
Alibaba saw that if Chinese consumers learned to do everything within WeChat, this would be a huge threat to its incumbent businesses like Taobao and Tmall. And if people shopped there less, it would hurt Alipay.
I think Alibaba was right to be afraid.
It's partly why Alibaba has been on an M&A spree over the last year, including investments in Snapchat and Tango and trying to create its own WeChat service.
Tencent should continue to do well as a stock over the next few years. WeChat is a huge asset for them.
This article is commentary by an independent contributor. At the time of publication, the author held no positions in the stocks mentioned.