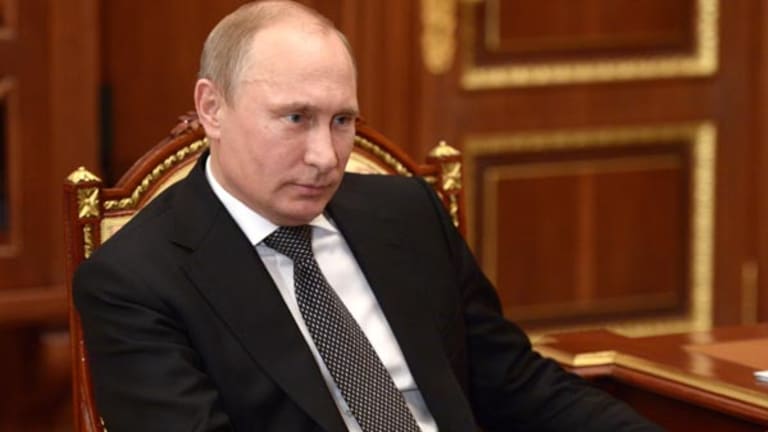 How Much GE, ExxonMobil and Other Big Firms Are Exposed to Russia
Plunging oil prices and the skidding ruble have wreaked havoc on the Russian economy, creating major worries in global markets.
NEW YORK (TheStreet) -- How much exposure do you have to Russia in your portfolio?
That question has become paramount this week as plunging oil prices and the skidding ruble have wreaked havoc on the Russian economy, creating major worries in global markets. 
The Central Bank of Russia has hiked interest rates to 17% to try and stem the free-fall in the ruble, which has lost roughly 50% of its value this year.  But the move did little, as the ruble plunged another 16% on Tuesday, hitting a new low of 72 rubles to the USD before recovering modestly.
If oil continues to average $60 or so a barrel throughout 2015, the Central Bank of Russia has prognosticated GDP may fall by 4.5% in the coming year. Seeing as about half of Russia's revenue is derived from taxes on its oil and gas industries, this fall comes as little surprise for a country that John McCain (Senator from Arizona) once derided as "a gas station masquerading as a country."
Investors need to know how much exposure they carry to this hemorrhaging bear; the following companies have material exposure to the Russian economy or stand to suffer if Russian relations with the West worsen:
General Electric (GE) - Get General Electric Company Report : The industrial conglomerate has annual revenue of more than $1 billion derived from Russian operations largely from sales in the oil and gas industry, aero-engines and power generation. While $1 billion isn't a significant amount for the company's aggregate revenue, it is an unwelcome sight for a business that has seen revenue experience a steady decline for the last five years.
ExxonMobil (XOM) - Get Exxon Mobil Corporation Report : The oil company partnered with Russian energy giant Rosneft in 2011 to work on the untapped Arctic Shelf and Western Siberia areas in a deal that could exceed $500 billion. Exxon was even able to get Putin to forego taxation on oil exports from the Arctic for 15 years to facilitate the deal. While any decision to nix or stifle this agreement would be harmful for Russia as well, one can not overestimate the caprice of Putin. If the project is put in jeopardy, Exxon will experience a hit.
Ford Motor (F) - Get Ford Motor Company Report : The automaker claims a 3.8% market share of the 2.8 million vehicles sold in Russia last year. Russia is the second-largest market in Europe for new vehicles and Ford predicts it will grow to be the largest within the next decade. While this is not a significant figure for Ford's total vehicle sales, the company has seen its share price languish and decline the last several years while the rest of the market ascends. Attrition in Russia will only exacerbate this trend. Ford also plans to open a new engine plant in the country in 2015.
British Petroleum (BP) - Get BP Plc Report : The UK's BP carries the greatest exposure to Russia of any major oil company. The company holds a 19.75% in Rosneft, which is not only the largest energy player in Russia, but is the largest publicly traded oil and gas company in the world. BP derived roughly 35% of its 2013 fourth-quarter profit from Rosneft operations, and has seen its 2014 third-quarter profit cut by 21% year over year, as it too indirectly suffers from Western sanctions on Russia in addition to the precipitous oil-price decline.
Follow Jason @JasonOrestes
This article is commentary by an independent contributor. At the time of publication, the author held no positions in the stocks mentioned.