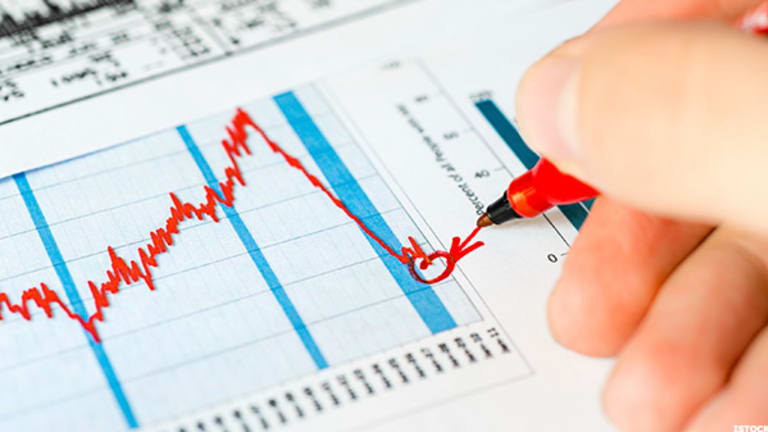 How Low Could Global Equity Markets Go?
Although the United States is in the midst of a decline, foreign-equity markets are already experiencing bear market conditions.
Although U.S. equity markets are on the verge of dropping further, global equities began a bear market early last year.
Vanguard FTSE All-World ex-US Exchange-Traded Fund (VEU) , a good proxy for how equity markets are performing outside the United States, has skidded 25% since May.
The problem lies in the general slowdown of the global economy and eventual loss of trust in central bank support.
Global manufacturing activity has been trending lower the past few years, which has weighed on growth for emerging-market and developed economies alike. Moreover, slowing investment spending and capital expenditure by corporations have led to a decline in commodity prices.
Although central banks have been quick to slash benchmark rates in an effort to spur growth, this move is showing diminished returns. Negative rates now exist in Japan and Europe, with China also aggressively intervening to keep its currency and economy intact.
Such efforts, however, have failed to ignite a meaningful boost in growth.

Data provided by Stockcharts.com
The chart below is of iShares TIPS Bond ETF (TIP) over the iShares Barclays 7-10 Year Treasury (IEF) , which is a good proxy for inflation expectations. When the indicator declines, it signals falling inflation expectations.
Since topping in 2011, the inflation expectation index has trended lower with conviction. Even with near-zero interest rates across the globe, the demand for goods and services hasn't been strong enough to support price increases.
The indicator took a major hit in recent years as the price of oil finally collapsed. The severe gap between global supply and demand finally became too much for the geopolitical risk premium to support, leading the price of oil down to decade lows.
Although many consider energy to be a crude and volatile measure of inflation, the reasoning for weakness in both is the same: A lack of global demand for goods and services is suppressing prices. With such a lack of demand, global economic growth has also stagnated.
In the years following the financial crisis, economic growth from China to the United States has been unimpressive and on seemingly fragile footing.

Data provided by Stockcharts.com
Finally, the risk premium of emerging markets is increasing amid low growth and commodity prices.
The emerging-market risk premium indicator is measured by iShares Barclays 7-10 Year Treasury over iShares JPMorgan USD Emerging Markets Bond (EMB) . When the indicator rises, it signals that the risk premium is increasing.
As growth has diminished and commodity prices have fallen, investors have begun to price in higher risk premiums for emerging-market debt.
Similarly, a rising U.S. dollar has weighed on the cost of debt for some foreign borrowers, which is also a reason for declining bond prices.
Although outright defaults on emerging-market debt isn't expected to be widespread, the increasing risk premium is suggesting caution for investing in riskier assets. This is another reason for the recent bout of selling in foreign markets.

Data provided by Stockcharts.com
Collectively, the decline in foreign markets is a result of both slowing growth and more risk-averse investors. Falling commodity prices, and global manufacturing production have weighed on economic activity and thus suppressed inflation measures.
Moreover, slowing growth and the diminishing belief in the efficacy of central bankers are pushing up the risk premium for foreign assets. Although U.S. markets haven't begun to sell off in a bear market fashion just yet, the existence of such negative global views could lead to more widespread selling in coming months, especially considering the global exposure of U.S. multinationals.
This article is commentary by an independent contributor. At the time of publication, the author held no positions in the stocks mentioned.