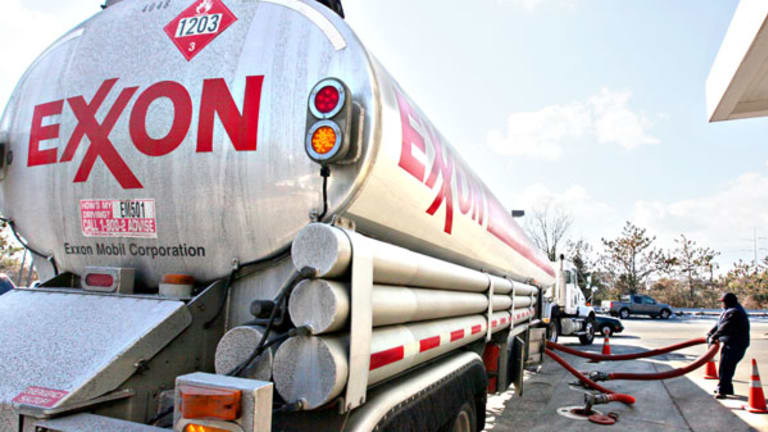 How Asia's LNG Sector Will Drive Exxon Mobil's Growth
Exxon Mobil's Asia-focused LNG projects are nearing completion, which can improve the oil giant's earnings and liquids production.
NEW YORK (TheStreet) - Exxon Mobil (XOM) - Get Exxon Mobil Corporation Report, America's biggest energy company, is expanding its footprint in Asia's liquefied natural gas, or LNG, market.
The oil behemoth's LNG project in Papua New Guinea, or PNG, is nearing completion in June, four months before originally planned. Exxon Mobil has already contracted more than 95% of the supplies to four Asian buyers. Moreover, the Asian market-focused Gorgon LNG project in Australia, in which Exxon Mobil holds a minority stake, could also come online by 2015.
Through these projects, Exxon Mobil will increase its supplies to Asia, where LNG commands a higher price  compared to other regions, of more than $14 per million British thermal units (MMBtu). An increase in supplies to Asian markets can, therefore, drive the company's earnings growth.
Moreover, Exxon Mobil's initial deliveries from PNG will likely be spot cargoes. Although LNG spot prices have recently shown weakness, they are still above $15 per MMBtu. Moreover, the spot prices could increase in the next couple of months ahead of the uptake in demand in the summer season.
Exxon Mobil's shares, currently around $100, are up 12.7% over the last 12 months.
Exxon Mobil has a significant global position in LNG projects around the world, particularly in Qatar and Indonesia where the company has 65 million tons of annual liquefaction capacity. Its portfolio includes four of the world's largest LNG trains, each with capacity of 7.8 million tons per year.
The global LNG demand will be driven by the energy-hungry Asian economies where, analysts believe, the rising levels of pollution and income has created a healthy business environment. China and India will emerge as the new demand centers, as opposed to Japan, South Korea and Taiwan that have traditionally been the largest importers of LNG.
Last year, China unveiled a new natural gas policy that prioritized the use of LNG in the transport sector due to pollution concerns. LNG is the cleaner alternative to diesel, which is normally used to fuel the vehicles in the country. Moreover, when natural gas is used for electricity generation, it emits 60% less carbon than coal.
In 2013, China's LNG imports climbed 23% to its highest ever level of 18 million tons. By 2020, the country's demand for natural gas could triple. Since half of its gas imports consist of LNG, therefore, China's demand for LNG will remain robust.

The French oil giant Total (TOT) - Get Total SA Report has already planned to tap into this growing demand by partnering with the Chinese offshore-focused oil company CNOOC (CEO) - Get CNOOC Ltd. Report, which is also the third biggest LNG importer in the world.
In the meantime, Exxon Mobil is working on two major LNG projects located in Australia and Papua New Guinea to capitalize on the strong Asian demand.
Exxon Mobil has a 25% stake in the 15.6 million tons per year Gorgon LNG project in Australia, which is operated by Chevron (CVX) - Get Chevron Corporation Report. With $15 billion increase in the development costs, Gorgon is not as lucrative as it was initially considered. Moreover, the project has also suffered delays and will now come online in 2015, as opposed to previous estimate of late-2014.
Exxon Mobil's PNG LNG project, however, is another story. This project is not only months ahead of schedule but also under its $19 billion budget. Albeit this budget is already 25% more than the initial estimate, PNG LNG is still cheaper than Gorgon in terms of investments required to produce a ton of LNG in a year. This is shown in the table below.

Papua New Guinea's LNG was supposed to come online by October but the project manager said in a recent interview that it could start up by the middle of the year.
The project, with a capacity of 6.9 million tons per year, will supply LNG to China, Japan and Taiwan. Exxon Mobil, the operator of PNG LNG, has already secured long-term contracts with ChinaPetroleum and Chemical Corporation (SNP) - Get China Petroleum & Chemical Corp. Report, Osaka Gas Company, Tokyo Electric Power Company and CPC Corporation.
Moreover, PNG LNG will also produce 25,000 barrels per day of liquids, which will be exported after it is mixed in the country's Kutubu Blend crude oil.
PNG LNG currently relies on two processing facilities, or trains. Exxon Mobil and its partners aim to increase PNG LNG's capacity by adding three additional trains in the future. For expansion, however, these companies might consider tapping into the country's largest undeveloped fields that are controlled by InterOil (IOC) and Total.
PNG LNG is a marvel of modern engineering as it involved construction of 700 kilometers of pipelines, which weigh as much as 11 Sydney Harbor Bridges, on PNG's challenging geographic locations. PNG LNG will produce and sell more than nine trillion cubic feet of gas during its expected life of 30 years.
Besides Gorgon and PNG LNG, Exxon Mobil is also considering developing five other projects in North America, Australia and Russia.
At the time of publication, the author held no positions in any of the stocks mentioned.
This article represents the opinion of a contributor and not necessarily that of TheStreet or its editorial staff.