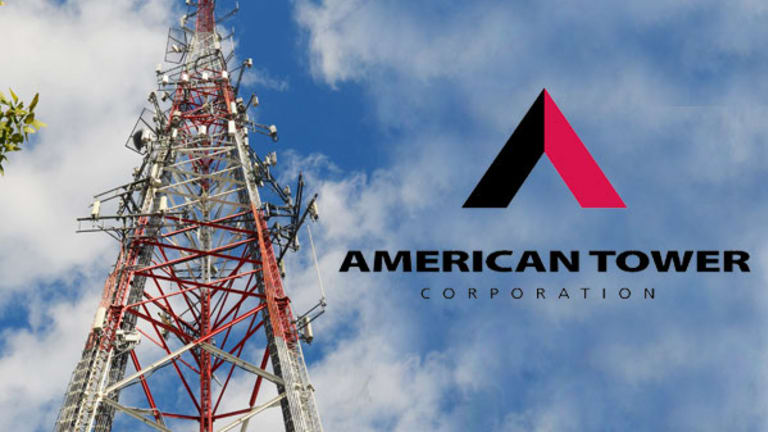 Publish date:
Here's Why You Should Be a Fan of American Tower
The cell tower company reported growth in the last quarter and plenty of opportunity for more ahead.
The cell tower company reported growth in the last quarter and plenty of opportunity for more ahead.
At around $109, shares of American Tower (AMT) - Get Report  shares are up 21% for the year to date. Late Thursday the company reported its fiscal third-quarter results and showed it is dialed into growth.
American Tower is the leading owner, operator and developer of multitenant communications real estate with approximately 144,000 sites, including 40,000 cell and broadcast towers in the United States and more than 103,000 towers worldwide.
AMT signs long-term leases of usually five to ten years with annual escalation clauses of 3% to 5%. In 2015, Sprint (S) - Get Report , AT&T (T) - Get Report , Verizon (VZ) - Get Report and T-Mobile (TMUS) - Get Report accounted for approximately 87% of AMT's revenue.
But American Tower is also aggressively expanding overseas. As of last year, AMT had over 103,000 towers in the U.S. Mexico, Brazil, Chile, Colombia, India, Peru, Ghana, Germany, Uganda and South Africa. The company has over 15,000 sites in Asia, 12,000 in Europe, Middle East and Africa and over 33,000 sites in Latin America. International accounted for 34% of total revenue.
AMT reported third-quarter revenue of $1.5 billion, up 22.4% and adjusted funds from operations (AFFO) of $1.49 per share.
American Tower has the most international exposure of all the tower operators. Competitors Crown Castle (CCI) - Get Report is 100% domestic, while SBA Communications (SBAC) - Get Report gets just 10% of its revenue from overseas.
Because of AMT's international exposure, the company reported third-quarter organic tenant billings growth of 11.2% in Asia, 12% in EMEA, and 13.9% in Latin America and 5.7% in the United States.
AMT benefits from the high demand for wireless services, especially as growth in mobile data remains robust. The company also benefits from the need for carriers to improve their network quality and coverage. The U.S. wireless carriers are expected to spend upwards of $26 billion in 2016 and $28 billion in 2017 building out their networks.
I have been a big fan of AMT for a while.
I know it's hard to believe, but many overseas carriers are still deploying 3G and 4G technology. Smartphone penetration rates are rapidly increasing and users are downloading tons of data. Data consumption drives equipment deployment. More equipment means more towers.
Mexico, for example, has over 100 million wireless subscriptions and an 89% penetration rate. From 2009 to the end of 2015, data as a percentage of revenue has grown 131% as Mexican citizens consumer data and video. Despite having an 8% share of the Mexican mobile market, AT&T is scrambling to build out its network. At the end of April 2016, the company covered 45 million people in 42 cities with plans to cover 100 million by 2018.
Wireless providers in Brazil had to build a massive 4G network leading up to the World Cup and the 2016 Olympics. Data as a percentage of revenue rose 216%, and yet data only makes up 39% of revenue. Vivo Telefonica had to build out coverage in 183 cities by the end of 2015. Brazil has 258 million wireless subs.
India has 708 million wireless subs and only a 78% penetration rate. Data is just 28% of wireless revenue. 
Because of the massive consumption of data, telecommunication companies have to add capacity to their existing towers and build out new towers.
In developed markets, data as a percentage of revenue is typically over 50% and it's the most profitable way to monetize mobile communications.
In the U.S. Verizon has made it clear it wants to be the leader in 5G technology and is planning commercial rollouts of 5G as early as next year. According to industry rumors, Verizon is rolling out several trial sites in Boston since the company is building a massive fiber network throughout the city.
Analysts are looking for fiscal 2016 revenue of $5.78 billion, up 21% and AFFO of $5.72. Management has guided revenue to a midpoint of $6.4 billion, up 10.9%. For 2017, AFFO estimates are $6.52.
Historically, AMT trades between 19 and 21 times forward estimates of AFFO. I think the shares can easily trade to the mid $130s, or about 20 times 2017 AFFO. I wouldn't hang up on American Tower just yet. 
This article is commentary by an independent contributor. At the time of publication, the author held no positions in the stocks mentioned.