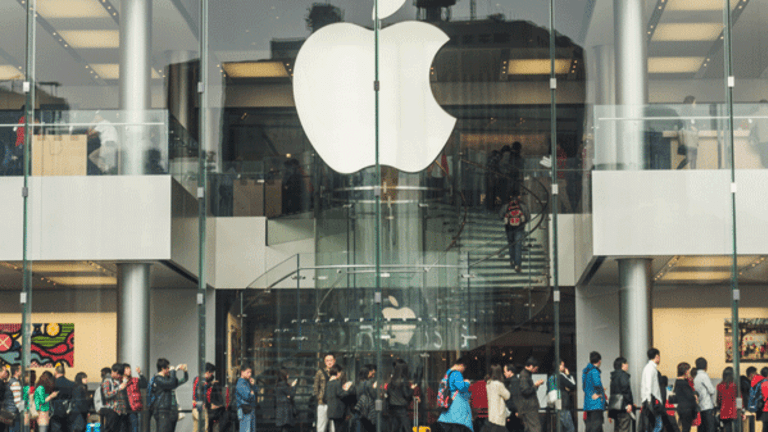 Here's How to Profit Now as Apple Thumbs Its Nose at Donald Trump
Despite the president-elect's threats, the technology company is making inroads in India, which could be a boon for investors.
Technology juggernaut Apple (AAPL) - Get Report has thumbed its nose at President-elect Donald Trump, and investors seem to approve, sending the stock higher.
Apple is a holding in Jim Cramer's Action Alerts PLUS Charitable Trust Portfolio. See how Cramer rates the stock here. Want to be alerted before Cramer buys or sells AAPL? Learn more now.
The grudge match between Apple and the president-elect stems from a speech in March in which Trump boasted that he would make the company manufacture its goods in the U.S., "not in China."
Apple may not be setting up a new plant in China, but it is casting its gaze elsewhere in Asia, rather than the U.S. The iPhone maker is in talks with the Indian government related to plans to begin manufacturing in the country.
For Apple, smartphones are its biggest revenue source. But declining overall year-over-year revenue for the third straight quarter shows just how important it is for Apple to find new growth markets.
The company had been looking to China to drive growth, but sales in the world's second-largest economy dipped 30% in the last fiscal year's fourth quarter. Additionally, Huawei and privately held Xiaomi have made inroads into Apple's market in China, so the iPhone maker needs to look elsewhere for sales.
Apple has long wanted to open stores in India, which would allow it to capitalize on the subcontinent's growing middle class and its desire for iPhones. In the last fiscal year, iPhone sales in India shot up by 50%.
But the Indian government has decreed that in order for foreign companies to open retail stores in the country, 30% of the goods they sell must be manufactured in the country.
An Apple plant in India would solve this problem and allow the company to go all out in the Indian cellphone market, where it controls just a 5% share.
Why wouldn't Apple set up shop in the U.S. to appease Trump?
Despite the potential that he would have to take big business-friendly moves such as lowering corporate tax rates, manufacturing in the U.S. would cost too much and set an exponentially higher price tag for the iPhone and other Apple items. Better to risk Trump's ire.
Instead, Apple would do better to call its profits home from the European Union.
Trump's promised tax cuts and the repatriation of its U.S. profits could make a noticeable difference to Apple's bottom line.
A decline in the U.S. corporate tax rate to 15% from 35% would result in a 6% increase in earnings per share, Citigroup estimated.
Just 25% exploitation of proceeds from any tax repatriation holiday for a stock buyback would produce a 10% advantage to Apple's earnings per share.
That is too big a bite to ignore for Apple and other top firms with cash overseas such as Google parent Alphabet,Cisco Systems,ExxonMobil, General Electric,IBM, Johnson & Johnson,Merck, Microsoft and Pfizer.
Alphabet, Cisco Systems and General Electric are holdings in Jim Cramer's Action Alerts PLUS Charitable Trust Portfolio. See how Cramer rates the stocks here. Want to be alerted before Cramer buys or sells GOOGL, CSCO and GE? Learn more now.
And Apple could use all the help it can get in the U.S.
Although iPhone 7's sales are expected to improve during the holiday season, some analysts expect rival Google's Pixel smartphone to do particularly well among premium customers. Samsung's exploding Note 7 debacle had given Apple's iPhone a free run but not for long.
This is a tricky time for Apple investors, as next year could usher in major changes for the company and its stock. However, Apple remains a great long-term play on the world's favorite technology, so hang in there.
---
85% Accurate Trader gives his Personal Guarantee: "Give Me 9 Minutes a Week and I Guarantee You $67,548 a Year."
What if I told you I know a way you can see a $67,548 per year - or more - in profitable trades just by following this simple step-by-step process? The trader who is sharing this secret has been right more than 8 out of 10 times, turning $5,000 into more than $5 million for himself. Click here to see how easy it is to follow his lead and collect thousands of dollars in "Free Money" every month.
The author is an independent contributor who at the time of publication owned none of the stocks mentioned.