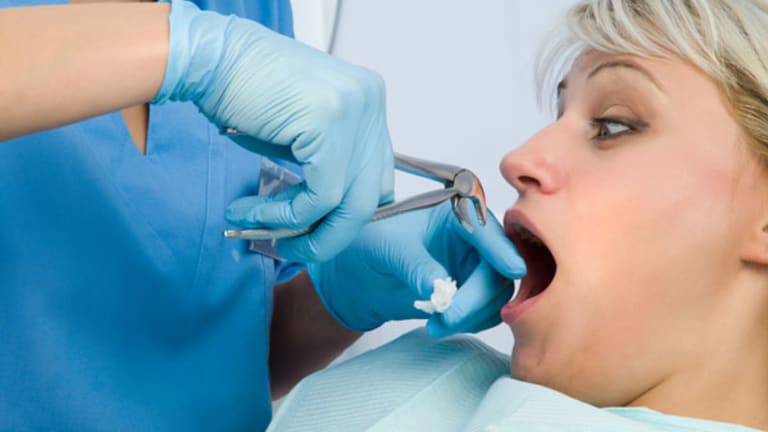 Henry Schein Bites Into Brazil's Dental Market With Joint Venture
The largest distributor of dental products looks to South America to beef up its business.
The largest distributor of dental products looks to South America to beef up its business.
NEW YORK (TheStreet) -- Henry Schein (HSIC) - Get Report doesn't have name recognition but that could be changing. The largest dental distributor in the U.S. -- whose equipment and products are present in over 90% of U.S. dental offices -- is heading south of the border.
On Wednesday Henry Schein announced a 50% ownership in Dental Speed Graph, the largest direct marketing provider of dental consumable merchandise in Brazil. Dental Speed Graph also has a leading ecommerce platform in the country. This marks Henry Schein's first move into South America and the 27th country for the company.
In 2013, Dental Speed Graph had sales of $28 million. Founded in 2010, the Brazilian company continues to grow and expand. Currently, Dental Speed Graph has 170 team members covering 55,000 customers across Brazil.
In America, Henry Schein -- whose shares closed at $118.94, up 4% for the year to date --  is a play on  the Affordable Care Act and an aging population.
But in Brazil, the largest economy in Latin America and the seventh-largest economy in the world, the company is a play on an expanding middle class making more visits to the nation's 150,000 dentists. Population growth hit 200 million recently, earlier than the expected 2015. Brazil is now the fifth most populous country in the world.
That's a lot of teeth.
Moving into South America gives Henry Schein more territory besides North America, Europe and Australia/New Zealand.
In fiscal 2013, 61% of Henry Schein's total revenue came from North America. Europe and the rest of the world made up the remaining 32% and 7%, respectively.
Dental segment sales grew 4.7% to $5 billion in fiscal 2013. The key to the dental segment is international growth. Dental sales grew 3% to $3 billion in fiscal 2013. International dental sales hit $2 billion in the last fiscal year, representing growth of 7.5%. The recently reported first quarter found overall dental sales were up 8.9%, including international dental sales of $900 million. This represented year over year growth of 10.4%.

Fiscal 2013 was a record year for Henry Schein: sales hit $9.6 billion. Since the company went public in 1995, sales have grown at a compound average rate of 16%.
Analysts see Henry Schein posting earnings of $5.38 per share in fiscal 2014. Revenue is expected to grow 7% to $10.2 billion during the current fiscal year. Original estimates of $5.96 in earnings per share and $10.8 billion in revenue for fiscal 2015 could rise with the latest round of deals. Henry Schein expects earnings per share to come in a range of $5.29 to $5.39 for the current fiscal year.
Since the company's 1995 initial public offering, shares are up over 800%. These giant returns are giving patient shareholders a chance to sit back and say "Ahh."
At the time of publication, the author held no positions in any of the stocks mentioned.
This article represents the opinion of a contributor and not necessarily that of TheStreet or its editorial staff.