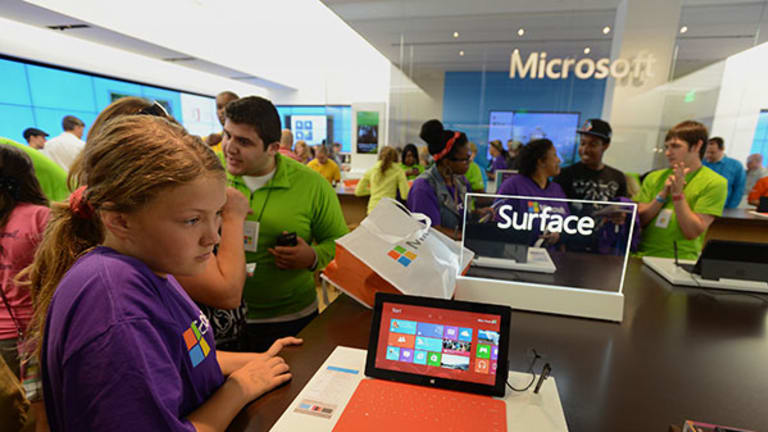 Has Microsoft Created the Apple Store of the Future?
Microsoft unveils some futuristic-looking retail stores.
NEW YORK (TheStreet) -- One business segment in which Microsoft (MSFT) - Get Report is unlikely to announce layoffs this week are its retail stores.
The stores, the brainchild of former long-time Walmart (WMT) - Get Report executive David Porter, who was brought on board in 2009, number 101 in the United States, Canada, and Puerto Rico. Microsoft has 58 full-line retail stores and 43 "specialty stores." According to Microsoft, its specialty stores are located in malls across the U.S. and Canada and are typically a smaller footprint than full-line stores, are located in central locations in the mall and and offer a curated assortment of products.
Microsoft has roughly 36% fewer locations in the U.S. than Apple (AAPL) - Get Report.
Microsoft doesn't have retail stores in key international growth markets. Apple, on the other hand, is coordinating a serious push into countries like China, where it reportedly will open 20 more stores though 2016.
Video Interview Exclusive: Aboard its Ship, Norwegian Cruise Line CEO Talks About the Future
Video Interview Exclusive: Dig Inn Leads the Next Generation of Fast Casual Restaurants
CFO Interview Exclusive: UPS Sees its Shipping Future in Healthcare, Retail and Green Tech
What Microsoft lacks in the number of locations, it makes up in store design. In many respects, a Microsoft store at New York's Roosevelt Field Mall represents the retail store of the future, lending way to unique customer interactions with products and services in immersive digital environments. The experiences inside the store are very easy to share via social media as well -- think Vine videos of children playing an Xbox One game, which are then posted on Twitter (TWTR) - Get Report, helping to create grassroots discussions on Microsoft products and services.
The store also connects to the local community outside of the mall through the offering of group workshops for children and small businesses.
While Apple made a few headlines recently by swapping out its sleek-looking wall cards (the pictures that hug the interior walls) in its retail stores for ones with added visual pizazz, as of today new Apple store leader Angela Ahrendts oversees a retail store fleet that is devoid of the new interactive experiences found at a Microsoft store.
When reached for comment about its retail stores, a Microsoft spokesman said:
People can play Xbox One on video walls surrounded in directional sound that immerses the players in the gaming experience. The number of screens/sizes vary by store location. The Xbox One video wall at Roosevelt Field is 7 feet tall and 20 feet wide.
The store is wrapped in a full digital wall that streams videos, images and information around the store.
The store features the latest products and accessories from Windows PCs, Xbox One, Surface, Office and Windows Phone, as well as dedicated areas for cloud services, business solutions, technical support and services.
The community theater behind the Answers Desk features a 103" screen, and can be booked at no charge for training sessions, workshops and other events, including hosting groups like Girl Scouts who use the space to earn technology badges, teacher trainings and gaming tournaments.
Microsoft doesn't disclose the financial results for its retail stores. In its second fiscal quarter, Apple's revenue per store fell to $12.4 million from $13.1 million, though the segment's operating margin rose to 23.07% from 21.15% a year earlier. At $5.2 billion in total revenue, Apple retail represented 12% of the company's sales. Apple doesn't break down its sales and operating margins of stand-alone flagship stores and mall-based stores.
The budding rivalry between Microsoft and Apple retail stores looks ready to intensify. Microsoft has divulged that it's committed to open seven new stores in the U.S. over the next couple of months, including Durham, N.C., on Aug. 21; Syracuse, N.Y.; Canoga Park, Calif.; and Dallas.
Apple is rumored to have at least four openings scheduled in Virginia, Connecticut, and New Hampshire.
Already in the top consumer spending markets of New York and California, Microsoft and Apple are doing business in precisely the same retail locations.
Shares of Apple and Microsoft were up 20.6% and 14.2%, respectively, year to date.
-- By Brian Sozzi CEO of Belus Capital Advisors, analyst to TheStreet. This article represents the opinion of a contributor and not necessarily that of TheStreet or its editorial staff. At the time of this publication, Belus Capital Advisors rated Walmart a sell. Brian Sozzi is the CEO and Chief Equities Strategist of
. He is responsible for developing and managing an equities portfolio of mid- and large-cap positions, in addition to leading the firm's digital content initiatives. He is also a personal finance columnist for
Men's Health
magazine.